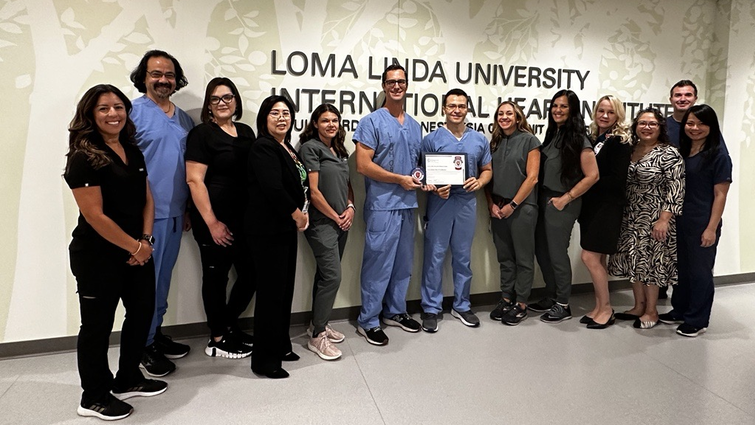 The Structural and Valvular Heart Disease program at Loma Linda University Medical Center (LLUMC) recently received certification from the American College of Cardiology (ACC) for transcatheter valve (TCV) care in adult cardiac patients. The designation highlights LLUMC's expertise and commitment to treating patients receiving TCV repair and replacement procedures.
TCV certification has also enabled LLUMC to become the first and only hospital in the Inland Empire to achieve a National Distinction of Excellence as a HeartCARE Center, the highest recognition hospitals can receive from the ACC.
ACC is a national organization dedicated to eliminating heart disease as the number one cause of death worldwide. Its TCV certification utilizes national clinical databases to monitor patient safety and connects real-world outcomes with process improvement. Receiving ACC's certification demonstrates that LLUMC's structural and valvular heart disease team delivers the best possible patient care by implementing evidence-based medicine, supporting patient-centered decision-making, and tracking key performance metrics to identify opportunities for improvement.
"Our team is proud to receive this certification from ACC that recognizes the high level of organization, thorough coordination, and strong multidisciplinary team approach necessary to achieve excellent care for patients," said Megan Tooker, RN, BSN, a coordinator for LLUMC's Structural and Valvular Heart Disease program.
Valvular heart disease occurs when any of the four valves in the heart is damaged or diseased. Most forms of heart valve disease are treatable, according to the National Heart, Lung, and Blood Institute — through either open heart surgery or minimally invasive transcatheter techniques. ACC's TCV certification pertains specifically to mitral valve transcatheter edge-to-edge repair (TEER) procedures and transcatheter valve replacement procedures.
Read: LLUMC celebrates 1,000 TAVR procedures
Tooker said the program's patient navigation approach plays a central role in the program's success, enabling the care team to offer each patient personalized, whole-person care. LLUMC's structural and valvular heart disease program coordinators — consisting of an outpatient coordinator, clinical heart valve coordinator, and medical assistant — are the first to process patients' information upon referral to LLUMC for heart valve treatment. Program coordinators liaise between providers and specialists to streamline patient care.
Patients partner with coordinators through every step of their journey, Tooker said, from scheduling consultations with cardiothoracic surgeons and interventional cardiologists to scheduling appropriate diagnostic testing.
Read: Cardiologists reverse patient's heart failure via minimally invasive heart valve repair
"With ongoing advancements in medicine and particularly the field of structural interventional cardiology, there are so many options for patients with valve disease to consider," Tooker said. "We guide the patient through their unique disease process and our physicians work together to identify the best option for their particular needs or circumstances."
The program's multidisciplinary team approach and shared decision-making process act as additional pillars of effective patient care, Tooker said. Interventional cardiologists and cardiothoracic surgeons gather to consider each individual's case, discuss options between surgical or transcatheter valve procedures, and account for the patient's preferences or personal situations.
Read: Cardiologists fix high-risk patient's leaky heart valve with 'outside the box' solution
"Medicine has come so far, and we can offer patients specific care according to that patient's specific needs and preferences," she said. "When a patient comes to us with valve disease, we aren't just treating the valve, we treat the whole person. Often the diagnosis can be treated in different ways, and including patients in that decision-making process with our team makes our program stand out."
After the patient has undergone a procedure, coordinators secure follow-up consultations, handle insurance authorizations, and maintain open communication with external referring physicians. Tooker said the team holds regular patient review and quality improvement meetings where outcomes are documented, reviewed, and utilized to improve processes.
LLUMC and LLUMC–Murrieta comprise two of the region's three ACC transcatheter valve-certified centers. Tooker said LLUMC's program certification validates the level of high-quality care the team provides patients.
Read: International Heart Institute specialists join forces to safely, efficiently grant patient new heart valve
"We have been able to prove and showcase many successful facets of our program that have been in place since before we applied for certification," she said. "Holding this certification shows that we adhere to a certain standard that won't go away. We will maintain these requirements by ACC and only grow more proficient with time."
---
To learn more about LLUMC's Structural and Valvular Heart Disease program and its services, visit its webpage or call 1-800-468-5432 to make an appointment.