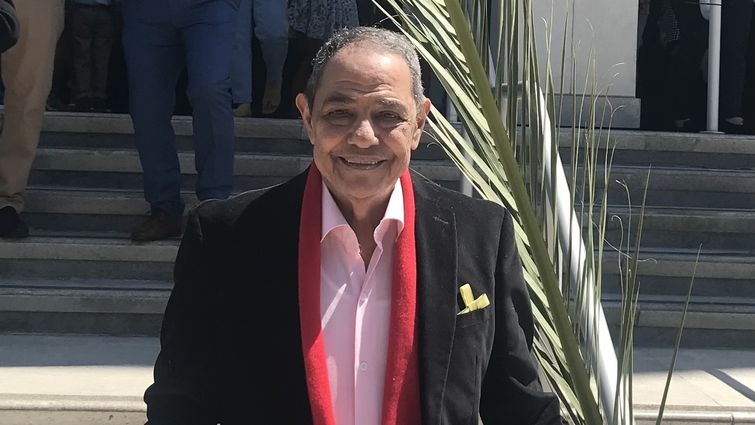 Structural interventional cardiologists at Loma Linda University International Heart Institute have performed hundreds of valve replacement procedures, each case different. Fixing 70-year-old Kamal Guindi's heart valve proved a highly risky prospect, says Amr Mohsen, MD, who performed the procedure with Jason Hoff, MD. The team had to strategize in a new way.
Guindi and his family expressed gratitude that the minimally invasive procedure known as transcatheter aortic valve replacement (TAVR) restored his independence by ending years-long suffering from intense symptoms like shortness of breath, weakness, and fatigue.
"These cardiologists at LLU thought outside the box to make my father's procedure happen," says Guindi's son, Joseph Haroun. "Their persistence and care saved him."
Several factors contributed to the complexity of Guindi's case, says Mohsen: a history of heart attack, bypass surgery, severe heart failure, blocked arteries in the legs, and a valve disorder with a leaky aortic valve. In a leaky aortic valve, flaps that control blood flow through the heart valve no longer close tightly, so the blood that's supposed to pump out of the valve instead leaks backward, says Mohsen.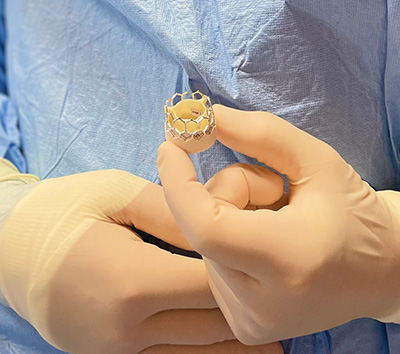 Mohsen and Hoff devised a plan to remedy Guindi's leaky aortic valve using a slightly oversized artificial valve during the TAVR. Typically, Mohsen says artificial TAVR valves anchor to calcium lining patients' heart valves; the devices don't stay in place without calcium and in a leaky valve like Guindi's. Using a larger-sized artificial valve to deploy in Guindi's leaky valve would help ensure it stayed secure, Mohsen says.
To perform Guindi's minimally invasive TAVR, Mohsen and Hoff punctured an artery in the leg. Through this small puncture, they implanted the new valve on a balloon slender enough to fit in the artery. Next, they advanced this valve through a sheath — maneuvering blockages in Guindi's leg arteries and stents from prior procedures — eventually reaching and replacing the diseased aortic valve. Guindi was able to return home the next day.
Haroun says his father experienced a winding, challenging journey leading to the TAVR. Guindi's health had steadily deteriorated for two years while symptoms worsened, and he struggled to breathe and walk. Cardiologists ran tests and debated Guindi's available treatment options as a high-risk patient. Medical therapy had failed to control Guindi's symptoms, and he was not eligible for advanced heart failure therapy, including a heart transplant or left ventricular assist device (LVAD).
When heart failure specialist Ahmed Seliem, MD, met Haroun and Guindi, he referred them to structural interventional cardiology to see what could be done. By this point, Mohsen says Guindi's heart was only functioning at a 15% capacity, making any procedure risky, "but his only option." Mohsen communicated the TAVR's risk considerations with Guindi in his native language of Arabic, and the family opted to move forward with the procedure.
"We understood the procedure was risky but decided to move forward with it because my father was in a bad state, and his quality of life would otherwise have kept declining," Haroun says.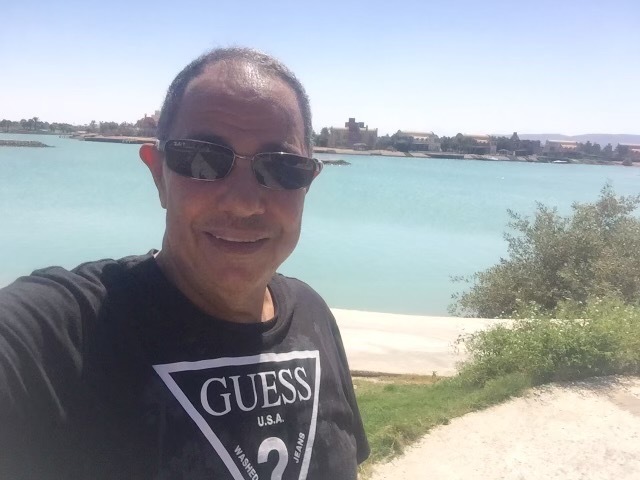 A month after the procedure, Guindi says he "feels good" and can return to his peaceful life as a retired pharmacist. He has regained the ability to tend to daily errands and enjoy neighborhood strolls.
"Doctors Seliem, Mohsen, and Hoff treated my dad as he if were a family member," Haroun says. "They were willing to take the risk and help him by making this procedure happen."
Recent tests revealed Guindi's heart function increased to 25%, and Mohsen says he is hopeful for further improvement over time.
The LLU structural interventional cardiology team's extensive experience and access to cutting-edge technology enable care tailored to each patient's needs, Mohsen says — including those patients who are told there are no options left for them.
"There is almost always something we can offer," Mohsen says. "If you have a heart valve issue and are told there's nothing to be done, call us. We may be able to help."
---
At Loma Linda University International Heart Institute, physicians are committed to providing patients with personalized and comprehensive cardiovascular care. To learn more, please visit lluh.org/heart-vascular or call 909-558-7717 to make an appointment.