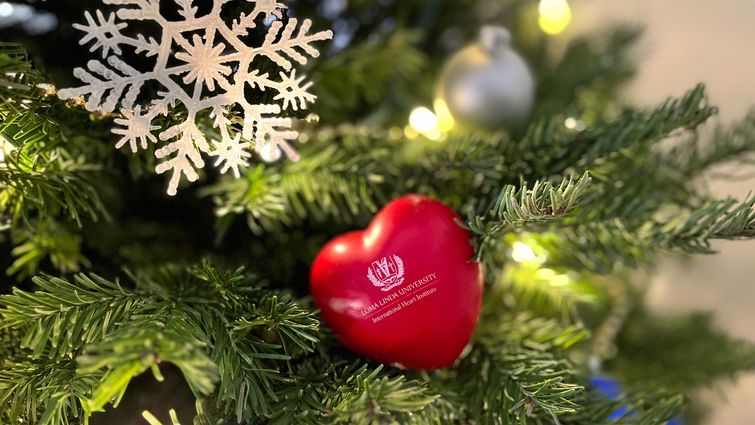 The United States experiences more heart attack deaths in winter months than at any other time of year, according to the American Heart Association. Winter months usher in higher rates for infection, holiday habits, and colder weather — all contributors to this annual trend in increased heart attack incidents in the U.S., says Vinoy Prasad, MD, FACC, FSCAI, director of interventional cardiology at Loma Linda University International Heart Institute.
Prasad describes how these factors can strain cardiovascular health — leading to heart attacks — and measures you can take to protect your heart during this time.
Respiratory infections such as influenza and COVID-19 grow more common in winter months. Prasad says well-known associations between respiratory infections and cardiovascular health show that infections endanger heart health and trigger cardiac events such as heart attacks — especially in those with underlying cardiac conditions.
"We see more patients hospitalized with respiratory infections who experience heart attacks during this time of year," he says.
Read: Discerning risks of COVID-19 and flu infections for cardiovascular patients
Prasad says that holidays often disrupt regular routines, and individuals may eat unhealthy foods, especially those higher in salt, while exercising and relaxing less. In addition, he says people may not be listening to their bodies or paying attention to warning signs, thinking the issue can wait. But unhealthy habits paired with putting off medical care can heighten the risk for heart attack at this time of the year, Prasad says.
Colder weather may also place additional strains on the heart. Prasad says some scientists contend that cold weather causes blood vessels in the body to constrict. When blood vessels and arteries tighten up, the blood pressure increases and the heart must work harder to push blood throughout the body. For those living with cardiovascular disease, Prasad says higher blood pressure and increased cardiovascular demands in colder temperatures leads to more manifestations of angina and other cardiac events.
"All of these factors place more demand on the heart, and the heart needing to work harder will cause problems if you have underlying cardiac conditions like coronary artery disease or heart failure," he says.
Staying safe
Prasad offers the following steps to protect your heart health in the winter months:
Recognize the range of heart attack signs and symptoms. Prasad says that many people know about symptoms like chest pain or squeezing that radiates to the arm or back, sweating, or an ongoing doom and gloom sensation. But he says symptoms can also include new onset shortness of breath, jaw pain, heartburn, or indigestion — with or without chest pain.
Seek medical attention if you suspect a heart attack. Prasad says it can be challenging for someone to know for sure if they are experiencing a heart attack, so the best thing to do if you're feeling unwell is to call 911. Paramedics will arrive and perform an EKG, a type of heart test, on the spot to determine whether you are experiencing a heart attack, and guide the next steps for urgent medical care. Prasad urges not to delay medical care; the sooner a person starts receiving treatment, the better the chances of survival and preventing heart damage.
Read: Cardiologists plea for patients to not ignore heart attack symptoms
Protect yourself from infection. Prasad recommends getting vaccinated against all respiratory diseases — flu and COVID-19 — especially if you live with a cardiovascular condition.
Read: Advice about flu vaccine for people with cardiovascular concerns
Read: Advice about COVID-19 vaccines for people with cardiovascular concerns
Nurture your heart to stay in good cardiovascular condition. Follow a heart-healthy diet by avoiding foods high in cholesterol, which can cause a buildup of plaque in the arteries, and sodium, which causes blood pressure to heighten, Prasad says. He also advises getting enough exercise. The American Heart Association recommends 30 minutes of brisk cardiovascular exercise five times a week. For those who monitor physical activity using wearables, Prasad recommends taking 10,000 steps a day. In addition, he says it can help to find creative ways to be active, such as going for a family walk or another fun activity with your loved ones. Finally, Prasad says to reduce stress from family interactions, financial struggles, hectic schedules, travel and other challenges during wintertime. Enjoy the winter months and time spent with family as an opportunity to decompress after a year of hard work and as a refuge from the stress of current events.
Practice moderation. Prasad says you can overdo anything, so remain conscious of food portions. "Remember, you can't let your cardiovascular health go out the window just because it's winter," he says.
Read: 4 ways to stay heart-healthy through the holidays that may surprise you
---
At Loma Linda University International Heart Institute, physicians are committed to providing patients with compassionate, comprehensive, and personalized cardiovascular care. To learn more, please visit lluh.org/heart-vascular or call 909-558-7717 to make an appointment.