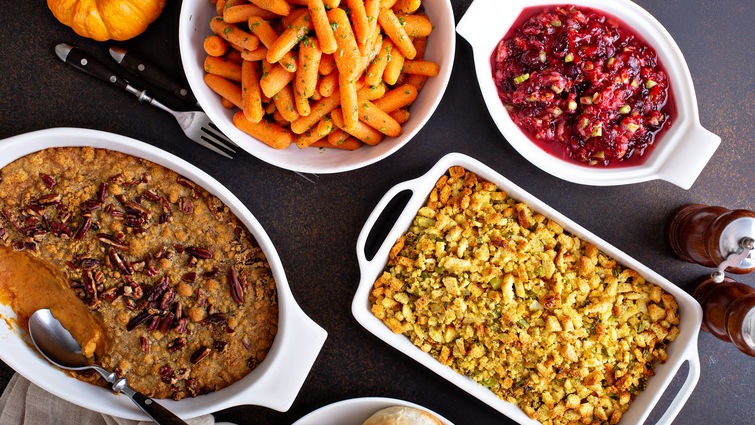 Pass the whip cream and caramel for some extra drizzle on the pumpkin pie. Sound familiar? Food can be a gateway to happiness during the holidays — a gateway that can open the floodgates to unhealthy habits, which many heart-conscious patients hope to avoid.​
A nutritionist from the Loma Linda University International Heart Institute offers four unique tips to help guide those trying to make the holiday season a healthy hearty one.
Nutritionist Julianne Penner says making the holiday season a healthy one is more than just watching what you eat. She says we all know to watch out for cholesterol, trans fats, and high fructose corn syrup. But in order to stick to staying away from the bad things, you have to implement good habits.
"You can switch this butter for that butter," Penner says, "but there are critical tactics outside of food swapping that can ensure a healthy holiday and lifestyle that will last longer than the holiday season."
Penner shares these four unique tips:
Display your values. The holiday season is not just a time to meditate on your thankfulness, but it is also a time to reflect on your values and what they mean. Penner suggests thinking of your family, health, connections or whatever you value most or what has led you to this new journey of health. She says to write it down often, take a picture of it or think about it throughout the day. Keeping that at the forefront will remind you why you are trying to be heart healthy and turn your life around long-term. That will be your motivation throughout the holidays.
Have realistic goals. Every little consistent step counts. Penner says to create a small habit that you can stick to because it will lead to long-term dedication. It can be as small as simply doing a push-up a day or sticking to your daily water goal, as long as it's something small and realistic. That consistency can translate into a strong will that will allow you to fight overindulgence during the toughest times. 
Plan ahead. No matter where you choose to eat for the holidays, you can always control one or two meals and how you start the day. Try to do something active in the morning or eat a healthy breakfast and even lunch if you can before the holiday dinners. Planning to have one part of the day dedicated to something heart healthy can help balance out the unhealthy portions.
Sleep. If all else fails, try to sleep at least 7-9 hours a night. A lack of healthy sleep can throw off your hormones and can cause you to want to eat carbs or unhealthy foods.
Penner also encourages people to take it easy with her tips or any other guide they may glance over for a healthy holiday. She says if you can only choose one thing — such as removing cheese for the holiday diet — that is good enough.
"Even if I give you this list, choose one of these to focus on during the holidays," Penner says. "You do not want to stress out trying to incorporate all of these, so make it work for you and you will improve every day and every year."​