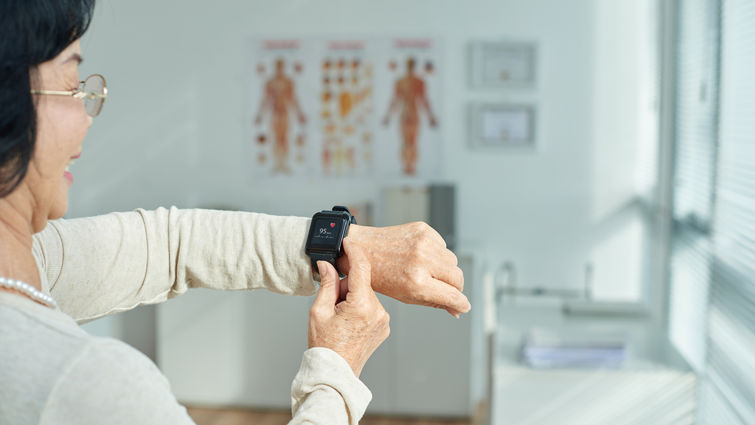 About one in five Americans use a smartwatch or fitness tracker, according to Pew Research Center. The ratio grows even bigger considering how many Americans also use additional smart devices for cardiac monitoring, such as blood pressure monitors or arrhythmia detection patches.
To help navigate the expansive world of smart cardiac devices or wearables, Ravi Mandapati, MD, director of cardiac electrophysiology at Loma Linda University Health, outlines their various purposes, advantages and limitations, and offers tips for optimizing their use.
A lay of the land of cardiac wearables
There are multiple categories of wearables and measuring capabilities, Mandapati says. Smart devices come in various forms for wear on the body from head to toe, including:
Medical earbuds
Chest patches
Chest straps
Wristbands
Rings
Clothing or shoe-embedded sensors
The wearables each are capable of one or more cardiovascular applications and measurements, which consist mainly of:
Activity measurements: Sensors called accelerometers, barometers, or GPSs can measure step or stair count, speed, sedentary time, exercise, distance traveled, and even estimates of calories burned.
Biometric measurements: Sensors called photoplethysmography (PPG) can measure heart rate, heart rate recovery, blood pressure, hemoglobin levels, rhythm detection, and sleep. On the other hand, electrocardiography (ECG) measures electrical properties in the heart, abnormal changes in electrolytes, and irregular heart rates.
The varying forms and functions for wearables result in a wide array of combinations: a wrist cuff that measures blood pressure, a chest strap that measures exercise and ECG, or a smart ring that can sense the rate of blood flow in the body.
Advantages and limitations
Research has consistently shown how physical activity can protect and enhance heart health, Mandapati says. Smart wearables that record physical activity — like Apple watch and Fitbit — provide wearers more detailed insights into their daily movements and exercise by reporting activity intensity, distance, and time sitting or lying down.
"You may know that you walked five miles, but a wearable can tell you whether you walked fast or slow, how much time it took, and in some cases even the amount of energy you used up or calories burned," Mandapati says.
While it is important to note such advantages of these activity-measuring smart wearables, Mandapati says they are not designed to provide wearers a clear indication of how their activity decreases cardiovascular risk.
Similarly, smart wearables measuring biometrics like blood pressure and heart rhythm can provide valuable insights for the wearer to understand heart health, says Mandapati, but are not intended to diagnose or treat.
Keep your physician in the know
Based on the advantages and limitations of smart wearables' cardiac monitoring capabilities, Mandapati's main recommendation consists of consulting your general physician or cardiologist.
You can use measurements from your smart device as a starting point with which to provide your physician with a more comprehensive report of recent physical activity, he says, as well as bring up any other observations, questions, or concerns about your device.
Mandapati says certain smartphone applications provide other means for cardiac monitoring and can gather data that transfer to patient portals like MyChart. In this way, patients can reliably send their smart device's measurements directly to doctors for consideration, Mandapati says.
While wearables can promote fitness and heart-healthy habits, Mandapati says they may raise false alarms as well — hence the importance of raising concerns with your physician. If you feel symptoms like your heart skipping beats, palpitations, or dizziness, discuss your concerns or symptoms with your physician and show pictures of what your smartwatch has been telling you. Your physician should be able to guide you further.
---
You can learn more from Mandapati about our hearts' electrical systems and hear from other cardiologists about various heart health topics by visiting lluh.org/heart-vascular/patients-families/heart-month. Also, don't miss the chance to sign up for emails to continue learning about heart health for you and your loved ones.