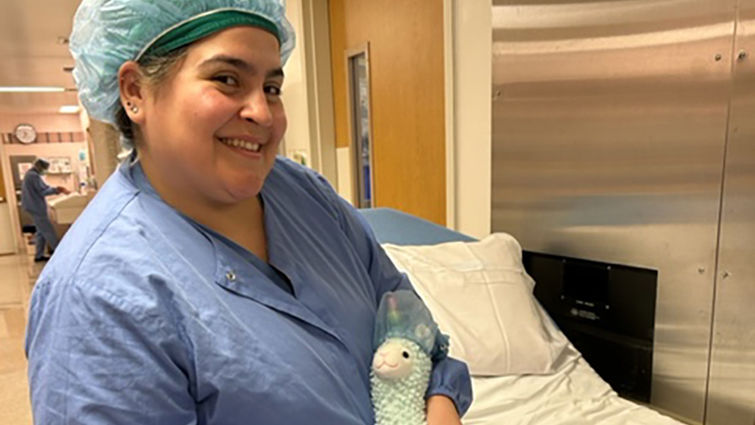 A Loma Linda University Health surgical technician has been using her patients' stuffed animals to create a surprise for children receiving treatment at the LLUH Outpatient Surgery Center.
Karen Garner wanted to give her young patients something exciting to see when they woke up from their procedures. She noticed that many children brought a stuffed animal as a comfort object. So Garner began placing bandages on the plush toys, thinking it would give something exciting for the child to wake up to.
"Along with bandages, I've progressed to adding small hats and even masks," Garner said. "I cut up surgical hats and tie them to size on the stuffed animals." Garner estimates she's worked with more than 20 animals in the two years she's worked at Loma Linda University Health.
Garner can "bandage" a stuffed animal in less than five minutes, sometimes completing the process between cases while a surgical suite is being cleaned. Other times she'll see the animal on the gurney waiting for a specific patient.
Garner doesn't get to see the children's reaction to her handiwork, but parents often share their appreciation to Garner for her thoughtfulness.
"They always tell me how cute the animal looks," Garner said. "They'll take pictures and show them around to other people."
Her project has caught the attention of some of her work colleagues, as other nurses and techs now take on this project on days when Garner is off. 
"They often take pictures of their work and show me when I'm back at work," Garner said. "It's my favorite part of my day."