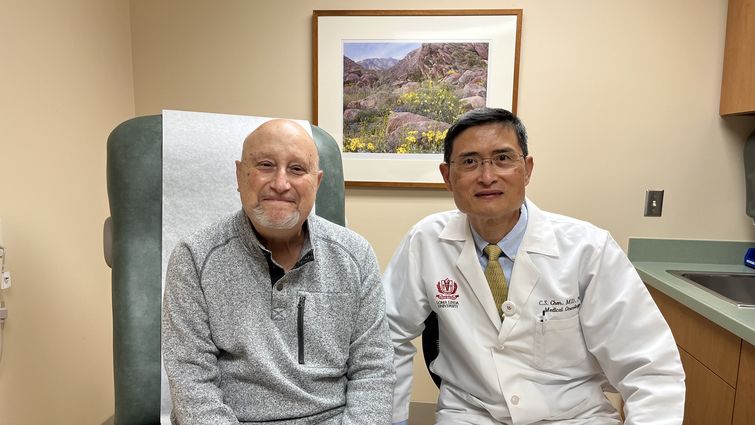 Riverside resident William Scalese says he and C.S. Chen, MD, his medical oncologist at Loma Linda University Cancer Center, rejoiced together for the first time in months after reviewing results from Scalese's first found of PMSA therapy.
Prostate-specific membrane antigen (PSMA) therapy is a therapeutic option for patients with metastatic prostate cancer who attempted other treatment options that did not slow cancer spread, like Scalese. He had already tried several different treatments to fight spreading cancer for two years leading up to that point. So, Chen says to see a drop in Scalese's nanograms of prostate-specific antigen (PSA) per milliliter of blood (ng/mL) from 321 ng/mL to 130 ng/mL after a single round of PSMA therapy was heartening for everyone.
"This cutting-edge technology offers patients like William a new path forward that wasn't available before," Chen says. "We hope this therapy will improve his survival with minimal side effects and that he lives longer with a good quality of life."
Read: PSMA imaging, therapy open new doors for prostate cancer patients at LLU Cancer Center
Scalese was enjoying his retirement from a career as an executive chef when he began to experience lower back pain in the summer of 2021. He says he initially dismissed the pain, assuming he had twisted a muscle or was getting older. But when the pain persisted, he visited a clinic nearby where he lived at the time in Nevada.
The clinic, having conducted medical tests and detected elevated levels of PSA, advised Scalese to head to a nearby hospital as soon as possible. The hospital performed a biopsy confirming Scalese's stage IV prostate cancer diagnosis, meaning cancer had spread to his bones and lymph nodes.
"They're words no one wants to hear, 'You have cancer,' and I never thought I'd hear those words in my lifetime," Scalese says.
Loved ones urged him to take up his care at LLU Cancer Center, where Scalese met with a urologist and then connected with Chen to begin treatment. First, Scalese started with androgen deprivation therapy, which lowered his PSA level before rebounding a year later. Next, he tried chemotherapy for several months before beginning another androgen deprivation treatment. Once again, his PSA levels lowered, but only temporarily before rising again.
Having exhausted those treatment options, Chen referred Scalese to LLU's nuclear medicine department, where Scalese was deemed a candidate for PSMA therapy. FDA-approved last year, the targeted therapy delivers radiation directly to the cancer cells of patients with metastatic prostate cancer. Though advanced-stage prostate cancer is incurable, Chen says PSMA therapy can help patients live longer while maintaining a good quality of life.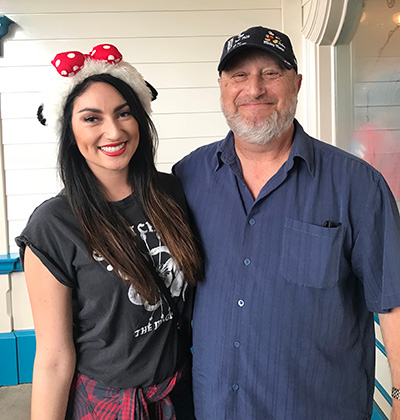 "It was almost too good to be true," Scalese says, recalling when he first learned of PSMA therapy. "It felt like a miracle."
He received his first infusion in January and will receive up to six more infusions at six-week intervals. So far, Scalese says side effects like fatigue have not lasted beyond several days post-treatment. Now 67 years old, he says he is grateful for each moment spent with his family — his wife of 40 years, three children, and three grandchildren. He says he recently attended his middle granddaughters' wedding and is happy to be present for these milestones.
"I look forward to the next treatment of PSMA therapy and pray to God that the results are even better than last time," he says.
---
Loma Linda University Health is committed to your health and safety. Learn more about prostate cancer screening and treatment options online or call 909-558-6600.