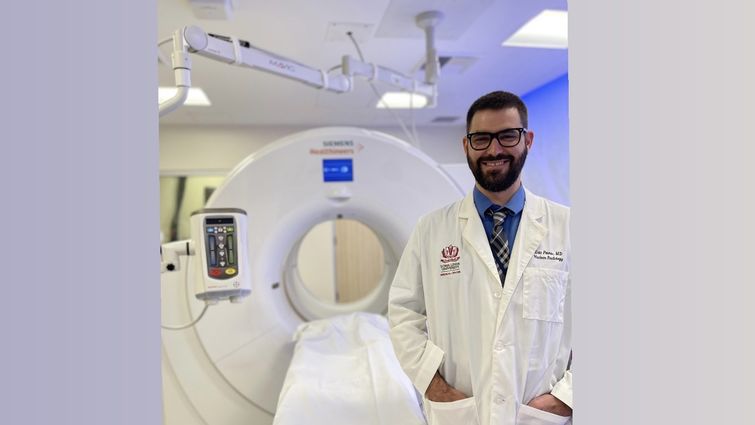 Loma Linda University Cancer Center is newly offering PSMA therapy, a targeted therapy that delivers radiation directly to the cancer cells of patients with metastatic prostate cancer. The therapy is paired with PSMA PET scanning, an imaging technique designed to locate prostate cancer cells using high precision technology.
"We are excited for the opportunity to offer this brand-new imaging technique and therapy, which are forging new avenues for care that weren't available to prostate cancer patients previously," says Eric Peters, MD, a radiologist at LLU Cancer Center.
PSMA PET scans and therapy focus on locating prostate-specific membrane antigen (PSMA), a protein found at high levels on the surface of prostate cancer cells. Peters says prostate cancer patients may benefit from PSMA PET imaging alone or combined with the therapy, which is typically performed after imaging.
Patients with a diagnosis of prostate cancer may undergo PSMA PET to establish the initial staging of their cancer or to locate suspected recurrence of cancer, Peters says. An FDA-approved imaging technique as of last year, PSMA PET uses a radioactive tracer to identify and attach to PSMA proteins that show up on the imaging.
This imaging technique is highly sensitive and specific.Dr. Eric Peters
In this process, Peters says patients receive an injection of molecules that behave like taxis driving passengers, delivering isotopes that light up when attached to cancer cells in the body. Physicians evaluating the scans can then pinpoint the presence of cancer cells.
Such mechanisms position PSMA PET as the most precise and accurate imaging method for mapping prostate cancer spread throughout the body, Peters says.
"This imaging technique is highly sensitive and specific," he says. "It can detect small areas of disease, such as tiny lymph nodes that otherwise wouldn't be detected by some other forms of standard imaging."
For patients, the PSMA PET imaging experience may feel similar to a standard CT scan experience, Peters says. First, the patient receives a syringe injection of the molecules and isotopes — the taxis and their passengers — before proceeding to the imaging room. There, patients lay down on a table that passes through a donut-shaped scanner. Peters says that the scan lasts about an hour and does not require any preparation or aftercare.
An oncologist or urologist will discuss imaging with their patients and decide whether the imaging will be of value, Peters says.
A patient might have undergone PSMA PET or other forms of imaging that reveal their prostate cancer has spread to other parts of their body. PSMA therapy may be an option for such patients who tried other therapies that did not slow their cancer's spread.
It fills a gap for metastatic prostate cancer patients who would otherwise have had nowhere else to turn to.Dr. Eric Peters
During PSMA therapy, patients receive an IV infusion of the PSMA-617 molecule, the same taxi-like agent used in PSMA PET scans. However, this time, the taxis take on new passengers, isotopes called lutetium-177, to deliver radiation therapy directly to cancer cells. The treatment is administered in up to six doses of IV infusions, about six weeks apart.
Peters says while PSMA therapy does not guarantee a cure for cancer, patients who respond to the therapy often experience life extension. He says PSMA therapy presents an additional therapeutic option for patients with metastatic prostate cancer who have attempted other treatment options.
"This novel technology is a major biochemical advancement that allows molecules to travel to specific cancer targets in the body," Peters says. "It fills a gap for metastatic prostate cancer patients who would otherwise have had nowhere else to turn to. Now we have another road to go down."
---
At Loma Linda University Cancer Center, physicians care deeply about the outcome and medical journey of a patient diagnosed with prostate cancer. Learn more about prostate cancer screening and treatment options online, or call 1-800-782-2623 to make an appointment.