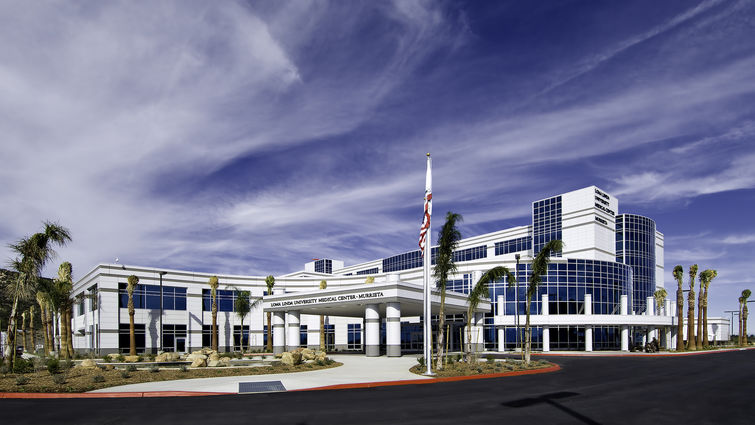 Construction kicked off this month at Loma Linda University Medical Center – Murrieta (LLUMC – Murrieta) for the expansion project to its current emergency department, set to be complete in late spring 2020.
While demolition and construction started early this month, the hospital does not anticipate an impact to the daily workflow of the emergency department.
The project will include 5,000 square feet of new space, adding 12 new treatment rooms to the existing 25. Jared Horricks, executive director of facilities management at LLUMC – Murrieta, estimates construction will take six months to complete, with additional time needed for inspection and final licensing approval. Horricks says the expansion has been a top priority for the hospital and will help maximize the hospital space to provide the best quality care for patients and staff.
Peter Baker, senior vice president and administrator at LLUMC – Murrieta, says the expansion is a part of the hospital's commitment to providing the community access to robust emergent care services.
"Providing exceptional emergency care services is vital to the health of our community," Baker said. "Our region is growing fast, and expanding our emergency department represents an opportunity for us to continue to provide quality care and meet the increasing healthcare needs of the community."
The emergency department at LLUMC – Murrieta is staffed by board-certified emergency medicine physicians, advanced practice providers (physician assistants and nurse practitioners), and nurses 24 hours a day, seven days a week. Receiving designations as both an Advanced Primary Stroke Center by The Joint Commission and as a Chest Pain Center by the American College of Cardiology, the emergency department is dedicated to rapid intervention for acute strokes and heart attacks.
To learn more information about the emergency services offered at LLUMC – Murrieta, please visit the website or call 951-290-4000. If you have an acute life-threatening emergency, call 911.