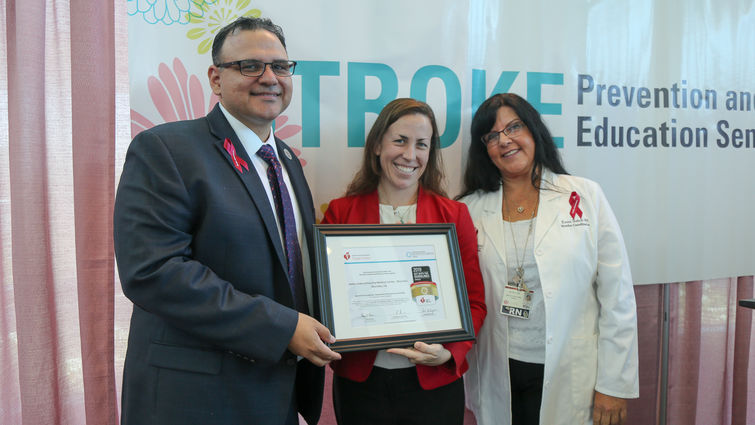 Loma Linda University Medical Center – Murrieta has received two recognitions for excellence in stroke care from the American Heart Association/American Stroke Association.​
LLUMC – Murrieta was presented with the 2019 Get With The Guidelines® - Stroke Gold Plus and the Target: Stroke Honor Roll Elite Quality Achievement Award from the associations on May 31 during public educational event.​
This marks the third year LLUMC – Murrieta has been recognized by the by the American Heart Association/American Stroke Association for quality stroke care. ​
LLUMC – Murrieta earned the 2019 Get With The Guidelines® - Stroke Gold Plus award by meeting specific quality achievement measures for the diagnosis and treatment of stroke patients at a set level for a designated period. These measures include evaluation of the proper use of medications and other stroke treatments aligned with the most up-to-date, evidence-based guidelines with the goal of speeding recovery and reducing death and disability for stroke patients. Before discharge, patients should also receive education on managing their health, schedule a follow-up visit and other needed care transition interventions.​
LLUMC-Murrieta received the association's Target: StrokeSMElite award for its quality of operational procedures. To qualify for this recognition, hospitals must meet quality measures developed to reduce the time between the patient's arrival at the hospital and treatment with the clot-buster tissue plasminogen activator, or tPA, the only drug approved by the U.S. Food and Drug Administration to treat ischemic stroke. ​
"We are pleased to recognize Loma Linda University Medical Center – Murrieta for their commitment to stroke care," said Lee H. Schwamm, M.D., national chairperson of the Quality Oversight Committee and executive vice chair of neurology, director of acute stroke Services at Massachusetts General Hospital. "Research has shown that hospitals adhering to clinical measures through the Get With The Guidelines quality improvement initiative can often see fewer readmissions and lower mortality rates."​
Peter Baker, senior vice president and administrator at LLUMC – Murrieta, said, "It is truly a blessing to see the American Stroke Association value the incredible work and outcomes our community is receiving with this award. It is an honor to receive this award recognizing the outstanding outcomes provided to our patients by our amazing staff and clinicians. I am blessed to see the compassion and attention our clinicians provide daily." ​
A stroke occurs in the United States every 40 seconds, according to the Centers for Disease Control and Prevention (CDC), killing 140,000 people annually. Stroke is the fifth leading cause of death in the United States.​
The hospital's educational event set out to educate the community about the signs and symptoms of stroke, awareness of the different types and provide prevention tips. Attendees were able visit educational booths to learn more about chest pain and TAVR, genetech, cardiac rehabilitation and orthopedics. Some booths offered interactive testing, including a Body Mass Index (BMI) screening, blood pressure screening and grip strength test. ​
"Our quest is to educate and inform the community on what stroke is and what we can do for that need to the best of our ability," said Rene Tovar, executive director of specialty services at LLUMC – Murrieta. "Educational events like this help spread awareness about stroke, and as a primary center, we are a place where patients can receive the highest quality of care for stroke."
The event also featured a stroke educational presentation and Q&A session with Ricardo Olivo, MD, stroke director at LLUMC – Murrieta. Olivo highlighted the different types of stroke, treatment options, genetic and lifestyle risk factors for stroke, and prevention tips.​
"People don't often recognize stroke symptoms in themselves or others to get the care they need in time," Olivo said. "They also don't know the risk factors they can control and make changes to preventing stroke. It's important that the community can take away that knowledge on preventing and identifying stroke to share to others."​
Francisco Delatorre, a former patient at LLUMC – Murrieta and stroke survivor, attended the event to help provide awareness of stroke and share his story with others. "Your life changes in just a few seconds after a stroke," Delatorre said. "I want to tell people what happened to me so it doesn't happen to them, teach them how to take care of themselves to prevent stroke, what to do in case of stroke and what they need to do afterward to heal."​
Loma Linda University Medical Center – Murrieta is recognized as a Primary Stroke Center by the Joint Commission. If suspect you or someone you know is having a stroke, call 9-1-1. To learn more about treatment options, supports groups and services for offered at Loma Linda University Medical Center – Murrieta, visit  murrieta.lluh.org or call 951-290-4000.​