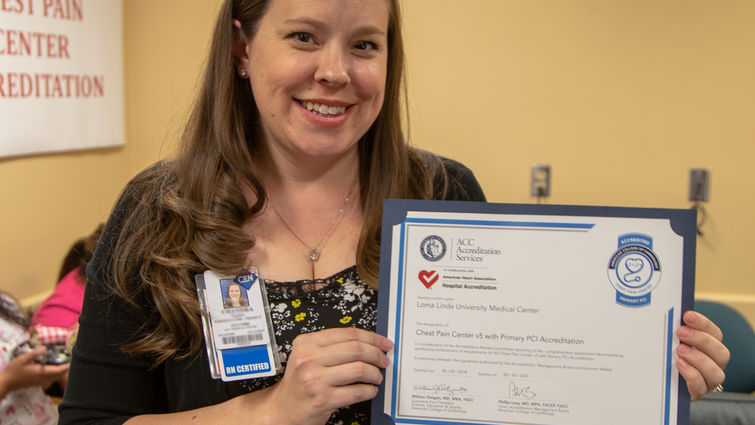 A newly awarded national accreditation from the American College of Cardiology affirms Loma Linda University Medical Center's expertise in providing top-tier heart and vascular care to the communities it serves. The accreditation — "Chest Pain Center with Primary PCI" — underscores LLU Medical Center as a facility equipped and quickly able to evaluate, diagnose and treat chest pain.
The faster the right treatment is given, the better the chance of saving heart muscle in the event of a heart attack.
"Loma Linda University Medical Center has demonstrated its commitment to providing the Inland Empire with excellent heart care," said Phillip D. Levy, MD, chair of the American College of Cardiology's Accreditation Management Board. "ACC Accreditation Services is proud to award LLU Medical Center with Chest Pain Center with Primary PCI Accreditation."
The accreditation also recognizes that LLU Medical Center is able to provide percutaneous coronary intervention (PCI), also known as coronary angioplasty, 24/7 every day of the year.
This minimally invasive procedure helps save heart muscle and increase the likelihood of survival by re-opening the narrowed or blocked coronary arteries that starve the heart of oxygen during a heart attack. 
"This accreditation encompasses the full continuum of care for our cardiac patients," said Chandra Taylor, RN, chest pain coordinator in the Emergency Department. 
"It validates that we provide state-of-the-art care coordinated among multiple touch-points and medical disciplines," said Anthony Hilliard, MD, director of cardiac catherization. The cardiac catherization lab treats heart attack patients to restore normal blood flow as quickly as possible.
Coordination of care across disciplines
Achieving this accreditation relied upon the same teamwork that ensures chest pain patients receive smooth, multidisciplinary coordination of care. The process was led by individuals including Director of Heart & Vascular Services Russell Royer, MBA; interventional cardiologist Vinoy Prasad, MD; Emergency Department physician Paul B. Savino, MD; and Jon Gardner, executive director of the International Heart Institute.
Royer said, "As the first year of this accreditation, we are proud of the demonstration of our partnerships both externally and internally, without which we could not have accomplished this. 
"Because of the teamwork, we are able to reach the entire spectrum of patient care," he said.
The faster the right treatment is given, the better the chance of saving heart muscle in the event of a heart attack. Hospitals must prove exceptional competency and streamlined treatment to earn this accreditation.
Physician leads Prasad and Savino were enthused to demonstrate the streamlined coordination of care from Emergency Department to cardiac catheterization lab to patient unit.
"From the moment a chest pain patient enters the ambulance, the Emergency Department springs into action to ensure an immediate assessment of whether a heart attack is occurring," Savino said, "and to ensure that treatment begins right away with a smooth transition to the cardiac catheterization lab."
"We are ready 24 hours a day in the cath lab to perform percutaneous coronary intervention or other necessary treatments," Prasad said. "Serving collaboratively with internal and external partners to give our patients leading-edge care is a pleasure."
Symptoms of a heart attack
More than 730,000 Americans suffer a heart attack each year, according to the Centers for Disease Control and Prevention.
The most common symptom of a heart attack, for both women and men, is chest pain or discomfort. Women, however, are more likely to have less typical symptoms. Some other symptoms include tingling or discomfort in one or both arms, or the back, shoulder, neck or jaw. They can also include shortness of breath, cold sweats, unusual tiredness, nausea or vomiting, heartburn-like feeling, sudden dizziness and fainting.
Other signs of life-threatening emergencies include severe headache with no known cause, extreme and uncontrollable vomiting, fainting without known cause, convulsions, suspected stroke and trauma. 
When such symptoms strike, call 911 or visit the nearest hospital. Learn about emergency and after-hours care at Loma Linda University Medical Center. 
About International Heart Institute
For more than 50 years, the International Heart Institute has served as a trusted provider of heart and vascular care in the region. It offers services in adult cardiology, pediatric cardiology, cardiothoracic surgery, vascular surgery and cardiopulmonary rehabilitation. 
For general information about heart and vascular services, visit the International Heart Institute's website or call 1-800-INTL-HEART (468-5432).
Loma Linda University Medical Center – Murrieta is also accredited by the American College of Cardiology as a "Chest Pain Center with Primary PCI."