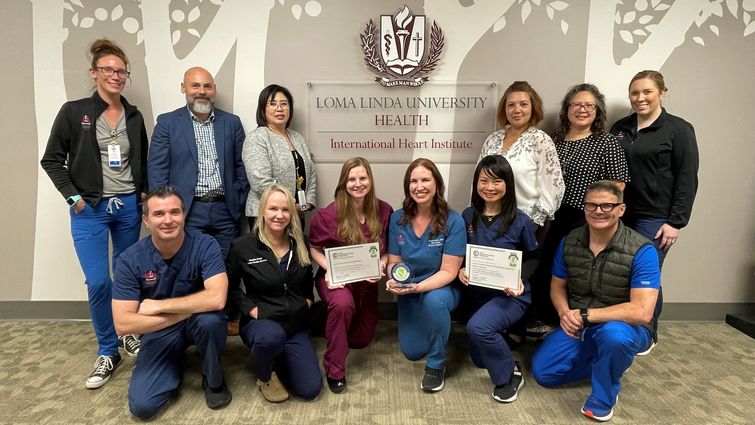 Loma Linda University Medical Center's (LLUMC) Heart Failure Program team gathered to celebrate its accreditation by the American College of Cardiology (ACC) for both their inpatient and outpatient care, one of three centers in Southern California to receive the designation for heart failure outpatient care.
ACC is a national organization dedicated to eliminating heart disease as the number one cause of death worldwide. The accreditation program requires established multidisciplinary teams to implement and track sustainable quality improvement in patient care.
"We are very pleased to receive ACC accreditation for our program," says Antoine Sakr, MD, director of LLUMC's Heart Failure Program. "The accreditation affirms the high-quality, specialized care we provide to all patients coming into our institution with heart failure."
Over 6 million U.S. adults have heart failure, a serious condition that occurs when the heart cannot pump enough blood and oxygen to support other organs. Denise Petersen, NP, the Heart Failure Program's coordinator, says heart failure is a chronic disease mainly controlled rather than cured.
Read: Heart failure: a daunting term, but a manageable disease
"Many times, patients don't know they have a heart condition or damage to their heart until they develop symptoms like shortness of breath, swelling, or fatigue that bring them to an emergency department where they're diagnosed with heart failure," she says.
Patients with heart failure require long-term management of symptoms and treatment for the cause of their heart failure, which Petersen says can include ischemic heart disease, cardiomyopathy, hypertension, and toxic influences such as chemotherapy or illicit drug use.
"There are many different causes of heart failure, so specialized care teams need to be able to parse and identify them in each patient to establish a personalized treatment course," she says. "Studies have shown that heart failure patients fare better and have better prognoses when followed by a specialized heart team."
LLUMC has offered an outpatient program for heart failure patients since the 1990s. Since then, the program has treated countless patients with heart failure over the long term, such as Jeanice Jetters, who has been working with LLUMC's heart failure team for 20 years.
Read: Here's what a patient has to say after two decades of living with heart failure
The program also helps treat high-risk, complex patients with heart failure related to pregnancy, such as Brittany Torres and LaCresha Bell.
Read: Underdiagnosed form of heart failure in women — physician, patients spread the word
Achieving high-quality care for heart failure patients requires a multidisciplinary collaboration between various sub-specialists at LLUMC, including: cardiothoracic surgery, interventional cardiology, electrophysiology, cardio-oncology, and other specialties for the management of comorbidities such as diabetes, obesity, or chronic obstructive pulmonary disease (COPD) that affect patients' overall quality of life.
Petersen says the Heart Failure program has expanded over the years to meet the growing needs of heart patients, especially in San Bernardino County, the largest geographical county in the nation that is known for its large heart disease population.
On the horizon for LLUMC's accredited Heart Failure program are opportunities to conduct community outreach and preventative talks, constantly adjust to updated guidelines, and streamline patients' continuity of care from emergency department visits to treatment after hospital discharge at the outpatient clinic.
---
Learn more about the Heart Failure Program and its services online or call 1-800-468-5432 to schedule an appointment.