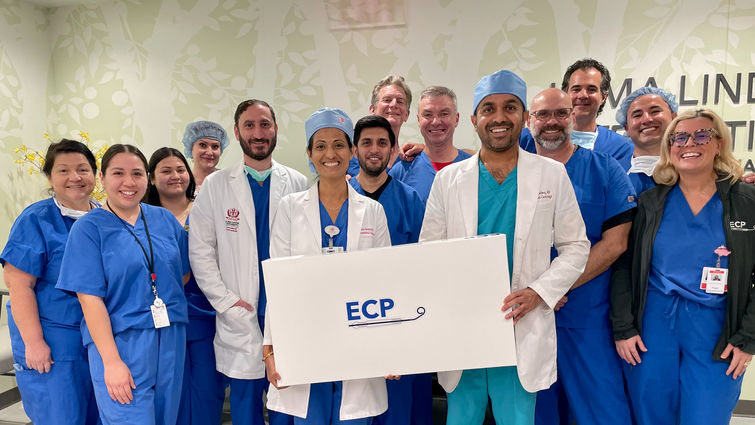 Loma Linda University International Heart Institute has become the first center in the western United States to utilize a heart assist device, Impella ECP, to support patients during high-risk percutaneous coronary intervention (PCI) procedures. LLU's heart care team is partaking in the Impella ECP Pivotal Trial by the Food and Drug Administration (FDA), which investigates the safety and efficacy of Abiomed's percutaneous left ventricular assist device for high-risk PCI procedures.
"In partaking in this pivotal study, our care teams are combining expertise with an openness to novel technology that keeps us on the cutting-edge of the cardiac care we can offer patients," says Aditya Bharadwaj, MD, director of complex coronary interventions and the trial's principal investigator for LLU International Heart Institute.
Patients diagnosed with multivessel coronary artery disease may possess several risk factors, including poor heart function, that disqualify them from open heart surgery; these patients may be eligible to undergo high-risk PCI. Cardiologists may use a percutaneous left ventricular assist device during high-risk PCI that behaves like a support pump when a person's heart function is weak or requires support during complex procedures, Bharadwaj says.
The heart assist device is most commonly inserted with a catheter through a small puncture in the groin's femoral artery, Bharadwaj says. From there, cardiologists guide the device to the heart's left ventricle. Once in place, the machine takes over the heart's function by pulling blood from the left ventricle and expelling it into the aorta to maintain blood circulation throughout the body.
This percutaneous left ventricular assist device received an FDA breakthrough device designation in August 2021 and features a 40% reduction in size compared to the previous iteration of the device. Institutions participating in the Impella ECP Pivotal Trial are helping to determine whether and how the device's significantly smaller size benefits patients' safety by reducing the risk of bleeding complications, stroke, or damage to other arteries.
Bharadwaj adds that the device's smaller size could open up new doors to patients who otherwise wouldn't have been able to receive a larger percutaneous left ventricular assist device.
Bharadwaj, joined by interventional cardiologists Pooja Swamy, MD, Ahmed Seliem, MD, and other members of the International Heart Institute care team, performed several interventions with the device last month and continue to offer eligible patients the option to enroll in the trial. Loma Linda University is one of nine U.S. institutions participating in the trial and currently the only medical center west of Minnesota to have used the device in procedures.
---
If you would like to learn more about LLU's participation in the Impella ECP Pivotal Trial, visit researchaffairs.llu.edu or call 909-558-8544.