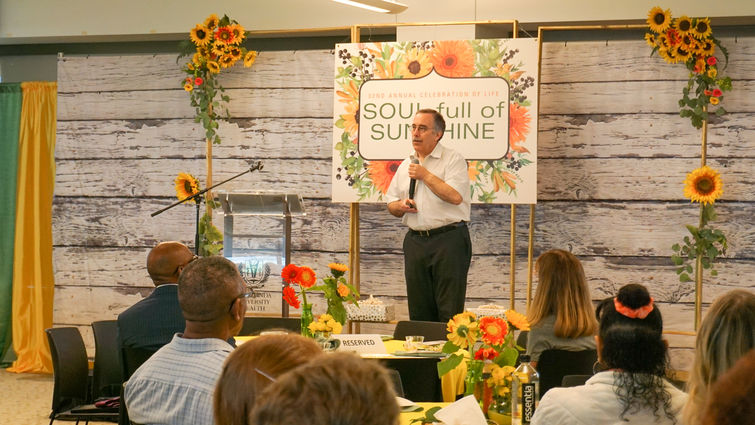 Loma Linda University Cancer Center held its 32nd annual Celebration of Life event on June 4 at Centennial Complex on the Loma Linda University Health campus. Attendees, each touched by cancer in some way, gathered to celebrate the latest advances in cancer care, patient journeys, and nursing awardees.
Mark Reeves, MD, PhD, director of the Loma Linda University Cancer Center, discussed the center's upcoming goals and growing programs — notably, its steadfast approach to becoming a National Cancer Institute (NCI)-designated cancer center.
Several initiatives are bringing LLU Cancer Center closer to NCI designation, Reeves said. For instance, the Cancer Center's Division of Transplant and Cellular Therapy (TCT) is developing a program for cell therapies. Cell therapies, such as tumor-infiltrating lymphocyte (TIL) and CAR-T cell therapies, genetically modify a patient's cells and use them to treat tumors. In addition, Reeves announced the construction of a cell manufacturing laboratory on LLU campus to begin this year, enabling the Cancer Center to process cells and manufacture experimental cellular therapies for patients on-site.
Reeves said the Cancer Center continues to develop its program for theranostics, which pairs targeted imaging with treatments capable of delivering radiation directly to cancer cells — a significant step in cancer treatment for those with resistant or metastasized cancer. As the program expands, Reeves says leaders will focus on building facilities, conducting translational research with clinical applications, and utilizing artificial intelligence in precision medicine.
One patient journey presented during the event featured William Scalese, who is currently receiving a type of theranostic treatment called prostate-specific membrane antigen (PSMA) therapy at the Cancer Center. Scalese's prostate cancer journey was shared through a video testimonial during the event.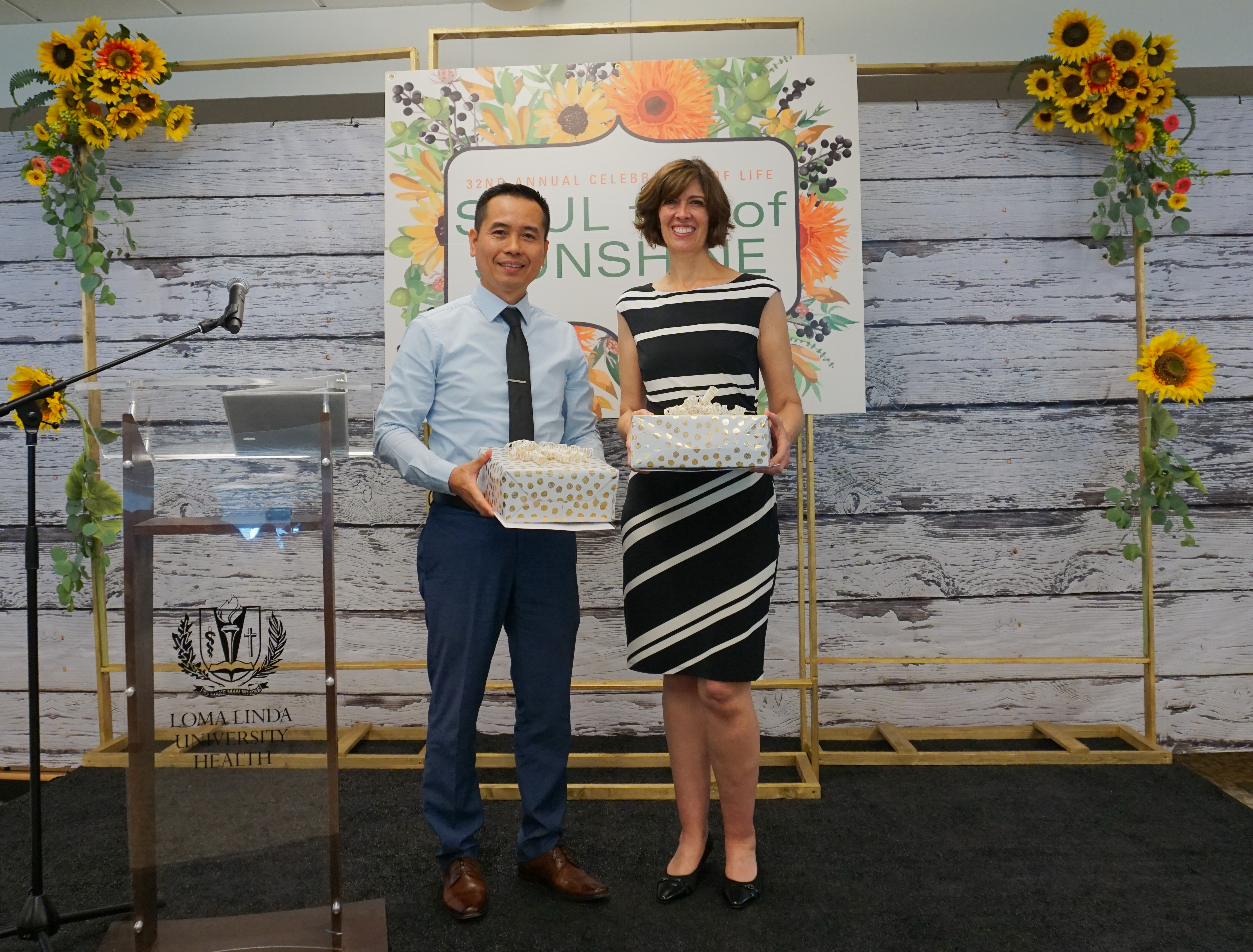 In addition, two oncology nurses, Eric Salasayo and Tammy Stockton, were honored with the Don Kroetz Courage to Care Leadership Award, given annually to recognize the compassionate and knowledgeable care Loma Linda University Health nurses provide to oncology patients. Jan Kroetz, a former chief nursing officer at LLU, and her family established the Courage to Care award to commemorate the life of her son, Don, and the difference nursing care made during his battle with leukemia. The winners are nominated and selected by their peers.
Eric Salasayo, ASN, RN, OCN, joined the Cancer Center to care for inpatients in September 2017, contributing compassion and knowledge to patients' care ever since. He is now one of the most experienced and knowledgeable stem cell transplant nurses and a preceptor who has trained many new nurses. He has previously been recognized as a Daisy Award nominee.
Tammy Stockton, RN, BSN, is an LLU School of Nursing alumna and has cared for patients in various contexts, from trauma to post-anesthesia and, most recently, oncology. As a nurse navigator at the Cancer Center, Stockton can connect to patients through her own experience as a cancer survivor. Her peers know her to go above and beyond to ensure that her patients have everything they need and resources at their fingertips.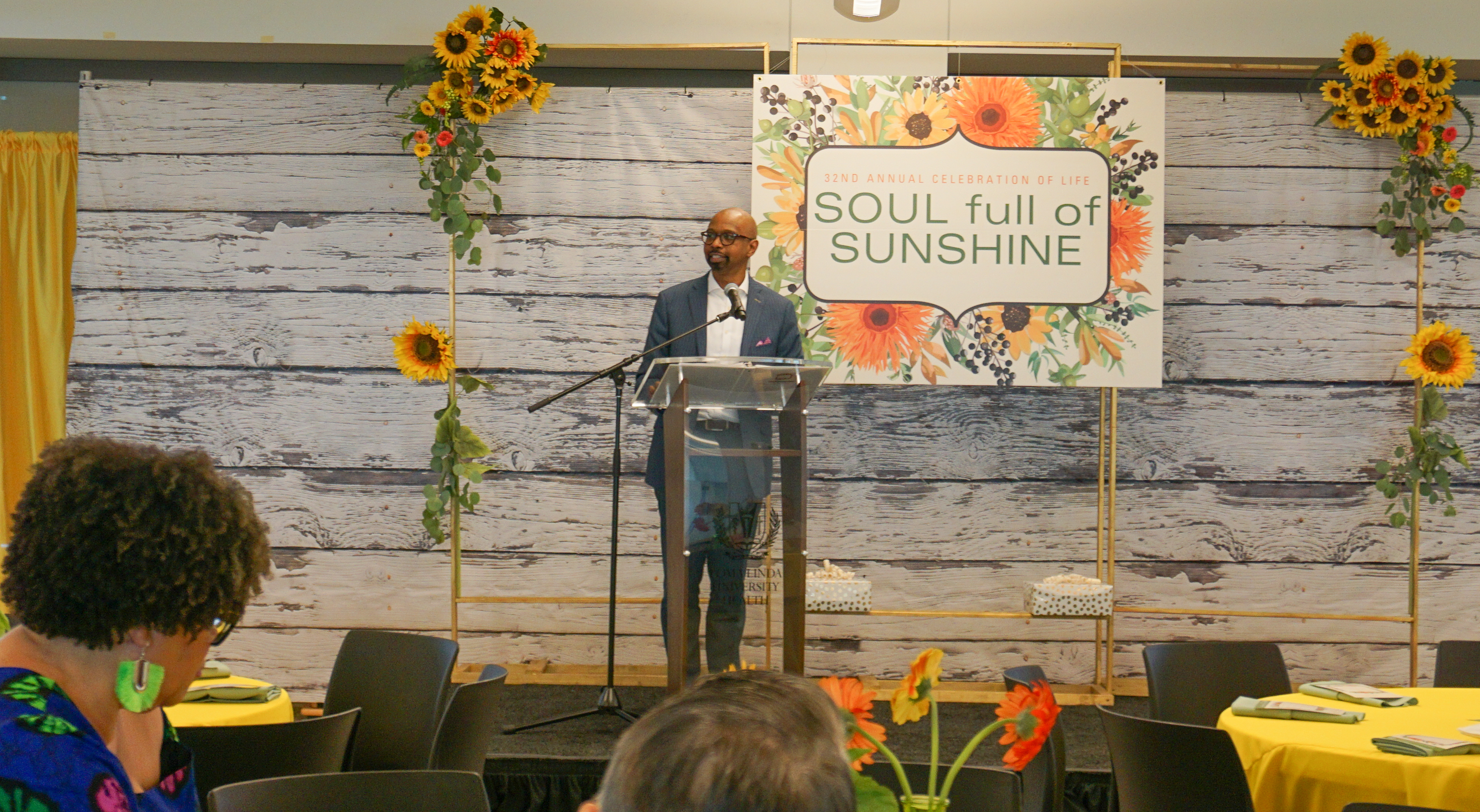 Lyndon Edwards, Chief Operating Officer for Loma Linda University Health, discussed the meaning of the event's theme, "Soul Full of Sunshine," including the inspiring strength and resilience of those who face cancer — from patients to their loved ones and multidisciplinary care teams.
"Our team of compassionate healthcare providers come together to surround that patient with the love and encouragement they need to fight this battle," he said. "But to become cancer-free also requires the patient to have a constant stream of willpower, hope, and most importantly, faith."
Judy Chatigny, RN, MSN, assistant vice president of the Cancer Center, closed out the event with words of encouragement and support to attendees: "Remember how far you have come in your cancer journey, and remember that you are not alone."
---
As the only comprehensive cancer center in the region, Loma Linda University Cancer Center leads complex, multidisciplinary cancer care through programs that bring together state-of-the-art diagnostic tools, cutting-edge cancer treatments, a team of physicians, and support services in one location. To support Cancer Center programs and patients, please visit this webpage.