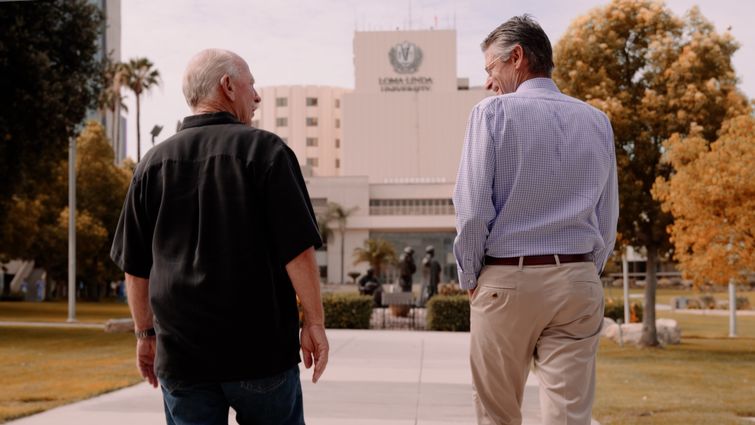 Learning of a diagnosis for an aggressive form of prostate cancer at 66 years old struck Thomas Hendrix "like a bolt of lightning," he said, warping expectations he'd envisioned for his life as a health-conscious, physically active retiree.
The retired fire chief, now 74 years old, has since partnered with Herbert Ruckle, MD, FACS, chair of Loma Linda University Health's Urology Department, to ensure that the aggressive, recurrent cancer remains in remission and allows him to life on his terms.
This Prostate Cancer Awareness Month, Hendrix and Ruckle reflect on their partnership throughout Hendrix's battle against prostate cancer to highlight the importance of screening, a physician-patient relationship, and cutting-edge technology.
Since his first diagnosis of prostate cancer, Hendrix says he connected with his social network, including firefighters and Vietnam War veterans, and was surprised to learn about the cancer's prevalence. For Hendrix, discussing prostate cancer experiences with friends and the community and raising awareness about the importance of screening for changing levels of prostate-specific antigen (PSA) has taken on a significant meaning.
Ruckle says the optimistic and solution-oriented way Hendrix navigated his prostate cancer experience offers "a message of hope and proactivity" that he hopes to spread to other patients. "It's been very gratifying to be with him through this and to be able to be in a situation where we can now say he's cancer-free."
During a routine annual checkup in 2014, Hendrix's primary care physician identified a lump on Hendrix's prostate. Test results would reveal that Hendrix carried six nanograms of PSA per milliliter of blood — beyond the range generally accepted as a "normal" PSA level. Later, a biopsy confirmed the lump to be an aggressive type of tumor in the prostate.
Upon hearing the news, Hendrix says he knew he wanted to receive treatment at Loma Linda University Health because of a long-time, trusted relationship he'd forged with the hospital throughout his career. His wife of 44 years worked at Loma Linda University Health, while Hendrix also frequented the hospital in his early career in the fire service as a paramedic, where care teams always "exuded confidence but also care."
"This area is lucky to have a facility like Loma Linda University Health with all the resources, research, and level of care they can provide so close to home," Hendrix says.
After meeting Ruckle, Hendrix says he felt positive and trusted in the treatment plan they'd settled on from the get-go — a urologic robotic surgery to remove the prostate.
"From the very beginning, Dr. Ruckle inspired confidence," he says. "Some people just have that ability."
Performing robotically-assisted surgery allows surgeons to spare delicate muscles and nerves in the area, Ruckle says. At the same time, Hendrix benefited from undergoing a complex surgery that resulted in smaller incisions, less blood loss, and a quicker recovery time. After recovering, Hendrix resumed his regular exercises with weight training and biking.
But after a period of undetectable PSA Ruckle detected a rise in Hendrix's PSA several months after surgery, and then recommended proton radiation treatment to target any lingering cancer cells. Hendrix completed 35 visits at LLUMC Proton Treatment Center; his PSA levels reverted to undetectable and remained low and stable for over three years afterward.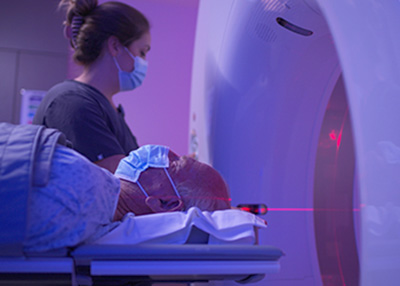 After the second detection of a PSA change and observing the slow increase, Ruckle said he recommended Hendrix undergo a PSMA PET scan.  The new technology focuses on locating prostate-specific membrane antigen (PSMA), a protein found at high levels on the surface of prostate cancer cells. The PSMA PET scan uses a radioactive tracer to identify and attach to PSMA proteins that show up on the imaging.
The highly sensitive imaging technique is the most precise and accurate imaging method for pinpointing prostate cancer anywhere in the body, Ruckle says. Earlier this year, Hendrix's PSA doubled, and a PSMA PET scan detected a pea-sized collection of cancer cells in his abdominal wall, "a very unusual and rare place to have prostate cancer activity," Ruckle says.
Read: PSMA imaging, therapy open new doors for prostate cancer patients at LLU Cancer Center
After following the rising PSA until it reached the detection threshold, a second PSMA test was positive for localized cancer and Hendrix underwent minor, localized surgery to remove the tumor in May. "It could not have gone better," he said. "I was in and out of there." Now, his PSA is back to zero, and tests show no evidence of cancer activity.
By providing continuity of care over time and using technologies like PSMA PET imaging, Ruckle says he was able to detect and treat Hendrix's oligometastases, "a small amount of cancer spread very early and very aggressively."
"Using advanced technologies like robotic surgery, proton therapy, and PSMA PET scan, our care teams have been able to make Mr. Hendrix, for the moment and hopefully permanently, cancer-free," Ruckle says.
Meanwhile, Hendrix resumes his busy routine and cherishes time spent with his wife; together, they travel to Phoenix to visit their son and grandchildren.
"I've never let this slow me down or dampen my spirits and what I want to do in life," Hendrix said. "I've always been optimistic about it. I'm going to keep enjoying life."
Get our newsletter for cancer-fighting tips, activities and recipes.
---
Loma Linda University Health is committed to your health and safety. Learn more about prostate cancer screening and treatment options online or call 909-558-6600.