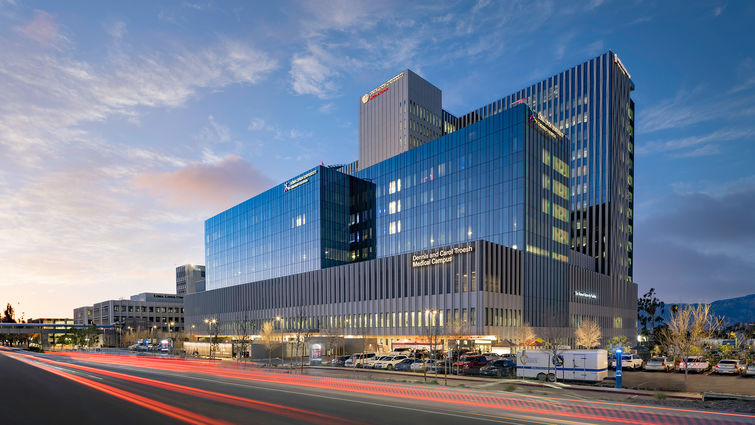 One year has flown by, and Loma Linda University Children's Health is marking its first anniversary in the innovative Children's Hospital tower. Opened in August of 2021, the building dots the horizon of Loma Linda with blazing panes of colorful, dichroic glass.
The Children's tower has expanded healthcare access for the community's smallest and most vulnerable residents in the past year, treating more than 21,000 patients. In addition, personalized care for patients has been the priority, with 84 fully-private inpatient rooms. Recognizing that excellent care, The Leapfrog Group, a national watchdog organization recognized as the toughest standard-setters for healthcare safety and quality, named Children's Hospital a "Top Children's Hospital" for the fourth time.
For emergent needs, the Children's Emergency Room continues to provide 24/7 care. With 26 bays and quick access to both CT scan services and operating rooms, the space is equipped for the most severe types of injuries, making it the only pediatric-dedicated Level I Trauma Center caring for the region.
The San Manuel Maternity Pavilion, housed on the entire fifth floor of both the Children's tower and the Adult tower, has seen the delivery of more than 2,600 precious babies over the past year. The space's 44 licensed OB beds, 11 labor and delivery rooms, three C-section rooms, and nine triage rooms have empowered Children's Hospital to remain a leader in high-risk birth care. This effort was recognized by U.S. News & World Report's 2021-22 "Best Hospitals for Maternity" list, highlighting low rates of newborn complications, early deliveries, and C-section rates. The hospital also made the "2021 Maternity Honor Roll" of California Health and Human Services and Cal Hospital Compares through meeting the statewide target of reduced births via C-section in first-time mothers with low-risk pregnancies.
With the anniversary of the Children's tower, Children's Hospital celebrates the expanded care the tower has made possible and the stories of hope in which our patients and dedicated staff have played a role. We also commemorate our continued service as the only pediatric hospital in the sprawling geographic counties of San Bernardino, Riverside, Inyo, and Mono, with its annual admission of 15,000 children and ambulatory care of another 160,000.
Loma Linda University Children's Health awaits to the future with humility and eager anticipation of the opportunity to continue serving the community. We look forward to many more anniversaries of keeping children healing, healthy, and happy.
Visit our website to learn more about our incredible care.