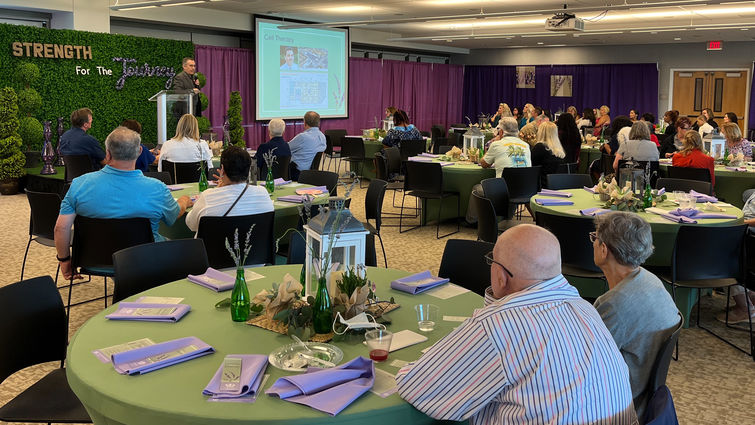 Loma Linda University Cancer Center held its 31st annual Celebration of Life event on June 6 at Centennial Complex on the Loma Linda University Health campus. Over 150 attendees gathered to share the same space again after two years of virtual event attendance.
The event featuring updates on the latest advances in cancer care, patient testimonials, and awards offered a community that is battling, or that has survived cancer, strength for the journey. 
Mark Reeves, MD, PhD, director of the Loma Linda University Cancer Center discussed the significance of survivorship and continued screening. The repercussions of pandemic-induced lapses in cancer screenings serve as a reminder of screening's crucial role in early diagnosis and chance of survival, Reeves says.
"The best way to keep the number of cancer survivors high is to find cancer before it becomes advanced," Reeves said. "If you've been thinking about getting screened, do it."
In addition to its focus on cancer survivorship and prevention, the Cancer Center has allotted time and resources into a range of advanced cancer services and treatments, Reeves said. The Cancer Center's Brain Tumor Center will focus on treating brain cancer patients with cutting-edge capabilities, such as a form of radiosurgery able to deliver all the needed radiation therapy for a brain tumor in a single session. The Center's construction begins in summer.
Meanwhile, medical and research teams at the Cancer Center are wielding targeted imaging and treatments capable of delivering radiation directly to cancer cells — a significant step in cancer treatment for those with resistant or metastasized cancer. Additionally, the Cancer Center's new Division of Transplant and Cellular Therapy (TCT) is dedicated developing a center for cell therapies. Cell therapies, such as tumor-infiltrating lymphocyte (TIL) and CAR-T cell therapies, genetically modify a patient's cells and use them to treat tumors.
One of the many stories presented featured Katie Smith, a three-time breast cancer survivor recently treated at Loma Linda University Cancer Center. Smith's breast cancer journey was shared through a video testimonial during the event. 
In addition, two oncology nurses, Amanda Mitchell and Maria Ronquillo, were honored with the Don Kroetz Courage to Care Leadership Award, given annually to recognize the compassionate and knowledgeable care Loma Linda University Health nurses provide to oncology patients. Jan Kroetz, a former chief nursing officer at LLU, and her family established the Courage to Care award to commemorate the life of her son, Don, and the difference nursing care made during his battle with leukemia. The winners are nominated and selected by their peers.
Amanda Mitchell, BSN, RN, joined the Cancer Center in January 2020, skillfully adjusting to nursing during COVID-19 to care for inpatients. She serves on the Cancer Center's Professional Governance Committee where she provides valuable input and feedback to create positive change for patients and the unit as a whole. Mitchell's coworkers appreciate her gentle spirit, empathy, and ability to make patients, "feel like they are her one and only priority."
Maria Ronquillo, MSN, RN, OCN, has been a nurse since 1994 and cared for patients at the Cancer Center for a decade. All the while, she has continued to advance her education by obtaining her MSN and becoming nationally certified in oncology. Ronquillo's peers recognize her as thoughtful and thorough in her work: "She takes the time to come to each hallway in the morning to say hello, goes over clinic schedules, and provides updates on our patients" — all of whom she knows by heart.
Judy Chatigny, MSN, Loma Linda University Cancer Center's executive director, said it takes a village of physicians, nurses, staff, patients, and loved ones to engage in quality cancer care and healing. Guest speaker Dilys Brooks, PhD, DCC, chaplain at Loma Linda University, offered attendees words of encouragement, emphasizing the event's theme of strength for the journey.
As the only comprehensive cancer center in the region, Loma Linda University Cancer Center leads complex, multidisciplinary cancer care through programs that bring together state-of-the-art diagnostic tools, cutting-edge cancer treatments, a team of physicians, and support services in one location. To support Cancer Center programs and patients, please visit this webpage.