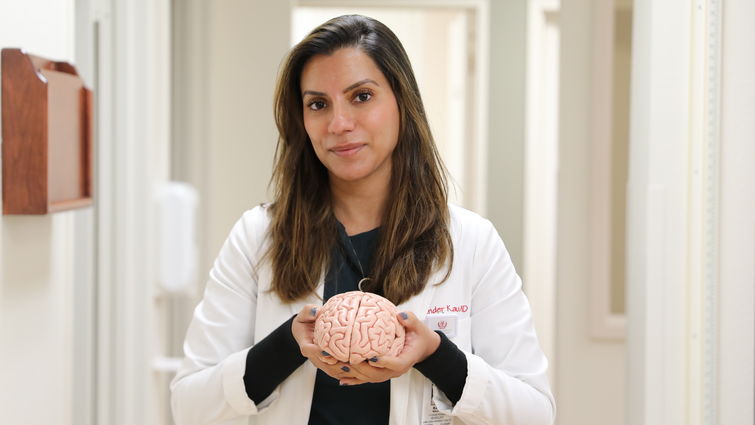 Physicians will diagnose an estimated 25,000 malignant tumors of the brain or spinal cord in U.S. adults and children by year's end, according to the American Cancer Society.
Because of their grave impacts, malignant brain tumors directly or indirectly affect the lives of individuals and  loved ones, says Maninder Kaur, MD, a neuro-oncologist at Loma Linda University Cancer Center.
This Brain Tumor Awareness Month, Kaur highlights advances in treatments for brain cancer and the hopes they bring with them on the horizon. As a brain cancer specialist, Kaur says she aims to replace confusion and frustration with education to empower people — many of whom are likely to encounter brain cancer in some way— to support and strive for new approaches to the disease.
When we think 'brain tumor'…
"When we think of brain tumors, we often think of the most aggressive type," Kaur says. Specifically, we think of glioblastoma, she says, the most common of the aggressive adult primary brain tumors — tumors that originate in the brain.
Glioblastomas originate in the supportive brain tissue, in star-shaped cells that nourish and support neurons. The cancer cells multiply quickly and spread throughout the brain, but they don't tend to spread throughout the body, Kaur says.
The blood-brain barrier is a semipermeable border of cells that protects humans' health by keeping toxins or pathogens from reaching the brain, Kaur says. Yet this barrier acts as a wall between the brain's tiny blood vessels and brain tissue material, making it difficult for therapies like conventional chemotherapy to penetrate the brain. Chemotherapy's size or structure keeps it from reaching primary brain tumors. For decades, the conventional methods for treating primary brain tumors like glioblastoma entailed surgery followed by chemotherapy and radiation.
But Kaur says these conventional routes are on the verge of change as the medical and research community gains headway in identifying better therapies to treat brain tumors.
What's on the horizon?
Current main prospects for improving brain cancer treatment include CAR T-Cell therapy and other immunotherapy. These medicines might better penetrate the blood-brain barrier to reach the core of the tumor, Kaur says.
Clinical trials worldwide are testing whether immunotherapies or CAR T-Cell therapies meet either of these criteria, meaning the medicines would slow the rapid growth process of brain cancers like glioblastoma. The challenges of treating brain tumors — metastatic or primary — are the same as in systemic therapies: not all patients respond, and much research is needed to elucidate the reasons. Kaur says she aims to bring such clinical trials to patients at the Cancer Center soon.
Radiation presents another method for penetrating the blood-brain barrier. Kaur says evolving technologies can now deliver more specific targeted treatments to the tumor sites — an essential quality for protecting healthy brain tissue from damage. For example, proton beam therapy, IMRT, and stereotactic radiosurgery all offer precise therapeutic radiation to abnormal, cancerous cells and reduce radiation to healthy neighboring tissues in the brain.
It takes a village
The treatment of a brain tumor is vital to the patient's and their loved ones' well-being — so is the expertise and support of a multi-disciplinary team, Kaur says. A large group of specialists can approach the disease from multiple angles to meet the patient's various needs.
Brain tumor patients typically interact with a care team from backgrounds in:
Medical oncology for medicine
Radiation oncology for radiation treatment
Neurosurgery for surgical removal of tumors
Palliative medicine for symptomatic management and assistance in treatment decision making
Social work to assist with shifting finances, logistics, and resources
Psychology to help adjust to current or anticipated changes in physical and mental status and family dynamics
In some settings, like at LLU Cancer Center, patients may also benefit from interacting with specialists in the burgeoning field of neuro-oncology. Neuro-oncologists are cancer specialists trained to handle cancers related to the neurological system and brain conditions pertaining to those tumors.
"Neuro-oncologists are like a one-stop-shop," she says. "I can treat the cancer itself, but I can also treat other complications related to the tumor or the treatment such as stroke, seizures, and neuropathy."
As new avenues for brain cancer treatment unfold, and the field of neuro-oncology continues to grow, Kaur urges people to seek and spread awareness about brain tumors and advancements in the field.
"More research needs to happen," Kaur says. "If we can fund more research, we can keep making headway on treatments that can control even the most aggressive forms of brain tumors."
Loma Linda University Cancer Center physicians are committed to providing patients with compassionate, comprehensive care that gives them the best opportunity to face and overcome cancer. To learn more about services offered at the Cancer Center, please visit lluh.org/cancer-center.