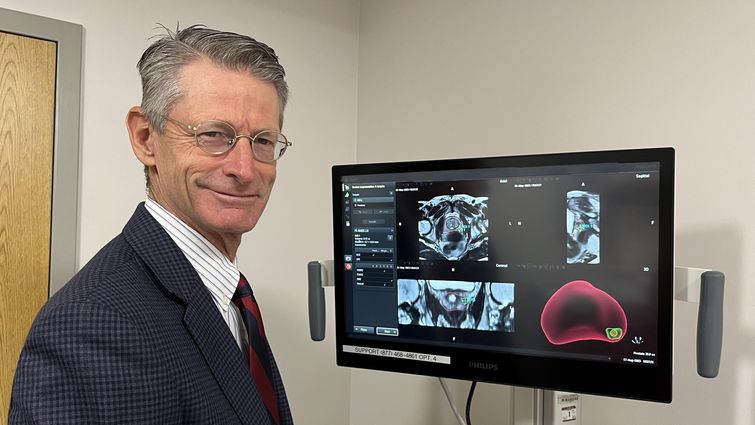 Hundreds of thousands of men will have been diagnosed with prostate cancer this year, according to estimates by the American Cancer Society. Some of those men diagnosed with lower-risk cancers may consider a treatment option known as active surveillance — monitoring the cancer closely and deferring treatment until the cancer is shown to progress.
As active surveillance becomes increasingly common, Herbert Ruckle, MD, FACS, chair of Loma Linda University Health's Urology Department, says it is essential for men to understand the rationale, its process, benefits, and risks. During September's Prostate Cancer Awareness Month, Ruckle explains active surveillance and its role in prostate cancer management.
Get our newsletter for cancer-fighting tips, activities and recipes. Subscribe
Active surveillance involves careful monitoring of the cancer and holding off on treatment until signs of progression, if any. In determining whether active surveillance could be a viable option for a patient, physicians weigh many factors to perform risk stratification, including the tumor risk, patient's age, functionality and priorities, prostate size, family history and genetics, and life expectancy. Ruckle says active surveillance is recommended for men with low-risk cancers that probably won't bother them in their lifetime.
Ruckle says active surveillance initially emerged from a need to temper over-treatment of prostate cancer. Before PSA-based screening for prostate cancer became available in the 1980s, prostate cancer was typically diagnosed late in the course of the disease and considered lethal. But as the PSA test became available, it detected low-risk prostate cancers in many men; the cancers were small, confined to the prostate, and not considered aggressive.
Read: Urologist addresses top two prostate cancer myths
While many of these patients were "enthusiastically treated," Ruckle says evidence began to show that some patients weren't benefiting from the immediate treatment of their cancer. Some older patients could have lived the natural course of their lifetimes and kept their quality of life without undergoing aggressive treatments and their side effects. Many of these cancers would likely never grow to the point where they would even cause symptoms, let alone become life-threatening.
Active surveillance following a prostate cancer diagnosis of a less aggressive cancer generally involves routine PSA tests, periodic MRI imaging, and prostate biopsies to check for any indication that the cancer might be growing; protocols vary by place. At Loma Linda University Health, Ruckle says active surveillance involves a PSA test every six months, a confirmation biopsy within the first year of diagnosis, a subsequent biopsy in one to two years, followed by another in two to three years, and an MRI every year.
Ruckle says determining whether active surveillance suits the patient involves shared decision-making with the provider, an understanding of all the different treatment options, and a firm handle on active surveillance's benefits and potential risks.
Read: My PSA is elevated — what happens next?
A significant benefit of active surveillance is that patients preserve their current quality of life without incurring any risks or side effects associated with surgical, radiation, or medicinal treatments. In prostate cancer cases, treatment could threaten quality of life in the domains of urinary control and function, sexual function, and other aspects such as vitality, pain, and anxiety. 
"You get to keep what functionality and quality of life you have without risk of treatment changing your quality of life or functionality for the worse," Ruckle says. "You get to just keep staying the way that you were in the near term."
In some cases, Ruckle says patients with newfound knowledge of their cancer may decide to make significant lifestyle changes with exercise and diet to pursue and healthier routine actively, and could even increase their quality of life. He says this is one of the best actions men on active surveillance can take.
"We know of better prostate cancer survivorship in healthier men than those who aren't," he says.
Read: Ways to care for a loved one facing prostate cancer
Finally, Ruckle says patients can always decide to switch to active treatment at any time, even if the active surveillance hasn't shown any changes in their cancer.
 A risk of active surveillance is that neither the provider nor the patient can predict what will happen with certainty. While the risk is small, it is possible that the cancer could grow or change quickly, and the resulting probability of cure lessened. If a patient opts for active surveillance, Ruckle says following the schedule for risk assessment and monitoring is critical to a good outcome.
"Cancer is not completely predictable," Ruckle says. "It's untrustworthy, nefarious, and its nature is to grow and get worse over time. Like with any treatment, non-compliance doesn't garner good results. For active surveillance, the treatment is the schedule."
A recent study found that over half of U.S. men diagnosed with low-risk prostate cancer are managed with active surveillance, reports the National Cancer Institute. The same study found that rates of active surveillance more than doubled between 2014 and 2021.
Ruckle says he expects active surveillance to become even more desirable among patients with ongoing research discoveries, better risk assessment of the tumor, treatment improvement, and technological advances allowing for more targeted treatment. Imaging and tests will become incrementally more accurate, while treatments will become more effective at treating prostate cancer and preserving quality of life.
Get our newsletter for cancer-fighting tips, activities and recipes. Subscribe
---
Experts at Loma Linda University Health are committed to providing compassionate, comprehensive, and personalized care along every step of your prostate cancer journey. Learn more about prostate cancer screening and treatment options online or call 909-558-6600.