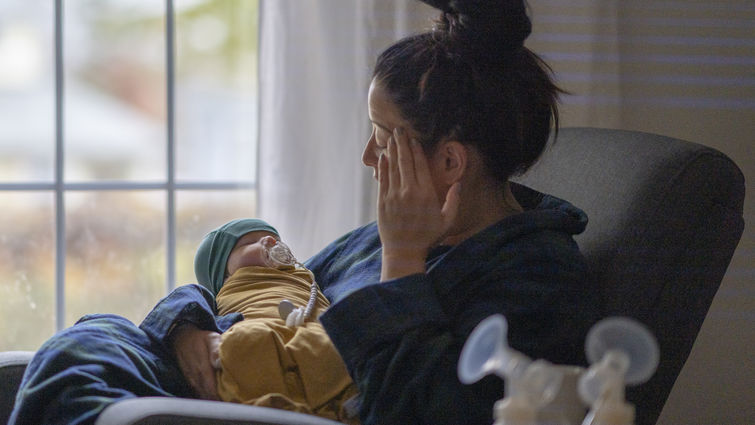 New mothers often experience joy and excitement in the first few weeks of welcoming their newborns into the world. But for some, this experience can be clouded by postpartum depression (PPD), a mental health condition characterized by feelings of sadness, anxiety, and exhaustion. Without prompt treatment and care, it may interfere with a mother's ability to care for herself and her newborn.
"It's very normal in the first few weeks with lack of sleep and figuring everything out that things can feel emotional, tiring, and stressful," said Courtney Martin, DO, FACOG, an OB-GYN and medical director of maternity services at Loma Linda University Health. "If symptoms persist for more than two weeks, that could potentially be postpartum depression or postpartum anxiety, and you should tell your doctor."
Up to 1 in 7 women experience postpartum depression, according to the American Psychological Association. While PPD most commonly affects new moms, it can also affect mothers with more than one child, regardless of income level, race or ethnicity, culture, marital status, or education. It's not a weakness and not anyone's fault.
Here are some warning symptoms to look out for: 
Eating much more, or much less, than you usually do
A loss of pleasure or interest in things you used to enjoy
Anxiety — all or most of the time — or panic attacks
Feeling guilty or worthless; blaming yourself
Excessive irritability, anger, or agitation; mood swings
Sadness, crying uncontrollably for very long periods of time
Fear of not being a good mother
Fear of being left alone with the baby
Inability to sleep, sleeping too much, difficulty falling or staying asleep
Disinterest in the baby, family, and friends
Difficulty concentrating, remembering details, or making decisions
Thoughts of hurting yourself or the baby
Martin emphasizes the importance of seeking help and not suffering alone or in silence. 
"Suicide is one of the leading causes of death in the postpartum period, so it's really important that we pay attention to it," Martin said. "There are a lot of resources, support groups, podcasts, and information online. It shouldn't be stigmatized anymore. People care, and you're not alone."
Physicians often use the Edinburgh Postnatal Depression Scale, a survey tool to identify people at risk for PPD throughout pregnancy and their hospital stay. A score is calculated based on the answers to the screening questions to determine if further evaluation or treatment is needed. 
Among the list of questions, the questionnaire asks if the person has blamed themselves unnecessarily when things go wrong, if she has felt anxious or worried for no good reason, or if there have been thoughts of harming oneself. 
Fathers can experience postpartum depression and share the same symptoms that mothers with PPD have. 
If you think you may have postpartum depression, prompt treatment can help you manage your symptoms and help you bond with your baby. Treatment can include counseling, support groups, and medication.
If you are having thoughts of harming yourself or your baby, immediately seek help by calling 911. You may also consider contacting a healthcare provider, a mental health provider, or the suicide hotline by calling or texting 988. The hotline is available 24/7 and is free and confidential.
Contact your provider for questions specific to postpartum depression.