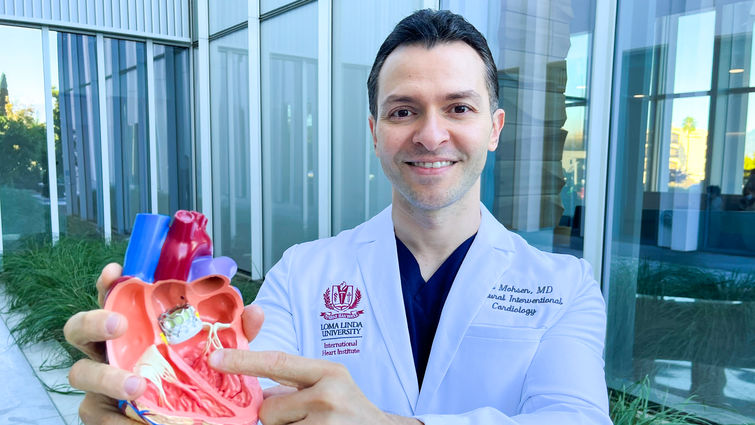 The aging process may bring newfound physical discomfort or pain in various body parts, reduction in movement, and difficulty breathing. But it's crucial not to automatically chalk these symptoms up to old age, says Amr Mohsen, MD, a structural interventional cardiologist at Loma Linda University International Heart Institute. Instead, he advises talking about new and ongoing symptoms with care providers who can investigate the source of the problem and help.
Mohsen says these symptoms may overlap with other serious conditions for which patients should seek treatment, including aortic stenosis. Two in ten Americans over the age of 65 have aortic stenosis, according to the American Heart Association. Aortic stenosis is one of the most common and serious heart valve diseases, where narrowing of the aortic valve makes it harder for the heart to pump blood.
"We consider this valve the front door to the heart," Mohsen says. "The aortic valve is the only one out of the four heart valves to control the blood flowing out of the heart to the rest of the body."
With the wear and tear of aging or from genetics, people experience a tightening of the aortic valve. The congenital condition known as a bicuspid aortic valve creates a smaller aortic valve and predisposes people to develop aortic stenosis at an earlier age.
Read: Patient's 'golden years' restored after risky procedure
But for most, the disease comes with older age. Over time, blood flow deposits calcium within the arteries; that buildup causes the valve's narrowing. Neither genetics nor calcium deposits in the aortic valve are preventable, Mohsen says.
Patients can mistake the symptoms of aortic stenosis for old age.Amr Mohsen
If the front door to the heart is only half open, Mohsen says blood will struggle to come out, raising pressure inside the room — the left ventricle chamber of the heart. This effect can lead to symptoms including fatigue, shortness of breath, chest pain, lightheadedness, or passing out. Mohsen says growing awareness of the symptoms linked to aortic stenosis can help patients catch the disease if it is present and seek the treatment they need.
"Otherwise, patients can mistake the symptoms of aortic stenosis for old age," Mohsen says. "This disease develops slowly and gradually, so in response to that, patients will gradually decrease their activity levels over time and think it's just because of the aging process."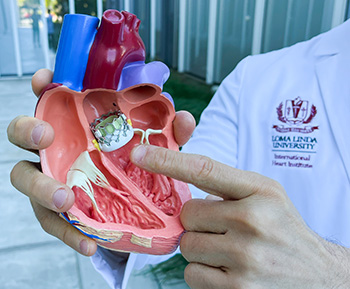 A minimally invasive procedure known as transcatheter aortic valve replacement (TAVR) presents a new option to treat patients with aortic stenosis. To perform TAVR, a cardiologist punctures an artery in the leg. Through this small puncture, the team implants a new valve on a balloon slender enough to fit in the artery. The cardiologist then advances this valve through a sheath to replace the diseased valve. Patients undergo TAVR in conscious sedation or general anesthesia; the procedure takes less than an hour and allows patients to go home usually the next day.
"The beauty of the procedure is that nearly all patients go back to regular activities the next day and notice a dramatic improvement in their symptoms," Mohsen says.
Before TAVR, open heart surgery constituted the standard of treatment for aortic stenosis. But Mohsen says the physical demand and risks the procedure poses for the body disqualifies older patients from receiving treatment. Unfortunately, research reveals that about half of patients with severe, symptomatic aortic stenosis die within two years if they do not undergo treatment. Mohsen says severe symptomatic aortic stenosis has been shown to have worse prognosis than several metastatic cancers.
"TAVR in patients with symptomatic severe aortic stenosis is one of the few interventions in cardiology and all of medicine that is proven to improve life expectancy across all age groups," he says. "Treating a tight aortic valve not only allows the patient to live longer, but also live with a better quality of life."
Now with TAVR, Mohsen says he and care teams at the International Heart Institute are treating patients in their 90s. Since offering TAVR in 2013, specialists at the International Heart Institute have served over 900 patients with the procedure.
Read: International Heart Institute specialists join forces to safely, efficiently grant patient new heart valve
"Aortic stenosis is fixable," Mohsen says. "To fix it, it's important first to find the problem, then consider the available treatment options. We cardiologists are here to help patients through each step of that process in their journey back to health."
---
At Loma Linda University International Heart Institute, physicians are committed to providing patients with compassionate, comprehensive, and personalized cardiovascular care. To learn more, please visit lluh.org/heart-vascular or call 909-558-7717 to make an appointment.