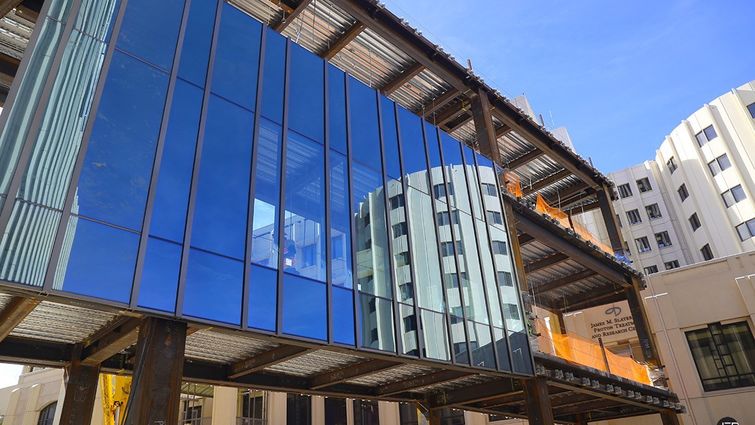 Workers from Tower Glass, Inc., have completed installing the glass panel walls on the west connector bridge that links the second and third floors of the existing Loma Linda University Medical Center and Children's Hospital to levels two and three of the podium supporting the future hospital towers presently under construction.
The project was halted temporarily because of strong Santa Ana winds that blew through the region in mid-February. For the entire project, Tower Glass has installed more than 260,000 square feet of windows and walls.
The bridge structure on the west side of the future hospital serves as two of the four connecters between the existing medical facility and the future hospital structure. The two additional connectors are the Schuman Bridge and the A-level connector tunnel.
These two newest connections are known as:
•  Second floor connector — Second-floor connection from the future hospital to Wellness Way (south end) in the existing facilities.
•  Third floor connector — Third-floor connection between the future hospital and Unit 3800 in the existing hospital. This will be the bridge used primarily for: 1) transporting infants from maternity services (fifth floor of the future hospital) to the neonatal intensive care unit in the existing hospital and 2) transporting patients between acute care pediatrics in the new tower and the pediatric intensive care units in the existing Children's Hospital.
The ongoing hospital construction is a part of Loma Linda University Health's Vision 2020 – The Campaign for a Whole Tomorrow. New buildings for adult patients and an addition to the Loma Linda University Children's Hospital will exceed California's upcoming seismic requirements for hospitals.
You can follow the rise of the towers on a daily basis by checking the construction web cams.
We're sharing photographic updates of the hospital construction work on a periodic basis. Watch for special emphasis on some of the behind-the-scenes-views and untold stories at the Vision 2020 website.
This vignette is adapted from a blog by Dennis E. Park, which appears on the website www.docuvision2020.com.