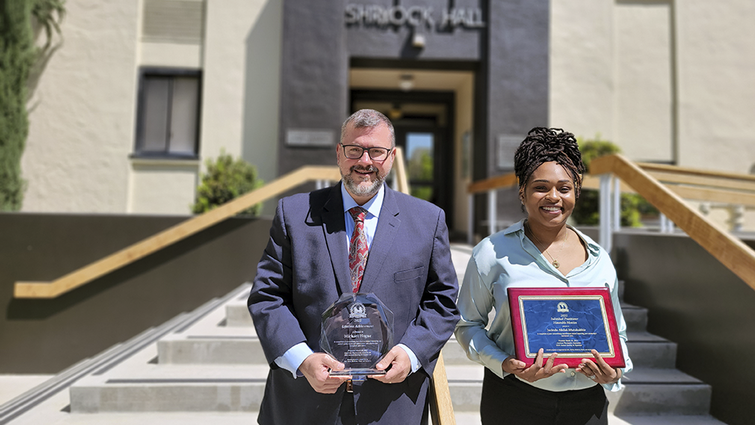 Loma Linda University School of Pharmacy dean and faculty are recipients of the American Pharmacists Association Immunization Champion Awards for their extraordinary contributions toward improved COVID-19 and other vaccination rates within the local community.
Michael Hogue, PharmD, FAPhA, FNAP, dean of LLU School of Pharmacy, received APhA's Immunization Champion–Lifetime Achievement Award. Jacinda Abdul-Mutakabbir, PharmD, MPH, assistant professor at LLU School of Pharmacy, received an Immunization Champion Individual Practitioner Award – Honorable Mention.
The American Pharmacists Association (APhA) presented twelve recipients, including individuals and organizations, an Immunization Champion award, in a ceremony held March 20 at this year's APhA Annual Meeting, in San Antonio, Texas.
"When we look back over our life's work, we often don't realize until significant time has passed the impact we've made," Hogue said. "It's a very humbling and tremendous honor to have been recognized for the area of practice that I've dedicated my career." 
Loma Linda University Health has led COVID-19 vaccine efforts in San Bernardino County, and LLU School of Pharmacy faculty organized student-based mobile vaccine clinics in vulnerable communities throughout Southern California.
"The pandemic has illuminated that Loma Linda University is blessed with a dedicated team of pharmacists making a tremendous impact on community vaccination needs," he said.
Hogue played an integral role in establishing community clinics in line with CDC and California state guidelines. He was appointed to the COVID-19 vaccine workgroup that made recommendations the Centers for Disease Control and Infection (CDC) at the start of the pandemic. Hogue became APhA's liaison representative to the CDC Advisory Committee on Immunization Practices (ACIP), last November. The group is composed of medical and public health experts that develops recommendations on how to use vaccines to control diseases in the United States. Under Hogue's leadership, Loma Linda University School of Pharmacy has been recognized nationally twice for the school's community outreach during the pandemic in 2021.
Abdul-Mutakabbir has been at the forefront of vaccine research initiatives that ensure equitable distribution of vaccines among a diverse population. Under her leadership, and collaboration with faith and community organizations, over 1,500 vaccine doses have been distributed within the racially and ethnically minoritized communities of the Inland Empire. She is the first author of the paper A three-tiered approach to address barriers to COVID-19 vaccine delivery in the Black community, published in The Lancet Global Health and frequently speaks to minority communities to help dispel misinformation about vaccines.
"The APhA Immunization Champion Awards program helps us tell the story regarding pharmacists' and the pharmacy teams' contributions to and impact on the health of communities and as valued members of the immunization neighborhood," said Mitchel Rothholz, RPh, MBA, APhA, Chief Governance & State Affiliates and Executive Director of APhA Foundation.
The APhA established these awards in 2008 and made the first presentations in 2009 to recognize the value of pharmacists who improve the vaccination rates in their communities. Nominees were evaluated based on the areas of impact, collaboration, originality, and overcoming challenges and creating opportunities for pharmacists. Supporters of the recognition program include Centers for Disease Control and Prevention (CDC), GSK, Moderna, Pfizer, and VaxServe.
 
"We applaud the pharmacists, student pharmacists, and pharmacy technicians at Loma Linda University trained to administer vaccines and who are making a difference in their communities, especially during these challenging days of COVID-19," Rothholz said.