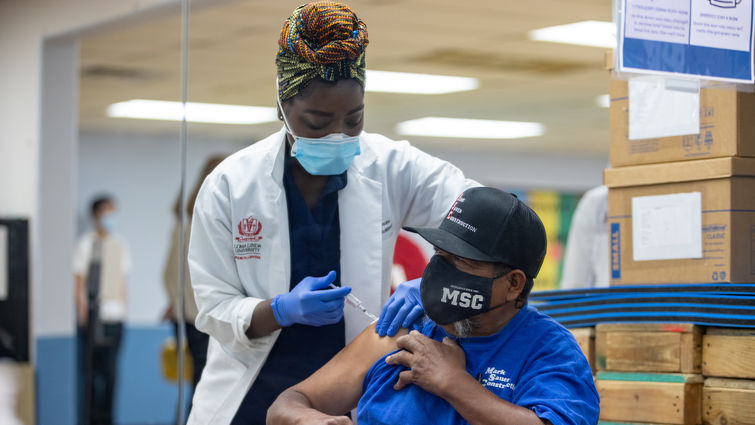 Eight one-day popup vaccine clinics operated by Loma Linda University Health delivered 373 COVID-19 vaccines to San Bernardino County's Black and Latinx populations on May 14. The initiative was part of an ongoing focused equity effort to reach minority populations, which have experienced higher rates of COVID-19 infection during the pandemic, according to the Centers for Disease Control and Prevention.
Michael Hogue, PharmD, FAPhA, FNAP, dean of LLU School of Pharmacy, has led Loma Linda University Health's COVID-19 vaccine efforts in line with CDC and California state guidelines and says mobile vaccine clinics are a highly effective way to reach those who may not have transportation to a clinic or internet access to make an appointment online.
"The goal of our one-day mobile vaccine effort was to get COVID-19 vaccinations to those who need protection the most," Hogue said. "We couldn't have done it without our dedicated community partners and many volunteers."
The vaccine clinic sites were organized by Congregations Organized for Prophetic Engagement (COPE), and Inland Empire Concerned African American Churches (IECAAC), Loma Linda University School of Pharmacy, the Institute for Community Partnerships (ICP), in partnership with El Sol Neighborhood Educational Center. Clinics were operated by 300 volunteers, composed of LLU students, LLUH employees, and community members.
Juan Carlos Belliard, PhD, MPH, assistant vice president for community partnerships, said the eight mobile clinics brought the COVID-19 vaccine to communities in most need. "We are helping to bridge the vaccine gap by providing equity in distribution. This is where the hard work of vaccine distributions begins," he said. "I'm grateful to the ICP team and others on campus who have added this effort to their current workload, and have sacrificed family time to bring this life-saving vaccine to the community. Also, our community health workers have been amazing in helping us reach our community."
Loma Linda University Health President, Richard H. Hart, MD, DrPH, Belliard, Hogue, and an LLU student volunteer team, carried portable coolers full of vaccines into nearby neighborhoods, offering people at local businesses and inside homeless encampments an opportunity to be vaccinated.
"Some of the team members started knocking on doors and asked if there were any who wished to be vaccinated," Belliard said. "One couple said they would have never gotten vaccinated if it weren't for the LLUH president at their door." Their daughter, who had been trying to get her parents vaccinated, was so grateful," he said.
To learn more about COVID-19 vaccines or to schedule a vaccine appointment, visit lluh.org/vaccine.