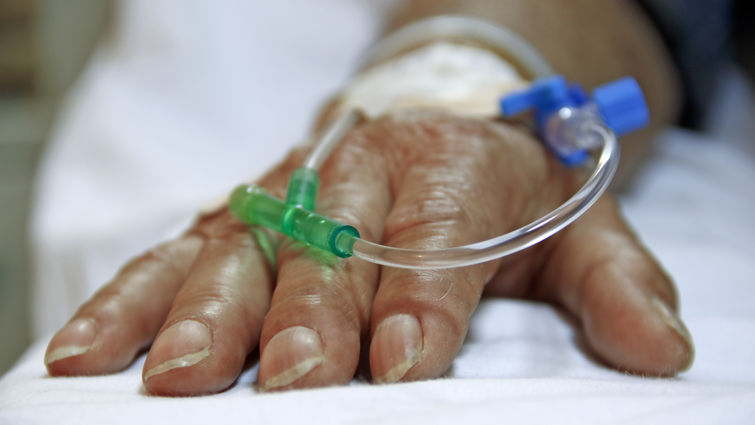 Researchers have determined that a relatively new treatment for a type of lymphoma is cost-effective for adults as a second- and third-line treatment.
The two cell therapy drugs, axicabtagene ciloleucel and tisagenlecleucel — which are autologous chimeric antigen receptor (CAR) T cell therapies — have previously been found to be effective at treating diffuse large B-cell lymphoma that has relapsed (returned after treatment) or is refractory (unresponsive to treatment). Diffuse large B-cell lymphoma, an aggressive cancer of the lymphatic system, is the most common non-Hodgkin lymphoma subtype in the United States and worldwide.
In analyzing previously published clinical trials, researchers found that the two therapies are cost-effective treatments, both regarding the cost of the medicine and considering cost benefit for extension of patients' life expectancy.
This study evaluated the cost-effectiveness of CAR T cell therapy as a second-line and subsequent treatments in comparison to the current standard care from both healthcare sector and societal perspectives.
"Our findings suggest that care providers may offer patients axicabtagene ciloleucel as a second-line treatment and tisagenlecleucel as a third or subsequent line treatment knowing that their use is cost-effective," said Hisham Abdel-Azim, MD, MS, one of the authors of the study and chief of the division of transplant and cellular therapy (TCT) at Loma Linda University Cancer Center.
Less than a year ago, the U.S. Food and Drug Administration approved using one of these CAR T cell therapies, axicabtagene ciloleucel, as second-line treatment for patients with diffuse large B-cell lymphoma. The other CAR T cell therapy, tisagenlecleucel, is FDA approved as a third or subsequent line of treatment for these patients.
Chemoimmunotherapy is commonly used as a first-line treatment for diffuse large B-cell lymphoma; up to 80% of patients achieve remission. Despite this, Abdel-Azim says more than one-third of patients with this type of lymphoma experience recurrence or refractory disease after initial treatment.
Physicians administer second-line, third-line, and later lines of treatment after patients' cancers recur or are refractory. Abdel-Azim says autologous transplant is the standard of care treatment for second-line treatment after the cancer recurs or is refractory; autologous transplant involves high-dose chemotherapy involving the infusion of the patient's own stem cells. If the lymphoma relapses after the transplant, patients move to the third line of treatment.
Novel therapeutic approaches of CAR T cell therapies, such as axicabtagene ciloleucel and tisagenlecleucel, are commercially available for diffuse large B-cell lymphoma patients who are refractory or relapsed after standard therapy. CAR T cells genetically modify patients' autologous T cells to identify specific target on cancer cells and eliminate them.
Clinical trials and research have previously revealed CAR T cell therapy's success in improving overall response rates. Abdel-Azim says he and co-authors sought in this study to analyze a different angle: the therapy's cost-effectiveness when used at various stages of the treatment process, both from both U.S. healthcare sector and societal perspectives.
While the U.S. healthcare sector perspective calculates the cost of medicine, a societal perspective considers both the cost of medicine and the number of years the medicine adds to a patient's life expectancy — called a quality-adjusted life-year. Study authors considered CAR T cell therapy cost-effective if it costs less than $150,000 per quality-adjusted life-year.
Abdel-Azim and his colleagues, researchers at University of Southern California, published the study in The Journal of the American Medical Association Network Open. They drew their findings mainly from analysis of two randomized clinical trials that investigated the efficacy of the CAR T cell therapies as second-line treatments in high-risk relapsed or refractory diffuse large B-cell lymphoma patients and compared it with the standard of care second-line treatment. Study authors then conducted several cost-effectiveness analyses on CAR T cell therapies versus standard care therapies as second-line or later therapies in treating patients with relapsed or refractory diffuse large B-cell lymphoma.
Other reports published in the past year have suggested that second-line axicabtagene ciloleucel is cost-effective from a U.S. healthcare sector perspective. Abdel-Azim says this study bolsters their findings by calculating cost-effectiveness from a societal perspective.
Abdel-Azim says future studies will focus on determining patient candidates who could benefit the most from certain CAR T cell therapies at various points in their treatment.
"CAR T Cell is relatively new, but as we gather more data in the future, we should be able to dissect the patient population more to be able to pinpoint which specific patients would benefit most from CAR T cell therapies at second, third, or later lines of treatment," Abdel-Azim said. "In turn, that could allow us to apply the therapies more cost-effectively."
---
To learn more about research at Loma Linda University Health, visit researchaffairs.llu.edu or call 909-558-8544.