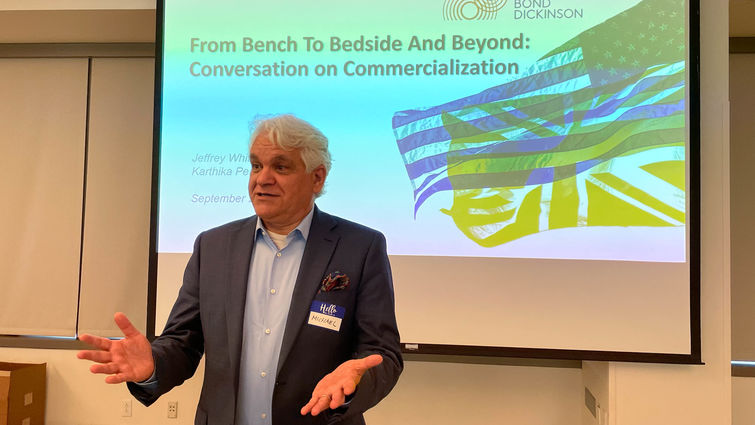 Research Affairs held an evening celebration on September 14 to showcase the inventions at Loma Linda University Health over the past few years.
Numerous products have gained patents over the years and have been brought to market through companies founded by LLUH inventors and LLUH's start-up incubator.
LLUH's incubator was launched in 2016 and is called N3eight — it's pronounced "n-cubed 8" or "incubate." The center was created as a place where researchers can bring promising new ideas from Loma Linda University Health laboratories into a business development space. Products have been built, tested, refined, and prepared for commercial distribution to physicians and patients. Researchers have developed both diagnostic and therapeutic products.
"We're wanting everyone to know that they can develop a product from the bench to the bedside here at Loma Linda University Health," said Michael Samardzija, PhD, JD, vice president of Research Affairs. "We've been able to create many startups around the inventions that have come out of this campus, and we've been able to move many of them forward."
Many of the startup companies are doing well, Samardzija said, with several in key stages of releasing new products, Samardzija said. The startup company Aditxt, which develops therapeutics for organ transplant tolerance, went public in July of 2020.
Attendees at last Thursday's event heard presentations on the importance of commercialization, how to do it, what not to do, and various issues they need to keep in mind as they're developing their commercialization strategies.
Several inventors were recognized for their work, including:
Urologist Dalton Duane Baldwin, MD, and his co-inventors for their development of methods and apparatuses for limiting exposure to radiation during certain surgical procedures for the patient and the staff.
Nurse Erin Hoch, RN, BSN, for creating an apparatus, device, and method for feeding prematurely born babies without wasting the formula or breast milk.
Dental student Abraham Montalvo and his co-inventors for creating an dam that would clear aerosolized particles produced during dental procedures, which is especially important if the patient is infectious.
The event also included a discussion about local and national resources available to support the development of an invention, such as federal and state funding, lab facilities, and professional networks. Presenters also covered what is required beyond the initial research and patents to launch a product and how trademarks, data rights, and copyrights are incorporated throughout the process. 
For more information on LLUH research and incubator companies, contact Zoran Zivanovic at zzivanovic@llu.edu.