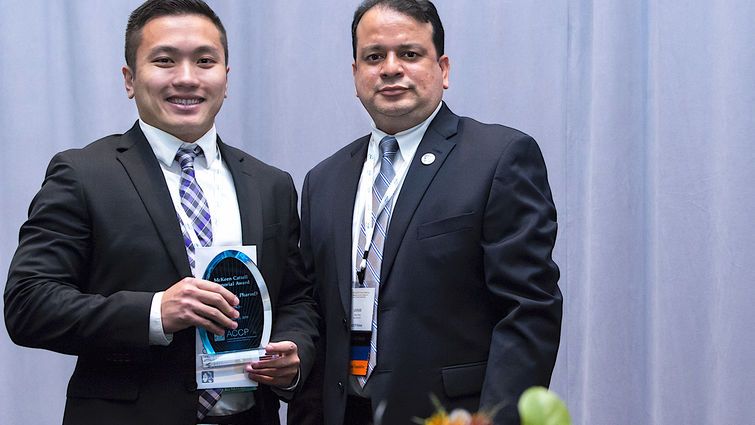 Loma Linda University Health researchers have been recognized by the American College of Clinical Pharmacology (ACCP) for their outstanding research on vancomycin, an antibiotic to treat MRSA infections in critically ill patients.
Lead researcher of the study, James Truong, PharmD, accepted the award during the annual meeting of the AACP on September 15. Truong was an infectious disease fellow at Loma Linda University Medical Center when the study was completed, working under the leadership of Steven Forland, Pharm D, a clinical pharmacist and infectious disease specialist at the Medical Center and an associate professor at Loma Linda University Schools of Pharmacy and Medicine.
"In the world of medicine and pharmacology, this is a coveted award from a prestigious journal," said Forland, who served as senior author on the paper. "We hope that our paper inspires other medical institutions to adopt this protocol as a common way of dosing vancomycin."
The study, Individualized Pharmacokinetic Dosing of Vancomycin Reduces Time to Therapeutic Trough Concentrations in Critically Ill Patients, was published in June 2018 in the Journal of Clinical Pharmacology.
The McKeen Cattell Memorial Award is given in honor of the late McKeen Cattell, the first editor of the Journal of Clinical Pharmacology and co-founder of the ACCP. The award is given annually, recognizing an outstanding research paper published in the JCP during the preceding year. The award is typically presented to the first author of the paper.
The study analyzed a rarely used method of dosing vancomycin in critically ill patients. This method requires blood samples from each patient in order to determine the exact elimination of vancomycin by the patient. If not dosed properly, the drug can be toxic, or ineffective resulting in death or prolonged illness. Loma Linda University Health researchers developed a protocol that allowed pharmacists to standardize the dosing process.
Other researchers on the study were John Veillette, a fellow alongside Truong when the research was conducted, and Shawn Smith, Pharm D, a student at the School of Pharmacy at the time. Class president for all four years, Smith graduated in May 2017 from the School of Pharmacy earning the President's Award.