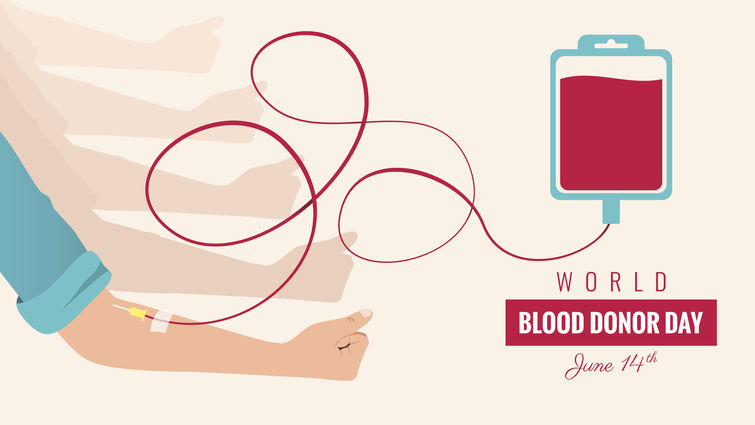 COVID-19 brought much of the world to a screeching halt, isolating people in their homes, taking kids out of school and closing the doors to many businesses. Despite this, hospitals across the country have remained open and operational, dedicated to providing lifesaving care to patients. Because of this, the need for blood donation still exists, according to Tait Stevens, MD, a pathologist and president of medical staff at Loma Linda University Health.
"Modern medicine depends on blood transfusions," Stevens says, "and many patients depend on blood donations in order to get the care they need."
COVID-19 has forced many hospitals, including Loma Linda University Health, to serve patients at a different capacity by temporarily closing clinics and suspending elective services and procedures, and resorting to virtual care in many cases. Yet the need for blood still exists to perform blood transfusions needed in most emergent cases, such as traumas, cancer patients, orthopedic surgeries, and many others.
"Despite a consistent and growing need for blood, fewer people are donating blood right now," Stevens says.
According to the FDA, the number of blood donations dramatically declined due to the implementation of social distancing and the cancellation of blood drives.
Modern medicine depends on blood transfusions, and many patients depend on blood donations in order to get the care they need.
Now, as the world is phasing back to normalcy, hospitals are resuming nonemergent and elective surgical procedures and patient treatments that were temporarily paused during the pandemic. Blood donors are urged to give now to ensure blood products are readily available for patients. 
Blood donation and COVID-19
Individuals diagnosed with COVID-19 don't typically necessitate a blood transfusion, but those who recover from the virus could potentially help treat those who are currently infected by donating convalescent plasma.
"Convalescent plasma is a promising treatment for COVID-19 patients," Stevens says. "As popularity of that is climbing, we need people who have recovered and to donate more than ever."
Once a patient recovers from COVID-19, their plasma contains antibodies that could potentially ward off the virus. One convalescent plasma donation takes one to two hours and has the potential to treat up to four patients currently battling the disease.
Types of donations
The most common type of donation is a whole-blood donation, during which all parts of the blood — including red blood cells and plasma — are collected simultaneously, or as a whole. About a pint of blood is collected during this process and, beginning from registration, takes approximately one hour, depending on the donor.
When a specific component of blood is needed, such as red cells, platelets, and plasma, an apheresis donation is done. Instead of collecting a unit — or a pint — of blood as a whole, this process collects whole blood from the donor, isolates the needed component, then returns the remaining components along with a saline solution back to the donor. Apheresis donations take anywhere from one to three hours depending on the donor and the specifics of the donation.
Acknowledging the investment involved with blood donation, Stevens says he is appreciative of all blood donors.
"A typical liver transplant requires roughly 10 units of blood — as a blood donor, I know that's about 20 hours of time invested for blood donation," he says. "I and the rest of the staff at Loma Linda University Health are very grateful for the donors who make it possible for us to take care of patients."
To learn more about or to schedule a blood donation, visit LStream.org or your local blood bank.