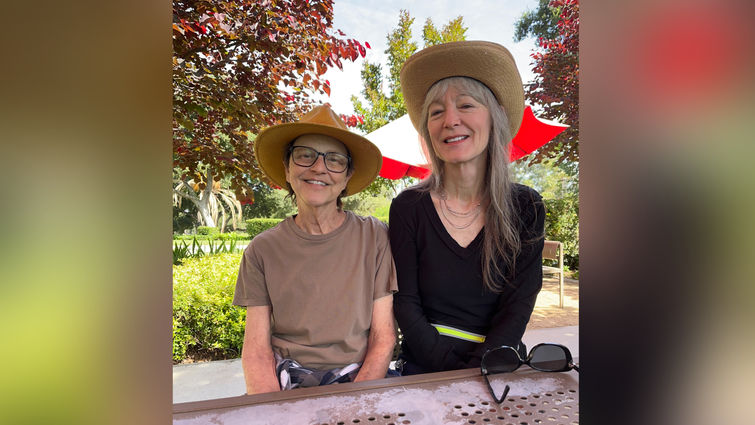 Kelly Flood, 65, walked out of Loma Linda University Medical Center (LLUMC) in May, recovering from near-death more swiftly than anyone anticipated — including her doctors, loved ones, and even herself. Mere days prior, care teams had reversed her multi-organ failure and cardiogenic shock without making more than a small incision.
Jason Hoff, MD, and Amr Mohsen, MD, medical directors of the structural interventional program at Loma Linda University International Heart Institute, performed the minimally invasive procedure that fixed Kelly's failing heart valve, using three clip devices to restore natural blood flow throughout her body. The procedure, called transcatheter mitral valve repair (TMVr), marks LLUMC's first TMVr delivered to treat a patient in cardiogenic shock — an up-and-coming practice in structural interventional cardiology.
Kelly and her sister, Sydney, who helped her throughout hospitalization, say they are thankful the minimally invasive valve repair option heightened Kelly's chances of survival over open heart surgery and pleased with the course of recovery just two months later.
"She was about as close to death as you can get," Hoff says, "which is why it was especially gratifying to see her in clinic recently with the color back in her smiling face, stronger and energetic."
Kelly has worked with doctors since adolescence to keep tabs on the heart valve disease she was born with, called congenital mitral valve prolapse, which occurs when the flaps (or leaflets) in the heart's mitral valve do not close properly. In the past two decades of her career in quality and patient safety at Loma Linda University Health, Kelly has entrusted her own care to providers in the institution, including Anees Razzouk, MD, chair of the Department of Cardiothoracic Surgery. Together, she and Razzouk discussed different possibilities for fixing her heart valve. At the same time, she also coordinated with Loma Linda University Cancer Center and cardio-oncology to manage her cardiac and cancer diagnoses in tandem.
I knew it was far more severe than anything that'd been going on before.Kelly Flood
Not until early 2023 did Kelly begin to notice shortness of breath, a symptom of her heart valve disease, and scheduled cardiac imaging that would help determine her available treatment options. But on Easter Sunday, three days before her imaging appointment in April, Kelly suddenly felt she could barely breathe. An ambulance transported her from her home to a local hospital, where she stayed for several days before transferring to LLUMC for a higher level of care.
"It happened so quickly," Kelly said. "Before that, things were going well in the day. My sister and I had gone for a walk, ran errands, and then I did some gardening and plumbing. By late afternoon, the feeling got worse and worse. I knew it was far more severe than anything that'd been going on before."
Upon investigation, Hoff says cardiologists discovered that the cords connecting to a leaflet in Kelly's mitral valve had ruptured, sending her into acute heart failure that rapidly progressed to cardiogenic shock — a life-threatening condition in which the heart can't pump enough blood to meet the body's needs. As heart failure specialists tried to remove the fluid accumulated in Kelly's lungs, her kidneys failed and shut down. She then entered into a state of multi-organ failure, Hoff recalls.
Sydney, Kelly's sister, beckoned out-of-state friends to visit Kelly and bid potential farewells. Meanwhile, the heart failure team and Razzouk coordinated with structural interventional cardiologists Hoff and Mohsen, strategizing on possible interventions.
"The team agreed that if we didn't do something right then, she wasn't going to make it," Hoff says.
Hoff and Mohsen canceled their afternoon clinic to treat Kelly, still in cardiogenic shock, with a TMVr procedure in a cardiac catheterization laboratory (cath lab). First, they implanted an intra-aortic balloon pump device to help Kelly's weakened heart during TMVr. Yet when her health still plummeted, they escalated to inserting a stronger heart assist device, a percutaneous left ventricular assist device, to help Kelly's heart beat. The care team inserted and removed all devices by non-surgical, minimally invasive means through a small puncture in the leg.
We are thrilled to have been able to help someone like Kelly, a kind person and long-time pillar of the Loma Linda University family and our wider community, using the new options available in our dynamic field.Dr. Jason Hoff
With Kelly stabilized enough to undergo TMVr, Hoff and Mohsen began the procedure involving the insertion of a thin wire through a large vein in the leg to access the heart. Next, they guided a small MitraClip device through the leg vein to clip together the damaged areas of the mitral valve. Kelly responded so well to the first clip's insertion that Hoff says he and Mohsen moved forward in placing two more clips; this ultimately enabled Kelly not only to overcome the cardiogenic shock, but also to have a durable repair of her heart valve.
TMVr's utility for patients experiencing cardiogenic shock represents a burgeoning aspect of the therapy, Hoff says, with more and more studies revealing its success and benefit. He says the option opens doors for patients like Kelly, who wouldn't make good candidates for open heart surgery due to their fragile state.
"We are thrilled to have been able to help someone like Kelly, a kind person and long-time pillar of the Loma Linda University family and our wider community, using the new options available in our dynamic field," Hoff says.
In just two months, Kelly stopped dialysis for her kidneys and lives independently at home again in the company of her two dogs. She reports feeling "pretty much back to normal" as she returns to the joys of cooking, home projects, and long walks with her sister.
"I don't even know what I'd say to the team that took care of me through all this," Kelly says. "Thank you, of course, but I mean, wow. Just wow."
---
At Loma Linda University International Heart Institute, physicians are committed to providing patients with personalized and comprehensive cardiovascular care. To learn more, please visit lluh.org/heart-vascular or call 909-558-7717 to make an appointment.