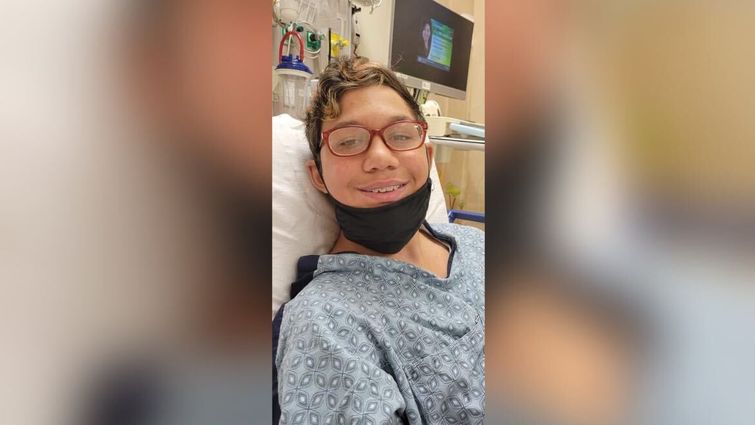 Bryan Keiki's life took an unexpected turn two years ago when he was hit by a car while riding his bicycle. 
"I thought I was dreaming," said Keiki. "The paramedic sat down with me and said, 'Don't move.'"
The crash caused the then 13-year-old to have a brain blood clot, fractured skull, and broken pelvis, and he was rushed to Loma Linda University Health for specialized care. 
After complaining of neck pain, Bryan spent a night in the Pediatric Intensive Care Unit (PICU), where further tests revealed he had a noncancerous tumor-like lesion found in the odontoid process of his cervical spine (C2 bone), unrelated to the crash, called an aneurysmal bone cyst (ABC).
Bryan's traumatic accident ironically allowed a medical team to identify and address his bone cyst before it caused further harm.
"If it hadn't been found, down the road, he would have lost the stability of his neck and would need a fusion surgery," said Carrie Keiki, Bryan's mother.
Brian Hanak, MD, a pediatric neurosurgeon at LLUH and the lead physician in Bryan's case, says ABC treatment has seen significant advancements, including the use of intralesional doxycycline foam, which helps to promote bone formation and growth. This is a relatively new approach that minimizes invasiveness compared to traditional surgical methods. However, its adoption has been limited due to early reports suggesting the need for multiple infusions to achieve a cure. Hanak aims to change this perception.
"It's not always the case that you need to do it numerous times. And even if you do need to do it a couple of times, that's better than committing the patient to a major procedure that could significantly impact their quality of life," Hanak said.
Bryan's bone cyst affected a critical area known as the odontoid process, making it a significant challenge for conventional surgical intervention. Resection of the abnormal tissue would have resulted in spinal instability and necessitated the performance of spinal fusion surgery to avoid spinal cord injury, thereby permanently reducing Bryan's neck's range of motion. 
"Proceeding with the classic way to approach this problem would have been doable, but it would have been a big change lifelong in terms of the range of motion and impairing his ability to play sports. This seemed like a really good opportunity to use the doxycycline foam," said Hanak. 
The successful treatment not only restored Bryan's health but also highlighted the power of innovative medical strategies. 
"Two months after the procedure, his CT scan already had an incredible amount of bone growth in that area," Hanak said. "It looked so much better. Six months later, we got another scan, and it had completely healed."
Hanak hopes that the successful outcome achieved through Bryan's treatment will inspire further research and encourage other physicians to consider the doxycycline foam infusion approach as a viable and effective treatment option. 
Learn more about pediatric neurosurgery at Loma Linda University Health online.