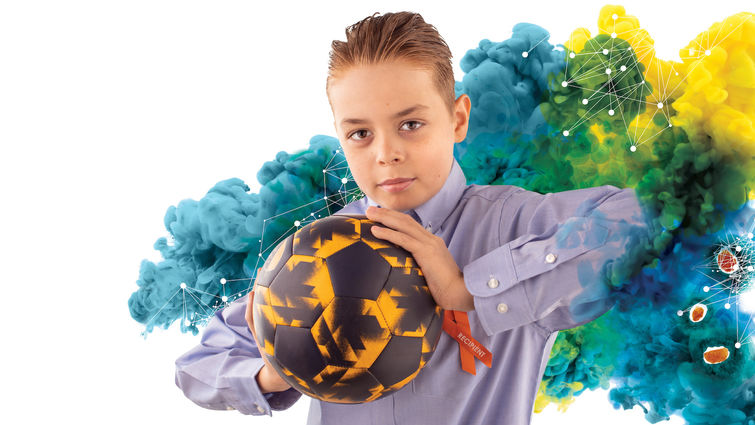 This patient feature story originally appeared in the Loma Linda University Children's Hospital annual report.
After an eight month battle with a rare blood disease, Seth Akins got the miracle he and his family had been praying for — a lifesaving bone marrow transplant at Loma Linda University Children's Hospital.
At 10 years old, Akins was diagnosed in January 2017 with aplastic anemia — a rare condition in which the bone marrow does not produce enough new blood cells as a result of bone marrow damage. Because of his risk for infection, Akins, who loved playing outside, had to remain isolated indoors.
Under the care of a comprehensive pediatric specialty team, including hematology/oncology and pediatric bone marrow transplant providers, Akins underwent multiple chemotherapy treatments, which were unsuccessful. A bone marrow transplant was the next and only other option.
Without the transplant, he likely would have only survived two or three years.Dr. Quan Zhao
More than 70% of patients in need of a marrow transplant do not have a matched family member donor. Akins was one of them and therefore had to rely on the national registry of bone marrow donors to find a match — a process that can take many months, which Akins did not have.
But in June 2017, just a few months shy of his 11th birthday, Akins was transplanted with stem cells from an anonymous donor.
The transplant was performed by a comprehensive team of specialists, led by transplant physician Quan Zhao, MD.
"The donor was Seth's only fighting chance," Zhao said. "Without the transplant, he likely would have only survived two or three years."
After the transplant, Akins remained hospitalized in the pediatric intensive care unit for 205 days due to complications. He acquired a severe TA-TMA (transplantation associated thrombotic microangiopathy), a rare but severe disease that has high morbidity and mortality. Due to respiratory failure, he was intubated, and he was put on hemodialysis because of kidney failure. 
His mom, Renee Floriano, said it's because of the selflessness of an altruistic donor and the dedicated care her son received at Loma Linda University Children's Hospital that he is alive today.
"I am so thankful to the donor and Loma Linda University Children's Hospital for manifesting this miracle," Floriano said. "The prayer and love we received are more than we could have ever asked for."
Just over a year after his transplant, in September 2018, Akins had the privilege of meeting his donor face-to-face. After meeting the young man who will forever be a part of him, Akins said he was "very happy and thankful that he did this for me. He saved my life."
Now in the seventh grade, Akins is thriving in the home hospital school program — a teacher periodically visits him at home for schooling until he is deemed safe from infections.
"He got straight A's in sixth grade and he loves science," Floriano said.
Akins is also able to be outside more and spend time with his two siblings.
"Seth loves to be active — riding his scooter, playing basketball, soccer and swimming," she said, "and now he gets to do all those things again."
Akins is looking forward to healthy years ahead. "I want to be a pediatrician," he said, "so I can help kids who were sick like me."