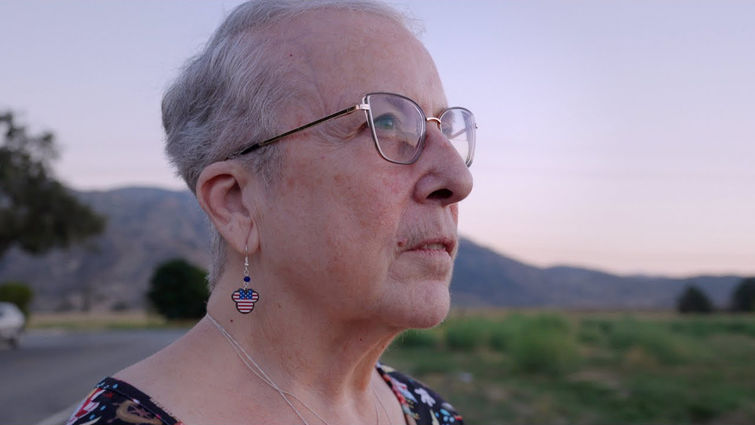 Carol Thompson recently spent her 72nd birthday with her daughters — a celebration with special meaning after she eradicated her second breast cancer earlier this year. She has partnered with Loma Linda University Health (LLUH) multidisciplinary cancer care teams since 2018 to treat two breast cancers through medical oncology, surgical oncology, and radiation oncology.
For October's Breast Cancer Awareness Month, she shares her experience with breast cancer, including the critical roles that screening, personalized treatment, and a supportive care team played in her journey back to health.
Get our newsletter for cancer-fighting tips, activities and recipes. Subscribe
Thompson, an artistic person who bakes, quilts, and sews, says she sought a peaceful yet active retirement when she moved from Arizona to Banning, California in 2017. But one year into retirement, Thompson's mammogram at the LLUH Women's Imaging Center detected an abnormality later confirmed to be an early-stage breast cancer. Thompson says she hadn't felt a lump, symptoms, or unusual sensations. She had attended routine mammograms since she was 38 — a commitment she took seriously after her mother's breast cancer diagnosis.
"I felt like I'd been waiting for the other shoe to drop ever since my mother's diagnosis," she says. "So when I was diagnosed, I was like, 'Okay, let's get the ball rolling, get this under control and taken care of.'"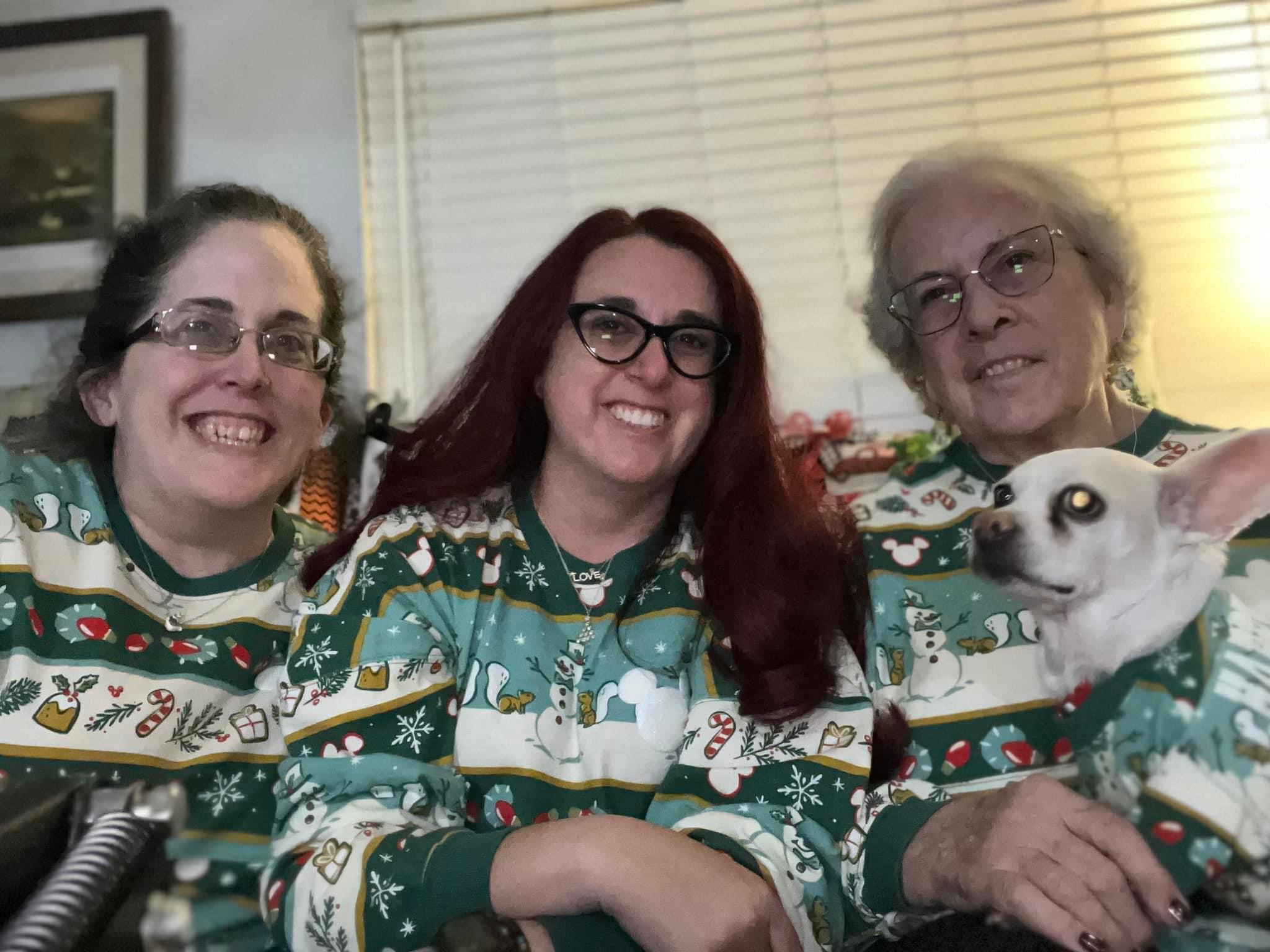 She underwent a partial mastectomy (lumpectomy) to remove the tumor before working with radiation oncologist Lilia Loredo, MD to receive proton therapy: a targeted way of delivering radiation directly to an area affected by the tumor. Having worked as a medical assistant, Thompson says she was fascinated by the advanced technology and professional care team.
"The proton therapy team is made up of the kindest, most polite, accommodating people who make sure you feel comfortable and cared for throughout the treatment."
After her surgery, proton therapy, and anti-estrogen therapy, Thompson says her scans remained clear until 2021. Another mammogram detected a mass in the other breast, which turned out to be a different, more aggressive cancer.
Thompson's main oncologist, Bruce Hayton, MD, has partnered with her through both cancers and says her journey illustrates the significance of honoring regular breast cancer screenings.
"Mrs. Thompson did everything right," he says. "She was diligent in getting her routine mammograms done, which detected both breast cancers very early. Her experience is a great example of how early detection and diagnosis with mammogram improves survival from breast cancer."
Thompson says she has lost several loved ones to breast cancer and refused to succumb to negative thinking upon her second diagnosis.
"Life is too short to let cancer take over what time you have left on Earth," she says.
This time, Thompson's treatments consisted of receiving chemotherapy and immunotherapy at Loma Linda University Health – Beaumont – Banning infusion center — less than 10 minutes from her home. Nurses came to affectionately nickname Thompson "Disney Lady" because of her vibrant, themed outfits.
"This fantastic group of nurses provided a friendly, caring, positive, and professional environment that proved their priority is taking care of each patient," she says. "Through laughter and tears, they made me feel important every day, no matter what was happening in my life or theirs."
Additionally, Thompson visited the Cancer Center for a partial mastectomy with Sharon Lum, MD, MBA, chair of LLUH Department of Surgery, and radiation therapy with radiation oncologist Jessica Jutzy, MD, PhD. Thompson's scans have shown no signs of cancer since February 2023.
Hayton says treatment differed for each of Thompson's cancers, reflecting how therapy has grown personalized and tailored to each patient's circumstances and their tumor's characteristics.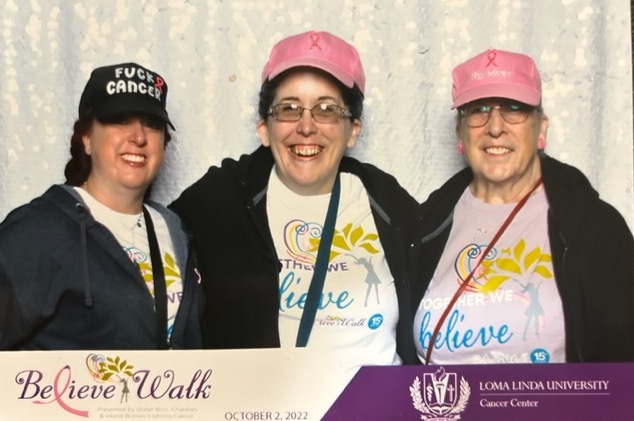 "There is no cookie-cutter approach to breast cancer," Hayton says. "We approach all breast cancers individually because there are so many variables that go into determining the best treatment for any one person's cancer and situation."
At 72 and with no evidence of cancer in her body, Thompson continues pursuing new adventures in retirement, "just having fun and being creative." Besides developing her painting skills, Thompson plans to learn about gardening, write a book for her two daughters, and travel to all the U.S. states. She recently participated in the community's annual Believe Walk, a fundraising event that increases cancer awareness and supports survivors and caregivers.
"I hope sharing my story gives others peace of mind that you don't have to be deadly ill the whole time you're going through cancer treatment," she says. "Remember that you have a team to support you and help get you through everything. They give us hope to carry on."
Get our newsletter for cancer-fighting tips, activities and recipes. Subscribe
---
At Loma Linda University Cancer Center, physicians are committed to providing patients with compassionate, comprehensive, and personalized care that gives them the best opportunity to diagnose and overcome breast cancer. Learn more about breast cancer care at the Cancer Center online or call 1-800-782-2623.