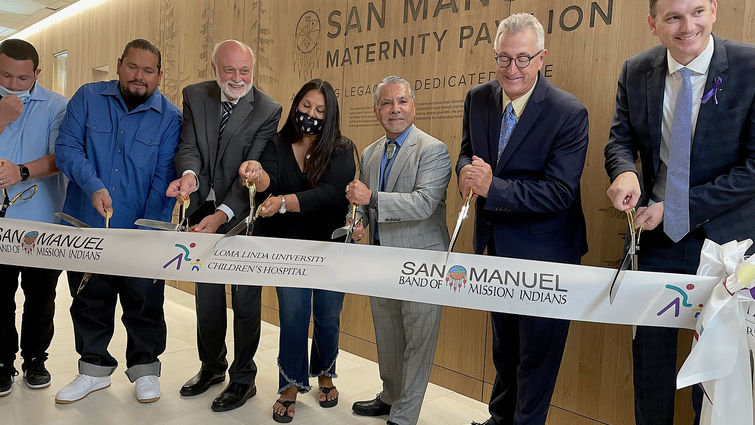 The San Manuel Maternity Pavilion at Loma Linda University Children's Hospital opened to the community Monday, August 9, bringing expanded care to the region's most vulnerable mothers and babies through state-of-the-art technology, private patient rooms, specially- designed delivery rooms, and more.
The San Manuel Maternity Pavilion was made possible by the San Manuel Band of Mission Indians, who announced a landmark gift of $25 million to Loma Linda University Health at the 26th annual Children's Hospital Foundation Gala in 2019 to support the expansion of mother and baby services.
The new pavilion was commemorated with an intimate ribbon-cutting ceremony on Friday, August 6.
"The San Manuel Band of Mission Indians has a long history of commitment to the San Bernardino region's health and well-being, and Loma Linda University Health is honored to actively partner in their efforts," said Richard H. Hart, MD, DrPh, president of Loma Linda University Health. "The new San Manuel Maternity Pavilion celebrates more than 100 years of our joint efforts aimed at improving maternal and child health throughout the Inland Empire."
Spanning the entire fifth floor of the new Dennis and Carol Troesh Medical Campus, the San Manuel Maternity Pavilion will allow Loma Linda University Health to continue as the leader in high-risk birth care in the region, with approximately 50% of births at the hospital being high-risk.
"The San Manuel Maternity Pavilion is our commitment to future generations yet to be born here within our ancestral lands," said Chairman Ken Ramirez. "Our Yawa' (to act on one's beliefs) calls on us to ensure that every child born here receives quality care for the best possible start in life and this partnership makes that possible."
The new space was specifically designed with moms and babies in mind and includes 44 licensed OB beds, 11 labor and delivery rooms, three c-section rooms, and nine triage rooms. The patient rooms are private and filled with natural light from wall-to-wall windows.
Loma Linda University Health's new facility, the Dennis and Carol Troesh Medical Campus, which includes Children's Hospital expansion and Medical Center towers, was a large part of furthering the organization's desire to advance capabilities in clinical care, education and research, as well as meeting California's seismic safety requirements.