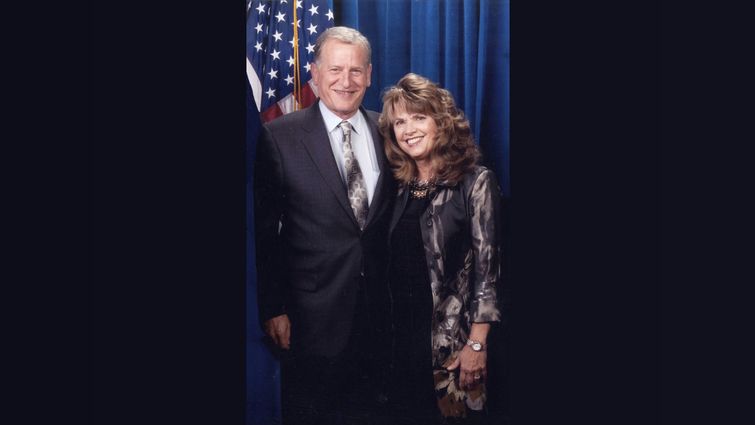 A summertime ribbon-cutting ceremony will mark the grand opening of Loma Linda University Health's new Dennis and Carol Troesh Medical Campus, the stunning new facility — Children's Hospital expansion and Medical Center towers — that will serve the health needs of patients from the Inland Empire region and from around the world.
A key part of the Campus Transformation Project was Vision 2020, the largest fundraising effort undertaken by Loma Linda University Health in our more than 115-year history. Every successful effort to raise funds starts with leadership. For Loma Linda University Health's Vision 2020 campaign, that leadership came from Dennis and Carol Troesh.
The Troeshs, long-time residents and business owners in Riverside, California, pledged $100 million to help launch in 2014 Vision 2020, the largest single-gift commitment to healthcare in the history of the Inland Empire. Their generous leadership provided the cornerstone support for the transformation of Loma Linda University Health. Because of their significant commitment to Vision 2020 and their longstanding philanthropic support of Inland Empire organizations, Loma Linda University Health has named the entire campus where the new towers reside as the Dennis and Carol Troesh Medical Campus.
Carol Troesh said the gift to Loma Linda University Health reflects her family's support for the institution's commitment to creating a health and education hub that will benefit people in the Inland Empire community and beyond.
"Over the years, God has abundantly blessed our family, and it is our privilege and honor to give back to the community we have called home for most of our lives," she said.
Dennis and Carol Troesh have been active members and supporters of the Loma Linda University Children's Hospital Foundation. Their relationship with hospital leadership, and their strong interest in the healing activities at the Children's Hospital, served as an important foundation in their decision to make their major investment in the Vision 2020 campaign.
The Troeshs see Loma Linda University Health as a place where healthcare cuts across political, cultural, and religious barriers.
"Loma Linda is dedicated to helping the whole person. That's what Jesus did," Dennis said. "Wonderful resources are here to help — surgical techniques and new teaching methods. We wonder what other hospital can help as much as this one."
For more information on the grand opening, visit lluh.org/newhospital.