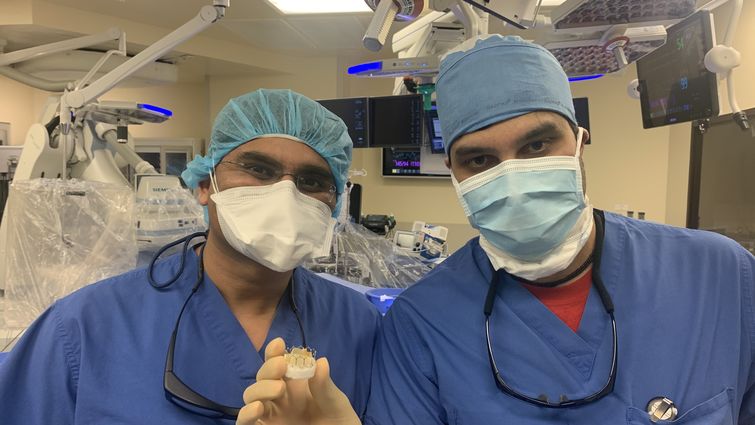 Physicians at Loma Linda University Medical Center – Murrieta have completed 200 TAVR (transcatheter aortic valve replacement) procedures in two years, making it the first center to reach this milestone in the southwest Riverside County community.
"Two hundred TAVR procedures in two years is a major milestone for any cardiac program, especially considering the challenges we faced during COVID-19," said interventional cardiologist Harit Desai, MD, the associate director for the cardiac catheterization lab and structural heart intervention program at LLUMC – Murrieta. "We are very happy to be able to continue providing TAVR and other cardiac procedures to our patients in a timely fashion."
Margaret Mills, a 76-year-old woman from Murrieta, was the 200th patient to undergo TAVR at LLUMC – Murrieta, and she is doing well.
Since the first TAVR performed at Murrieta in January 2019, many patients have flocked to the clinic to undergo this life-saving procedure — among them Lake Elsinore resident Helen Monteleone and Dawn Callan, who was barely able to walk until getting the procedure.
TAVR is an alternative procedure to open-heart surgery that treats a heart valve disease known as aortic stenosis in which the narrowing of the aortic valve restricts normal blood flow from the heart. According to the American Heart Association, 2 in 10 older Americans have this disease, which can cause chest pain, dizziness, shortness of breath and fatigue.
During this minimally invasive procedure, an interventional cardiologist and a cardiothoracic surgeon replace the diseased valve with the new valve in typically under an hour. Desai said some benefits of TAVR compared to open-heart surgery include less risk of complications, less pain, and a speedier recovery — with a majority of the patients getting discharged next day, returning to normal activity within a week.
Desai said such a life-saving procedure is crucial to offer to patients as an option to treat aortic stenosis. Many hospitals in the United States were not able to offer procedures like TAVR during the COVID-19 pandemic, potentially causing dangerous delays in patient care. Physicians and administration at LLUMC – Murrieta, however, remained steadfast in their commitment to offering TAVR throughout the pandemic.
Physicians, including cardiologists, cardiothoracic surgeons and anesthesiologists, joined by nurses, nurse practitioners, technicians and program coordinators form a multidisciplinary care team for each patient undergoing TAVR.
"In this patient-centered, team-based approach, each team member is very involved and shares a mission to ensure the best outcome for that particular patient."
Since the start of the TAVR program at LLUMC – Murrieta, Desai has noticed the advancement in equipment and technology to enhance the overall TAVR experience for patients. For instance, physicians are now performing TAVR with patients under conscious sedation instead of general anesthesia. The artificial heart valve itself has improved to create a better seal once inserted in the heart, thus resulting in better outcomes.
"TAVR is really a new hope for a patient with aortic stenosis," Desai said. "We are all very excited to continue to provide advanced cardiac care to our community."
---
To learn more about TAVR and heart care services at Loma Linda University Medical Center — Murrieta, visit their murrieta.lluh.org/services/heart-vascular or call 951-290-4314.