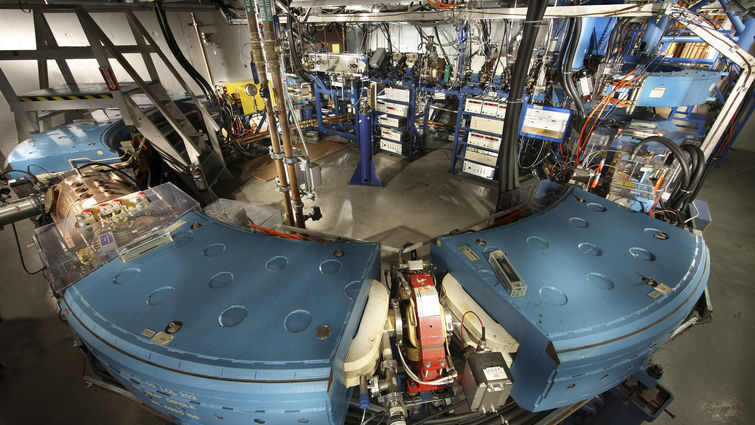 The James M. Slater, MD, Proton Treatment & Research Center at Loma Linda University Cancer Center is celebrating its 30th anniversary. The world's first hospital-based proton therapy facility was a vision of the late Slater, who died in December 2019.
Slater, who championed and oversaw the creation of the Proton Treatment Center, was determined to improve the quality of life for patients undergoing cancer treatment and was inspired to use proton therapy to do so. He began working with Fermi National Accelerator Laboratory (Fermilab) in 1986 to plan the proton synchrotron and center, which resulted in the construction of one of the most complex pieces of medical equipment ever built.
For years, the Loma Linda University Medical Center Proton Treatment Center was the only place in the world to offer proton therapy for patient treatment and research in a hospital setting. After opening its doors in 1990, it remained the only hospital-based treatment center of its kind in the United States until 2001. It was renamed in Slater's honor in 2007.
Due to the success of the Proton Treatment Center at LLU Cancer Center, there are now 37 operational centers in the U.S. and 70 operational centers around the world. Additionally, another eight centers are under construction in the U.S., and 32 internationally. 
Proton radiation therapy is the most precise and advanced form of radiation beam treatment available today. It is a painless, non-invasive procedure that allows patients to maintain their quality of life and quickly resume normal activities, permitting physicians to deliver full or higher treatment dosages to destroy a tumor with minimal side effects to a person's surrounding healthy tissue or organs. 
The James M. Slater, MD, Proton Treatment & Research Center has treated more than 21,500 patients with proton therapy over the last 30 years, with more than 14,000 of those being prostate cancer patients.
Modern medical practices, including the use of proton radiation therapy, have led to a growing population of cancer survivors in the countryDr. Jerry D. Slater
In addition to the actual development of proton technology for cancer treatment in the hospital setting, some of the many milestones achieved by the Proton Treatment Center include the center's work with NASA to research the effects of radiation in space; the development of a robotic Precision Patient Alignment System, which further improves the accuracy of repeatable patient positioning; and countless clinical trials that continue to be conducted to improve and expand the effectiveness of proton radiation treatment.
James M. Slater's son, Jerry D. Slater, MD, chair of the department of radiation medicine at Loma Linda University Health, has been instrumental in the development of the clinical program for the past 30 years. He is proud to carry on his late father's legacy.
"Modern medical practices, including the use of proton radiation therapy, have led to a growing population of cancer survivors in the country," Jerry Slater said. "It's difficult to imagine that 30 years have gone by, but it's been an honor to serve the community and save thousands of lives."