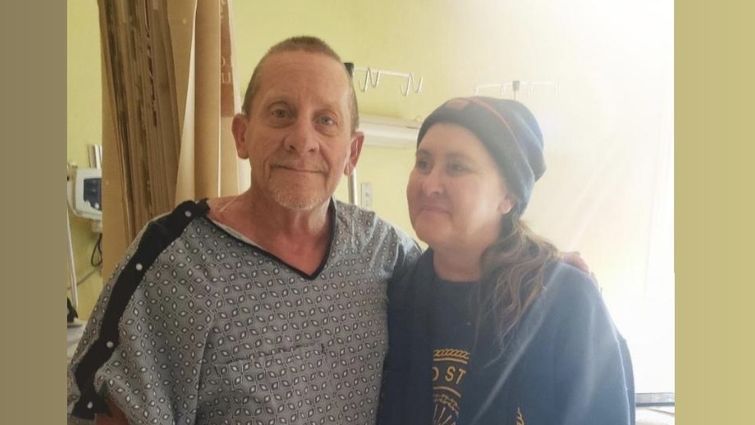 A multidisciplinary team of specialists at Loma Linda University Cancer Center helped 55-year-old Dennis Backus overcome an advanced squamous cell skin cancer that festered on his skin for nearly a decade.
Backus's lesion was too large and advanced for immediate surgical removal, says his medical oncologist Joel Brothers, MD. To shrink the cancer before surgery, Brothers prescribed Backus an immunotherapy called pembrolizumab (Keytruda) that the FDA approved for squamous cell skin cancer in 2020.
The cancerous lesion shrunk within weeks of immunotherapy treatment, and in a matter of months, Backus was able to undergo surgery. A surgical oncologist and plastic surgeon worked together to remove and reconstruct the area of Backus's skin affected by the cancer. As of last month, no detectable cancer cells remain in Backus's body.
These results don't happen for everyone, but sharing successful treatment outcomes like Mr. Backus's highlight the power of what can be accomplished with immunotherapy.Dr. Joel Brothers
This skin cancer awareness month, Brothers and Backus share Backus's journey in hopes of highlighting the new hopes and possibilities immunotherapy offers to those facing skin cancer.
"These results don't happen for everyone, but sharing successful treatment outcomes like Mr. Backus's highlight the power of what can be accomplished with immunotherapy," Brothers says.
Backus says he was grateful to have connected with a care team at the Cancer Center that swiftly undertook his care and provided the new treatment. "I'm thankful and blessed to be here," he says. "Everyone was just on it, they were so kind, and the medicine worked its magic."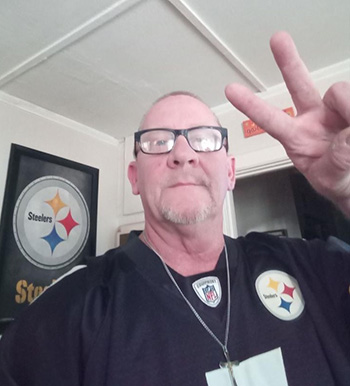 Backus says at first he hadn't thought much of the small pimple he noticed on the back of his right shoulder 10 years ago. But when that pimple began to enlarge, Backus visited a doctor who misdiagnosed the growth as a keloid, a benign lesion on the skin. Years passed, and the pimple transformed into a fleshy eggplant-sized growth that reddened and grew tender to the touch.
Symptoms of extreme fatigue, nausea, and breathlessness crept up, bringing Backus to another doctor for a check-up last year. Alarmed by the lesion on Backus's back, the doctor immediately performed a biopsy that resulted in a diagnosis of squamous cell carcinoma.
About 2 out of 10 skin cancers are squamous cell carcinomas, according to the American Cancer Society. These form in the top layer of skin and are usually related to sun exposure. Gone untreated, squamous cell carcinomas cause symptoms that decrease quality of life and can also sometimes spread to other parts of the body.
Immunotherapy harnesses the body's own immune system to fight the cancer. Sometimes, cancer cells express certain protein markers on their surface that prevent immune cells from attacking cancer cells. Immunotherapy binds to those signals, releasing the blockage and allowing immune cells to recognize cancer cells to attack.
"The immunotherapy essentially takes away the cancer cells' ability to hide from the immune system," Brothers says.
It was pleasantly shocking to see how fast the tumor shrunk, Backus says. "One day, I woke up, and the growth was gone, disappeared. It looked like I'd had the surgery already," he says.
Throughout the treatment, Brothers says he coordinated with surgical oncologist Naveenraj Solomon, MD, to determine the best timing for Backus's surgery. Once Brothers deemed that Backus had achieved "maximum response" to the immunotherapy, it was time for surgery.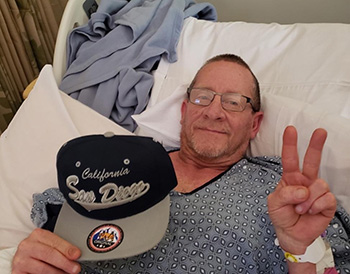 Though the lesion had disappeared and left a pink, flat spot on the skin, Backus would still need surgery to remove any microscopic cancerous cells hiding in the area. Solomon resected the top layers of the affected area's skin, while plastic surgeon Mark Martin, MD, followed with a skin graft. Backus has been officially free of cancer since then.
Retired from a 30-year career in roofing in San Diego, Backus now lives in Barstow, where he enjoys spending time with nearby family — especially his mother and his sister, who formed an essential support system for him as he underwent cancer treatment.
At Loma Linda University Cancer Center, physicians care deeply about the outcome and medical journey of a patient diagnosed with skin cancer. To learn more about skin cancer care offered at the Cancer Center, visit lluh.org/cancer-center/cancer-programs/skin-cancer-care or call 1-800-782-2623.