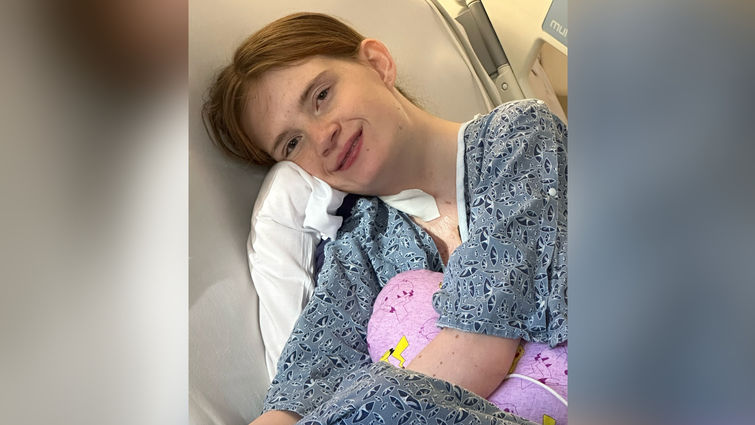 Growing up, Emily Conant never knew what it was like to have a "normal" heart. For 18 years, her oxygen levels were only at 70%. Her hands, feet, lips, and nail beds always had a shade of blue. Physical activities were exhausting.
Emily was born with a rare congenital heart condition known as a single ventricle heart with dextrocardia. This condition results in only one functional heart pumping chamber and an unusual heart placement on the right side of the chest instead of the left.
"It was challenging because of the limitations I had. Keeping up with friends or classmates during trips or activities was tough," Emily said.
Congenital Heart Defects (CHDs) affect approximately 1% of births in the United States, or about 40,000 infants each year, according to the Centers for Disease Control and Prevention. These heart defects are typically detected before birth through ultrasounds and often necessitate immediate medical intervention post-birth.
"It's been a long road," said Shelley Conant, Emily's mother. "She had three critical procedures to improve the oxygen level in her blood. Things were difficult, but she never let it bring her down."
When Emily was 16, her doctors determined that she needed a Fontan procedure, a surgery usually performed by age five to help the heart work more efficiently. However, due to complications and health challenges, Emily had to wait until she was 16 to undergo this surgery.
"Every complication that could have happened happened. She went into organ failure, and the doctors didn't think she was going to make it," Shelley said.
Eventually, her doctors told Emily and her family that she needed a heart transplant. After nearly a year of waiting, they received the call that a donor heart was available. Emily immediately underwent a marathon 16-hour surgery.
Emily's mother emotionally recounted the moment they received the call for a heart transplant. "We got a call maybe in June or July for a transplant. And by the time we got to the hospital, that was no longer an option. On August 17, they called us again, and a heart was available."
The heart transplant surgery was a complex procedure due to Emily's previous surgeries. However, she amazed everyone with her rapid recovery, leaving the hospital after just three weeks. Post-transplant, Emily's oxygen levels now reach the high 90s, and she is preparing to start college to become a Child Life Specialist.
"I feel happy about my new heart," said Emily. "I don't regret it at all. Even with being so soon out, I can already see and feel a difference. I'm looking forward to getting out of my recovery stage and to travel to my dream places safely and work without issues."
Emily's transformation has been remarkable, with her mother noting that her hands and feet, once bluish, are now pink, and there's a newfound glow about her.
As part of her recovery journey, Emily had the opportunity to see her old heart. Her mother recalled that while Emily initially thought it would be cool to see, it turned into a very emotional experience.
"I remember her saying to me that she didn't understand how that heart kept her alive for so long. The coloring was this blackish brown from scar tissue from all of her surgeries. Everybody in the room was in tears seeing her looking at it and realizing that she really did need this new heart."
The Conant family is deeply grateful for the medical advancements that saved their daughter and for the anonymous donor who gifted Emily with a chance at life. Emily's mother expressed her daughter's desire to know more about the donor, hoping that the donor's family would want to know about the life they've given her.
Anees Razzouk, MD, Emily's physician, and the chief of pediatric and congenital heart surgery at Loma Linda University Health, emphasized the critical importance of early detection in cases of congenital heart disease. "The earlier the diagnosis can be made, the better it is for the baby and the family."
In an era of technological advancements and medical innovations, Emily Conant's story is a testament to the power of resilience, the importance of early detection, and the incredible generosity of organ donors.
Loma Linda University Children's Hospital is committed to providing care for babies with heart disease across the entire spectrum, focusing on keeping families together during treatment.
Did you know that Loma Linda University Children's Hospital has been ranked #22 in the nation for pediatric cardiology and heart surgery by U.S. News & World Report? To make an appointment for specialized care or to see a primary care pediatrician, visit online.