Maya Johnson is blessed to see her seven-year-old daughter, Maya, smile each day, to hear her voice hum and to have her be a part of family vacations. Two and half years ago, this wasn't a possibility Johnson could have imagined, having spent the first five years of Maya's life battling for control over her complex epilepsy.
It was a month after giving birth to Maya that Johnson witnessed her daughter having her first seizure. "Her body completely stiffened, she turned blue, I had no idea what was happening, and all I could do was call 911," Johnson remembers.
Maya's seizures, at first thought to be a result of acid reflux, were later diagnosed as seizures. In the first three months of Maya's life, medical professionals struggled to figure out the cause of the volatile seizures. As time progressed, Maya's seizures only worsened in severity and amount. By seven months of age, Maya was experiencing upwards of 10 seizures a day and was placed into a medically induced coma for two months. 
"It was devastating time. When they finally got Maya's seizures under control, she was a completely different kid," Johnson says. "All the normal things she had learned to do at that point like sitting up or eating with her mouth she couldn't do anymore. All she could do was blow bubbles out of her mouth, and she needed machines to sustain life. But at the same time, she was finally home, and I was so happy to have her with us."
After a year of struggling, Maya received a diagnosis of epilepsy, a neurological disorder of the brain where abnormal activity results in recurrence. Johnson was told her daughter was considered to be medically intractable, defined as persistent seizure activity that continues despite treatment with medications. 
"Learning that she was medically intractable — that part was killer," Johnson says. "To hear that there really is no medication that can cure this is heart-breaking."
Maya's persistent seizures were powerful, later causing her to break both her femurs and her ankle, and resulted in lifelong respiratory complications from being bedbound. For the first four years of life, Maya was in and out of the hospital every other month for a complication.
God didn't give me this baby for just this kind of life. I knew there had to be more.
"It got to a point where they weren't telling me she was going to get better. I never knew how long she would be in the hospital, and there was always the possibility she was going to die," Johnson says. "But I knew something had to change. God didn't give me this baby for just this kind of life. I knew there had to be more."
At the age of five, Maya became a patient of Joshua Loeb, MD, a pediatric epileptic specialist with the Complex Epilepsy Team Center at Loma Linda University Children's Hospital. At the time, Maya was experiencing 10-12 seizures per day despite taking eight different seizure medications and being on the ketogenic diet for seizure reduction. 
"She was so drugged by all the medications that she couldn't respond to anything," Maya's grandmother, Jeanne Beharry says. "She couldn't cry, she couldn't laugh, she couldn't show personality at all."
Loeb changed Maya's treatment, first by slowly reducing her medications from eight to three and eliminating the ketogenic diet. "It's incredible, we are watching all the little things that have progressed since Maya started seeing Dr. Loeb," says Beharry. "She couldn't laugh with her siblings before, now she plays and laughs with them."
Little by little, Maya began to emerge. Johnson says her daughter is more alert, can react appropriately to her surroundings, and communicates subtly with her voice and eyes. "I had never seen Maya smile since she was a baby until a few years ago when Dr. Loeb adjusted her medications." 
I had never seen Maya smile since she was a baby until a few years ago when Dr. Loeb adjusted her medications.
After adjustment, Maya went a year without a seizure and now at seven, she experiences one every two weeks. This a tremendous feat for Maya, one that Johnson wasn't sure she would ever see. While Maya is very much still a baby, Johnson says she is a different and very responsive baby now that she is stabilized. Johnson works hard to ensure Maya feels a sense of normalcy through activity, learning and quality time with her family. 
"We incorporate the whole family in everything we do," Johnson says. "If we go out, Maya does too. If we are in the family room hanging out, Maya is too, listening to us and interacting as she can. We make sure she gets a lot of family time."
Maya has made tremendous progress over the past two and a half years, including being able to go to amusement parks with her family.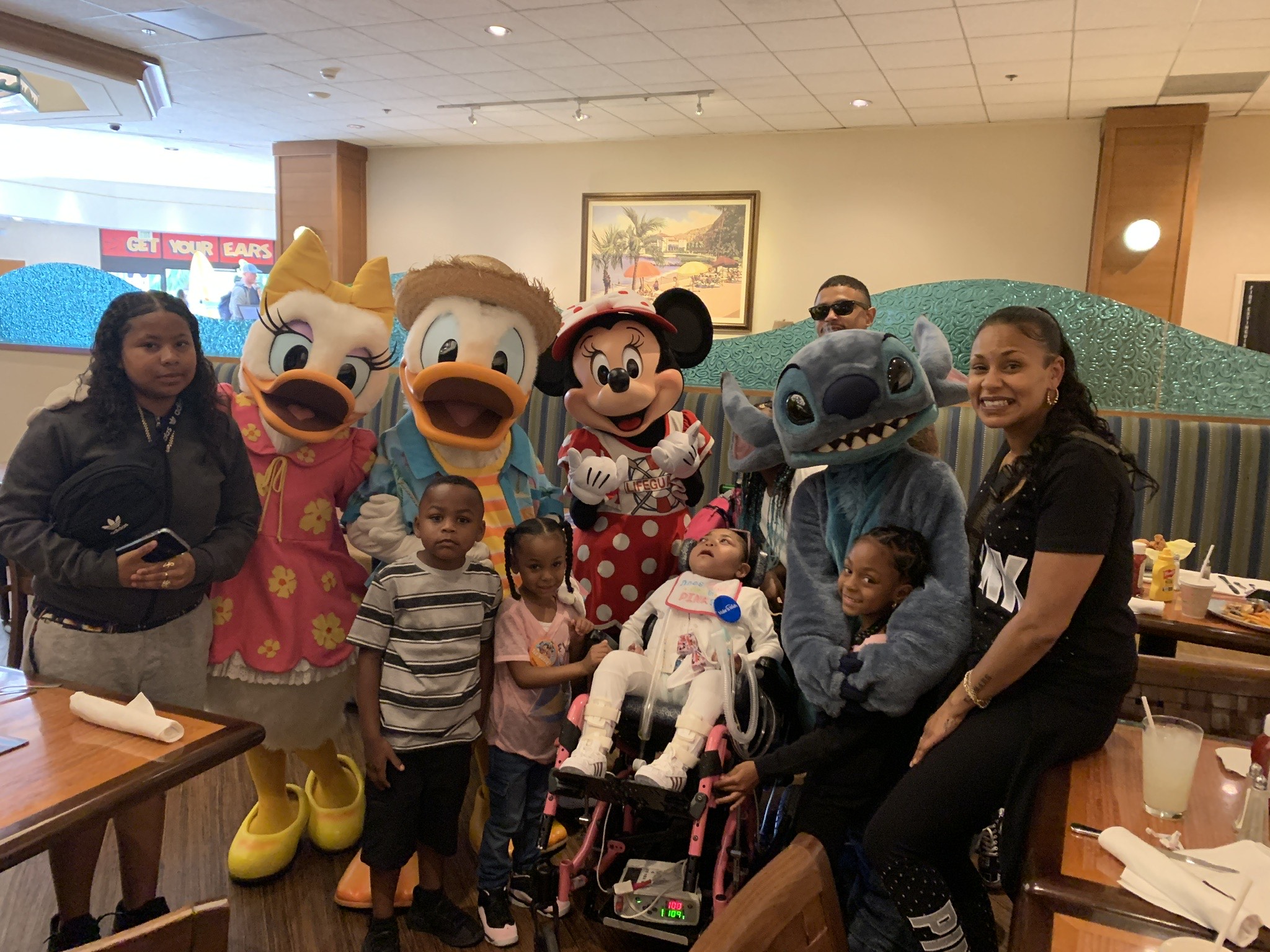 "The complex epilepsy team worked with Make-A-Wish to plan this trip for us as a family," Johnson says. "We had the time of our lives as family. It was incredible being able to take Maya on rides we never thought we could and have her enjoy the park with her family without a seizure."
While the future is uncertain, Johnson has hope that things will come together and that her daughter will learn a few words or be able to stand one day. For now, it's the small goals, enjoying time on family walks, making sure she is happy and hearing Maya's voice that matter most. Johnson offers this advice to others with loved ones who have complex epilepsy:
"Don't give up on them — have hope," Johnson says. "I never thought my child would be sitting up, tasting food, making noises. I thought she was going to spend her life lying in a bed. To see her growth and how much she had changed has been the most amazing thing to witness because she conquered the simple things, the ones we take granted."