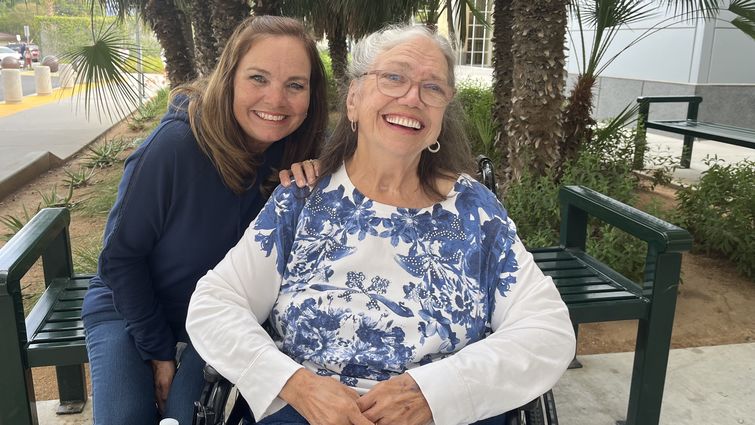 Melinda Sammons, 79, enjoys spending time with her three daughters, making daily rounds around her Beaumont neighborhood, and attending weekly church service. But her daughter, Bricey Leathers, says it may be hard to guess that just a few months ago, her mother underwent different treatments for two types of cancer.
Care providers detected a lump in Sammons' breast during a routine mammography that tested positive for early-stage breast cancer. Then, in preparation for a lumpectomy, a surgical operation that removes a lump in the breast, Sammons underwent a CT scan of her chest. That test detected another mass in her lung — an early-stage lung cancer.
Her daughter, Leathers, says both diagnoses came as complete surprises to the family; as far as they knew, Sammons had not experienced any symptoms.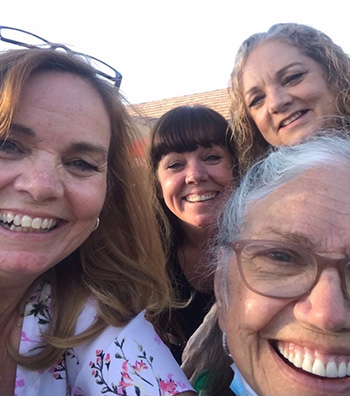 "We are fortunate those tests found the tumors because we had no major indications," says Leathers. "Finding out that she had breast cancer and then lung cancer — it was terrifying."
But Leathers says her mother's lumpectomy went well, and their doctors assessed Sammons' candidacy for surgery to remove the lung cancer. Unfortunately, Sammons suffered a stroke decades ago that limited her mobility, developed dementia, and has a heart condition. Due to these health concerns, Leathers says physicians deemed her mother ineligible for an invasive procedure to remove the lung tumor.
Instead, physicians recommended Sammons receive proton therapy and placed a referral to the James M. Slater, MD Proton Treatment and Research Center — the world's first hospital-based proton therapy facility.
Proton therapy, a targeted way of delivering radiation directly to an area affected by the tumor, is designed for people with existing conditions that complicate a surgical operation, says David Bush, MD, a radiation oncologist at Loma Linda University Cancer Center. He says that proton therapy is the most precise and advanced form of radiation beam therapy currently available and is painless and non-invasive for patients.
"The cancer outcomes from proton therapy are in the same ballpark as what is seen for surgery," he says.
Read: LLU Cancer Center celebrates 30 years of proton treatment
The seamlessness of the proton therapy process for Sammons came as a pleasant surprise, says Leathers, who says she wasn't sure what to expect at first but felt that her mother's care was in the hands of a skilled care team.
"I found Dr. Bush very confident in his craft and positive in his approach, which really helped put us at ease," Leathers says.
Bush led several clinical studies in the mid-1990s that followed patients who had undergone proton therapy for lung cancer. Results showed that proton treatment was safe and effective for treating early non-small-cell cancers, he says. The James M. Slater, MD Proton Treatment and Research Center has used proton therapy for lung cancer treatment ever since.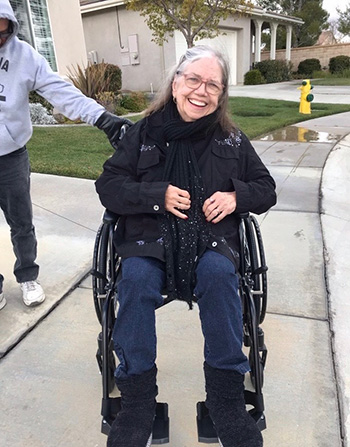 Leathers says Sammons underwent five sessions of proton therapy and experienced no side effects. While Sammons completed her treatments in September, she will undergo follow-up testing to track how the lung tumor has responded to the proton therapy. Her family and care team are optimistic.
"We've treated hundreds of patients in situations similar to Mrs. Sammons'," Bush says. "From this population of previously treated patients, we expect up to a 90% chance of this tumor being eradicated."
Leathers says she and her family are grateful that Sammons benefited from the expertise and technology available at Loma Linda University Health for proton therapy.
"I can't say enough good things about the whole process," Leathers says. "My mom feels good and has come out of the experience with a positive outlook."
---
At Loma Linda University Cancer Center, physicians are committed to providing patients with compassionate, comprehensive care that gives them the best opportunity to face and overcome cancer. To learn more about lung cancer care at the Cancer Center, please visit lluh.org/cancer-center/cancer-programs/lung-cancer-care.