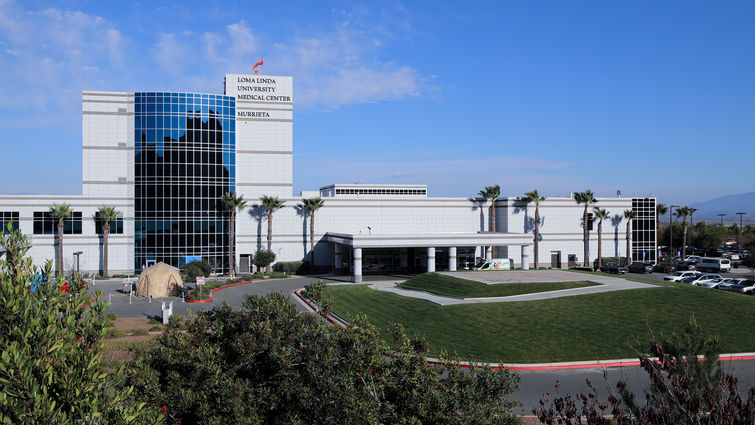 Thuan Le, MD, adult and pediatric infectious disease specialist at Loma Linda University Medical Center – Murrieta, wants to remind the community that amid all the fears and uncertainties the coronavirus pandemic has brought, patient care and safety are still the top priorities for the hospital. Here are key excerpts from an interview:
How is Loma Linda University Medical Center – Murrieta Emergency Department providing care to patients amidst all the health precautions?
There are a lot of unknowns in the community right now, but we don't want people to be afraid to seek out the care they may need during this time. Our goal at Loma Linda University Medical Center – Murrieta is to create an environment that patients feel comfortable in because they know it has been maximized for their safety. Steps we have taken to create that environment include a robust cleaning and sanitization process, a strict screening process and questionnaire to separate emergency patients from COVID-19 patients, and increased testing capabilities that can be completed in 15 to 30 minutes.
Currently, with a plateau of non-viral emergency patients visiting and with the screened out COVID-19 patients, our Emergency Department is able to operate at full capacity while practicing social distancing. Our Emergency Department is wrapping up an expansion project with new rooms soon to be open upon state licensing. We have plenty of beds, staff, and equipment to meet the community needs. 
What is a "hospital within a hospital"and how is that ensuring patient safety?
One of the innovative measures we've taken during this time is to create a separate space within the hospital for COVID-19 patients. In early April, we transformed our hospital lobby, several patient waiting rooms, a conference room, and an outpatient procedures area into a dedicated COVID-19 unit. The space is completely isolated mechanically from the rest of the hospital to avoid cross-contamination. We made it a negative pressure area so air would not circulate throughout the hospital, and the air in each section is sent through a filter to the outside air. I think the community will take comfort in knowing that this unit has its own entrance, utilizes a separate emergency staff and separate equipment so that the unit functions on its own and decreases the risk for exposure. Patients who come to the Emergency Department for other emergencies will not come into contact with that unit or those operating in the unit — it truly is a "hospital within a hospital." 
When a patient is experiencing emergent or urgent symptoms, why should they visit the Emergency Department instead of scheduling a video visit?
Video appointments play a critical role during this time for treating patients and providing routine care. However, there comes a time and place where a video appointment cannot replace a clinical evaluation that is needed to decide a course of treatment. For example, a video visit cannot help a physician determine if there is swelling around the abdomen when acute pain is present or if a patient is experiencing heart issues that require quick testing to see what is going on. 
While there are a lot of benefits to video visits and I encourage them for routine care, if a member of the community is experiencing symptoms that are abnormal, acute and uncomfortable or are emergent, please don't wait until those symptoms become so severe that the underlying issue then becomes difficult to treat.
Can you provide an example of a situation made worse by delaying a visit to get care?
The simplest example I can give are chronic Urinary Tract Infection's (UTI). Most people will experience one at some point in their lives. It is very mundane, with very clear symptoms and often individuals know they need an antibiotic and plenty of water to treat. Due to a hesitancy to seek treatment, say out of fear of contracting COVID-19, a patient may self-treat with drinking lots of water and ask their primary care physician to prescribe an antibiotic. The issue in this example is time. The longer someone delays treatment, the greater the odds that the UTI will spread to the kidneys and blood system affecting blood pressure and compromising organ systems — it can become more complicated and difficult to treat very quickly. 
I think it is important to reiterate here that an emergency room is no replacement for primary care. However, the emergency room is not just a place for trauma incidents, we often treat cardiac diseases and infectious diseases. If a member of the community is experiencing something that needs to be addressed urgently, we are here and can provide safe care during these unprecedented times. It is vital for community members to remember not to be complacent in their health or hold back during the COVID-19 era. 
Is there anything else you like the community to know during this time?
COVID-19 is something that is not going to go away anytime soon. It is something that is going to be in the fabric of our healthcare from this point on whether we see it as a resurgence or lingering issue over the next few months to years. As a community hospital, our approach has been to look at the big picture of how we can maximize our healthcare potential in light of this adversity to provide patients the best healthcare that we have at this point. It has been a community effort to do so, but I believe that we have accomplished that. It has not been easy, but we will persevere, learn and overcome this COVID-19 virus and will continue to provide care to our patients in the highest capacity possible to make our community healthy. I am proud of our staff and am thankful to the community for all the help that has been provided during this time to make it possible for us to save lives. 
For the latest information on how to prevent the spread of infection, visit the Loma Linda University Health coronavirus webpage or the CDC website.  
To learn more information about the emergency services offered at Loma Linda University Medical Center-Murrieta, please visit the website or call 951-290-4000. If you have an acute life-threatening emergency, call 911.