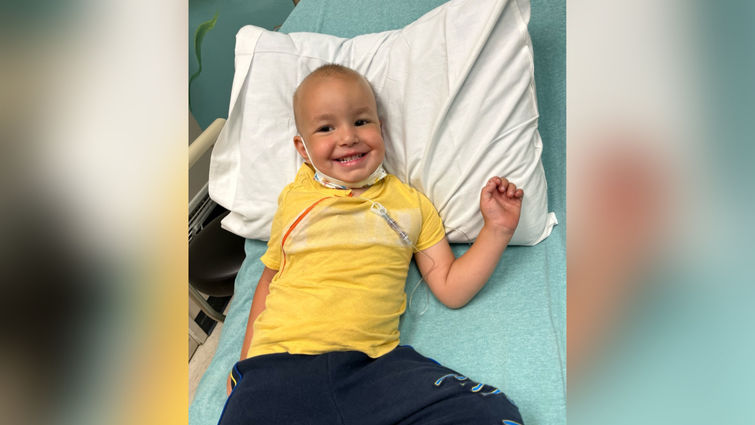 In April of 2022, Mohammad Kahala was diagnosed with acute lymphoblastic leukemia (ALL), a type of cancer of the blood and bone marrow that affects white blood cells.
His cancer journey began with persistent fevers, leading his mom, Kelsey Kahala, to alternate between Motrin and Tylenol to alleviate his discomfort. After days of trying to manage his high temperature at home, his condition worsened, and he stopped walking. 
Kelsey took her then 2-year-old to his pediatrician at Loma Linda University Children's Hospital, who initially suspected anemia and recommended expedited bloodwork. Around two hours later, the medical team led by Albert Kheradpour, MD, chief of pediatric hematology/oncology, delivered the devastating diagnosis.
"I did not expect it at all," said Kahala. "The diagnosis happened so fast I didn't have time to process it. And when they said 'cancer,' my first thought was, 'am I going to lose my child?'" 
The next day, Mohammad was taken to the pediatric oncology unit for a lumbar puncture, a bone marrow biopsy, and the beginning of chemotherapy treatment.
"It was a lot to take in," Kahala said. "Medical staff were rotating in and out with papers of what to expect and the different types of medications. And we're still trying to process like, 'Wait, my kid has cancer.'"
Throughout the first six months of treatment, Mohammad faced numerous challenges. His immune system was compromised by the aggressive chemotherapy, leading to recurrent illnesses and prolonged hospital stays. He also contracted COVID-19 during this time, adding to the complexity of his treatment.
"Childhood cancer can be emotionally challenging for the kids, their families, and physicians," said Kheradpour. "But they understand that we are with them and will take care of them and educate them until the end. We support the family as much as possible and allow the parents in the room during some procedures."
Leukemia is the most common form of cancer among children and teens, making up nearly one-third of all cancer cases in this age group, according to the American Cancer Society. Most childhood leukemia cases manifest as acute lymphocytic leukemia (ALL), while acute myeloid leukemia (AML) accounts for most of the remaining issues. Chronic leukemias are in pediatric populations.
Children diagnosed with ALL are typically grouped into low-risk, standard-risk, high-risk, or very high-risk categories, each associated with varying degrees of treatment intensity.
While numerous factors contribute to prognosis, only specific ones are used to determine a child's risk category. Among these factors, the initial age at diagnosis and the initial white blood cell count are the most significant.
"Children between the ages of 1 and 9 with B-cell ALL tend to have better cure rates. Children younger than 1 year and 10 years or older are considered high-risk patients," said Kheradpour.
Kheradpour says children with leukemia have a 90 percent survival rate thanks to recent advances in treatment and tools.
"Immunotherapy, which helps the immune system fight cancer, has become a big part of cancer treatment. Some studies look at how we can treat leukemia without chemotherapy."
Pediatric leukemia patients go through stages of treatment. The initial phase, known as "induction," focuses on reducing a significant portion of the leukemia and achieving remission in the patient. There are several subsequent stages, which include "consolidation," "intensification," and sometimes a "second interim maintenance" phase before moving into the "maintenance" phase.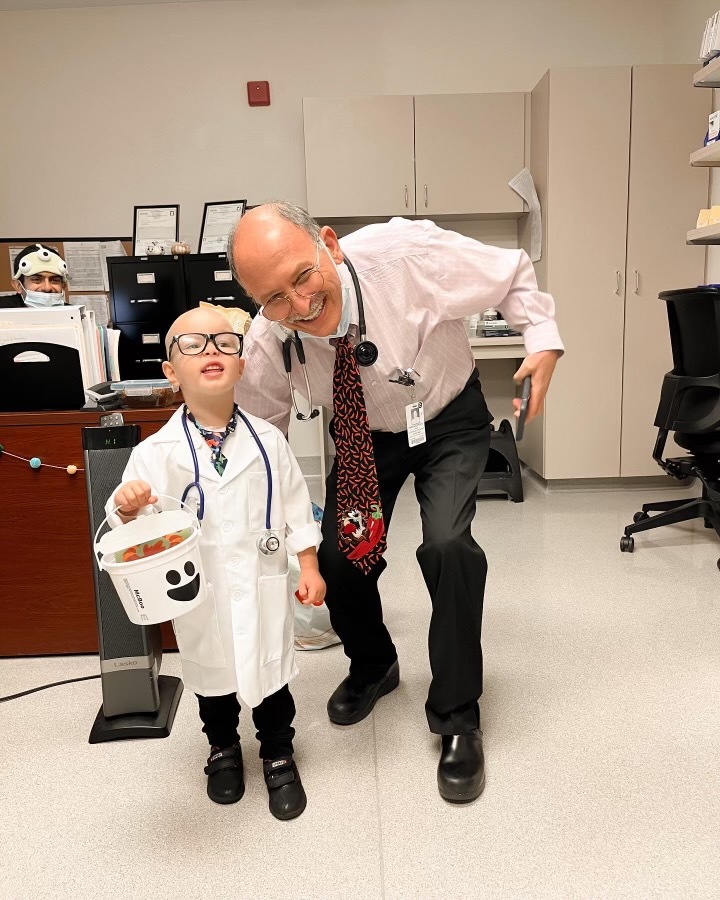 Mohammad is currently in remission and undergoing maintenance treatment. He receives lumbar punctures and chemotherapy every three months and visits the clinic every four weeks for checkups and lab work. Additionally, he takes daily oral chemotherapy and weekly intensive treks to tackle his condition. Despite enduring countless procedures, treatments, and the physical toll of cancer, Mohammad continues to exhibit his lively personality and determination to fight.
"He's so brave. He showed me what strength is," Kahala said. "I'm getting better with his lumbar puncture procedures, but in the beginning, I used to cry every procedure he had. I would tear up and have major anxiety about it. And he would always say, 'It's okay, it's okay, don't cry mama.'"
As they progress in their battle against childhood cancer, Kelsey remains hopeful for Mohammad's full recovery. If all goes according to plan, Mohammad is expected to complete his treatment in June 2024. 
To learn more about pediatric chronic and complex care, talk to a pediatrician.