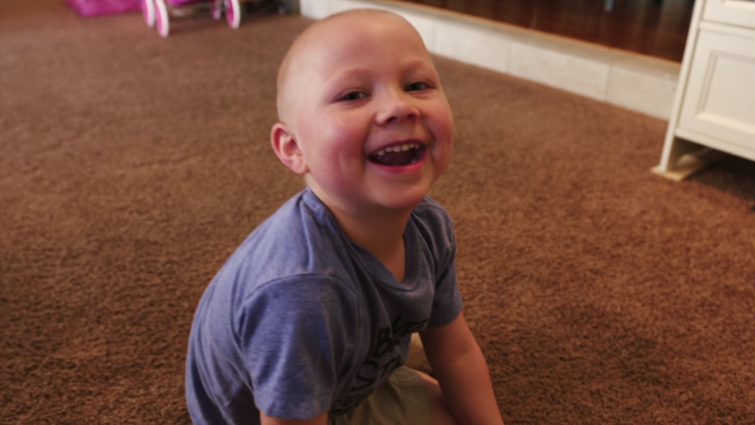 Mikah Carney started transitional kindergarten just over a year ago for his first official year of school. But on September 14, 2018, he found himself at Loma Linda University Children's Hospital.
The diagnosis
Mikah's mom and dad, Sarah and Michael, began to notice bruising on his legs and lower back — nothing out of the ordinary for an active, rambunctious 4-year-old. He occasionally looked pale and lethargic after his evening bath but would awake the next day feeling fine.
One morning, Mikah woke up feeling nauseous but seemed fine after eating breakfast and headed off to school. At pickup, Michael noticed something about his son seemed off — and so did his teacher. Michael headed straight to the emergency room at a nearby hospital. Preliminary tests prompted Mikah's immediate transfer via ambulance to Loma Linda University Children's Hospital. Mikah was admitted and spent the night in a hospital bed.
The next day, doctors pulled Michael into a private room and shared with him that a bone marrow biopsy confirmed Mikah had B-cell Acute lymphoblastic leukemia or B-ALL, the most common form of cancer in children.
Mikah started chemotherapy treatment that day and wouldn't return to school.
B-ALL is a fast-growing cancer in the blood where the bone marrow makes abnormal blood cells that don't mature.
"I knew nothing about this," Michael said. "They told me it would be about three and a half years of treatment."
Life over the past 12 months is not what the Carney family had anticipated, with weekly trips to and from the hospital or clinic for tests and treatments. But they are trying to keep life "status quo," Michael said. "We didn't want our other kids' lives to be affected despite their brother's diagnosis."
With three other children, the Carneys are striving to keep their kids busy, hold them accountable for their grades and give them a sense of normalcy. But through it all, Sarah, Mikah's mom, said the hardest part is watching Mikah lose part of his childhood.
"We want him to go to the park and play, but that's been taken away from him," she said.
Sarah said Mikah is "a wise 5-year-old," with a lot of questions on treatment days. "Most kids who go through something like this are on a journey that others won't get to, but it can turn into amazing things as they turn into adults."
A research discovery
For kids like Mikah, there is treatment for B-ALL. If the cancer relapses, there is only a 30% chance for cure, and this has not changed for 30 years, according to Kimberly Payne, PhD, director of translational research at Loma Linda University Health.
However, during an attempt to create a model environment for leukemia to grow for closer study, Payne and her team of researchers stumbled upon a discovery that may impede the recurrence of B-ALL.
What we thought would make the leukemia cells stronger actually destroyed them.Dr. Kimberly Payne
"We think we have something that can be developed into a therapy that will help the normal cells recover from chemo and will actually attack the leukemia cells," Payne said.
Payne and her team assumed that adding more protein to the leukemia would cause it to grow faster, but what they discovered is that it actually causes an overdose — the opposite of what they had hypothesized.
"What we thought would make the leukemia cells stronger actually destroyed them," Payne said.
"We're excited there is more research going into children's cancer because no child should have to go through this," Sarah said.
Mikah's battle for his life
Mikah continues to undergo treatment, but the Carneys are optimistic of the road ahead and their journey with Loma Linda University Children's Hospital.
"The doctors and nurses are so good here," Sarah said. "Mikah understands the importance of what he's doing here to get the job done. He is battling for his life. He has an understanding that this is something he has to do and not everyone has to go through it, but he's doing it and he's doing it well."
I don't know what he's going do in life, but it's going to be pretty tremendous because he's a warrior. Michael Carney
"We call him Mighty Mikah," Michael said. "From day one, Mikah has been a very independent, a strong self-starter and able to comprehend and figure things out on his own. I don't know what he's going do in life, but it's going to be pretty tremendous because he's a warrior."
Mikah's doctor, Chelsea Collins, MD, a pediatric oncologist at Children's' Hospital, said Mikah is one of the lucky ones.
"He has responded early and well to treatment," Collins said. "He is at a fairly low risk for relapse and more than 95% likely to be a long-term survivor."
Since May, Mikah has been in the maintenance phase of treatment and will receive IV chemo treatments every 12 weeks, chemo in his spine every three months, and daily medicine at home in an effort to fully rid his body of cancer. He is projected to be complete with treatment in November 2021.
Mikah and his family find joy in the days that he jumps on the couch and rides his scooter. He started kindergarten this year and is looking forward to his sixth birthday in December.
Visit the website to learn more about the pediatric leukemia research program at Loma Linda University Health.