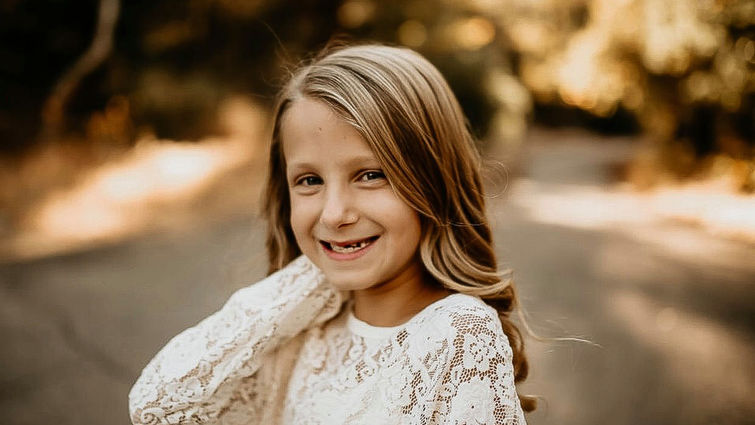 The Arnold family waited anxiously at Loma Linda University Children's Hospital in February 2013 for news on their four-month-old daughter, Paisley.
"The doctor came out to get us and took us into one of those rooms you see on TV — we call it the 'bad-news room,'" Paisley's father, Rick Arnold says.
The news: the only thing that could help Paisley was a heart transplant. She had an anomalous left coronary artery, meaning this artery in her heart had never developed.
"We were devasted," Arnold says.
A healthy little girl
Paisley Mae Arnold was born in October 2012. To her parents' knowledge, she was a perfectly healthy little girl.
"It was my wife and I's first child," says Arnold. "We were really excited."
But by her two-month check-up, all did not seem well. Paisley was experiencing trouble eating and acid reflux. By her four-month check-up, she was having trouble breathing. After an unsuccessful breathing treatment, Paisley was admitted to their local hospital in Apple Valley. Her condition continued to worsen — her oxygen levels were low, she became very lethargic, and her cries became muffled.
"We just had no idea what was going on," Arnold says.
Tests and X-rays revealed Paisley had cardiomyopathy — a disease causing difficulty with the heart delivering blood to the body. The doctor told Paisley's parents that her heart was enlarged, and she needed immediate care at Loma Linda University Children's Hospital.
Arnold remembers a blur of the ambulance picking up Paisley, feeling panicked while following in their vehicle and frantically looking up information on the internet.
"Of course, everything you look up about cardiomyopathy isn't good," he says.
A ticking clock
Several days following the news of Paisley needing a transplant, she was successfully added to the donor list. The wait began. Although Paisley's family would get a call just three weeks later that a heart was available, Arnold says it felt like a lifetime, as those three weeks were not without incident.
Paisley's heart suddenly stopped beating, and she coded. Her parents had been away from the hospital at the time. "That scared us to death," Arnold says. "I remember running out of the room, jumping in the car, and driving back to the hospital as fast as we could. Paisley was surrounded by a lot of people, but she had a heartbeat again."
After that incident, Paisley needed to be put on ECMO, or extracorporeal membrane oxygenation. Crystal Akers, RN, ECMO coordinator at Children's Hospital explains that the ECMO machine helps patients by taking over the function of their heart and lungs. ECMO is most often used when other medical options have been exhausted.
Working in the pediatric cardiac ICU at the time, Akers was one of the nurses who cared for Paisley. "She came to us really sick," Akers says. "We had to put her on ECMO quickly because her heart was not pumping strong enough."
When doctors explained what ECMO was used for, Arnold realized it ultimately meant a two-week countdown for their daughter.
"A lot of times, we say that the day a patient is put on ECMO, the clock starts ticking," Akers says. The longer a patient stays on an ECMO machine, the more complications can occur, including blood clots or bleeding in the brain.
"Agreeing to put her on ECMO was this horrible realization that she could die within a couple of weeks," Arnold says.
Buying more time
After a few days on ECMO, Paisley was identified as a potential candidate for a special ventricular assist device (VAD) that functions for the heart and would allow Paisley to come off ECMO, buying her more time as they waited for a transplant.
But even this victory was hard-fought.
While in surgery to place the VAD, Paisley suffered a pulmonary hemorrhage — bleeding from her lungs.
"She was pouring out blood," Akers says. "I've never given so much blood to a patient before."
Akers remembers herself and the other team members on day shift leaving for the night and not knowing if they would see Paisley alive when they returned the next day.
To give her lungs time to heal, the VAD was placed and used in conjunction with ECMO.
Akers, who remains friends with the Arnold family to this day, says she was overjoyed by seeing Paisley make it through and has treasured seeing her happy and doing normal kid things. "I see her pictures, and seeing her grow has probably been one of the best rewards as a nurse," she says.
The ninth St. Paisley Day
Paisley received her new heart in the wee hours of St. Patrick's Day — a day now celebrated each year by the Arnold family as St. Paisley Day.
"It was amazing because the very first moment we saw Paisley after the transplant, her lips that were once pale and ashen were ruby red like she was wearing lipstick," Arnold says. "Her body had never had that circulation it was supposed to. She just looked so beautiful."
Paisley would leave the hospital nine days after her transplant and continue to thrive. "She's done absolutely amazing," Arnold says. "For the nine years now, it's like you're almost waiting for the other foot to drop, but we haven't had rejection. We praise the Lord every day for her health."  
Visit our website to hear from other heart patients about their life-changing experiences at Loma Linda University Health.