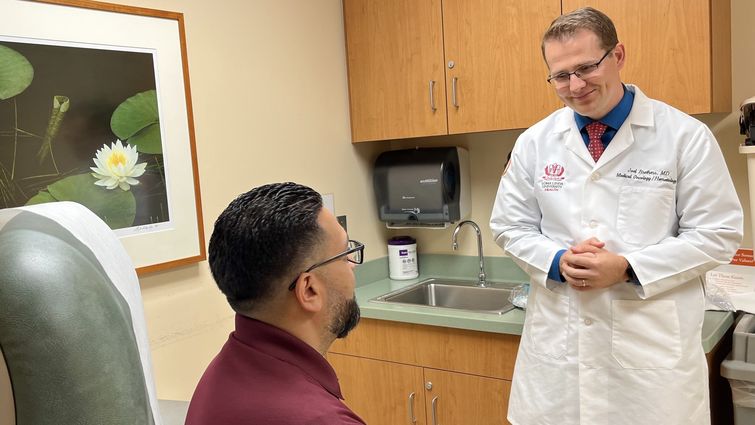 Diagnoses of advanced-stage prostate cancer in men have risen in the past decade, according to the American Cancer Society. At the same time, advances in prostate cancer care are securing more possibilities for those patients to live longer and to maintain a better quality of life than ever before, says Joel Brothers, MD, a medical oncologist at Loma Linda University Cancer Center.
"The treatment landscape is just exploding with many new or improved options, not just in prostate cancer, but in many types of cancer," he says. "Even though metastatic prostate cancer is incurable, treatments are constantly improving. Patients can live for many years, if not decades, with their cancer under control from the help of newer treatments."
Get our newsletter for cancer-fighting tips, activities and recipes. Subscribe
For September's Prostate Cancer Awareness Month, Brothers outlines three top advancements in care that are changing outcomes for patients with advanced prostate cancer.
Brothers advises patients to keep informed of potential treatment options and discuss specifics with an expert to create a personalized treatment plan.
Triple combination therapy
Triple combination therapy has become an increasingly accepted medical approach for treating patients with prostate cancer that has metastasized or spread to parts of the body beyond the prostate. The therapy combines three treatments — androgen deprivation therapy, chemotherapy, and novel hormone therapy — each targeting the cancer cells differently. Clinical trials in the past year have indicated that triple combination therapy increases the chances of successfully treating metastasized cancer. The trials also show that triple combination therapy can improve patients' overall outcomes and extend life when compared to chemotherapy and androgen deprivation alone.
"Triple therapy adds to a growing body of literature over the past decade demonstrating that patients who start additional treatments earlier in the course of their treatment live longer," Brothers says. "However, triple therapy may not be right for every patient, and a personalized approach is needed."
Testing for biomarkers and targeted therapy
Molecular markers, also known as biomarkers, are measurable characteristics in the molecular structure of a tumor that provide essential information about that tumor's origin, behavior, features, and response to treatment. Experts identify these markers by performing blood tests or biopsies of the tumors and analyzing the samples through various laboratory tests, including molecular profiling and genetic sequencing.
Roughly one in five patients with prostate cancer have mutations in genes that manage DNA repair, says Brothers. A type of targeted therapy called PARP inhibitors are medicines that interfere with the cancer cells' repair process by making it hard for cancer cells to fix themselves. This hindrance slows down the cancer cells' growth and can make other treatments more effective against the cancer.
Brothers says such targeted therapies can extend patients' lives for months and tend to be better tolerated than traditional medicines. Clinical trials are looking into using PARP inhibitors in earlier lines of treatment or in combination with other treatments like hormone therapy.
PSMA-directed radioligand therapy
Most patients with metastatic prostate cancer have prostate-specific membrane antigen (PSMA), a protein found at high levels on the surface of prostate cancer cells. PSMA-directed radioligand therapy targets PSMA and delivers radiation directly to the cancer cells of patients with metastatic prostate cancer. The therapy pairs with PSMA PET scanning, an imaging technique designed to locate prostate cancer cells using high-precision technology.
Read: PSMA imaging, therapy open new doors for prostate cancer patients at Cancer Center
Brothers says PSMA therapy is well-tolerated with few side effects and has been shown to improve survival in patients who have been heavily pretreated for prostate cancer. PSMA therapy is currently FDA-approved as an option only for patients who tried other treatments that did not slow their cancer's spread. But Brothers expects to be able to offer PSMA therapy to more patients in the future. For instance, clinical trials are underway to test PSMA therapy in patients who haven't previously received chemotherapy.
"I'm very hopeful and optimistic that with continued research, outcomes will continue to significantly improve for prostate cancer patients and all patients with cancer," Brothers says.
Get our newsletter for cancer-fighting tips, activities and recipes. Subscribe
---
Experts at Loma Linda University Health are committed to providing compassionate, comprehensive, and personalized care along every step of your prostate cancer journey. Learn more about prostate cancer screening and treatment options online or call 909-558-6600.