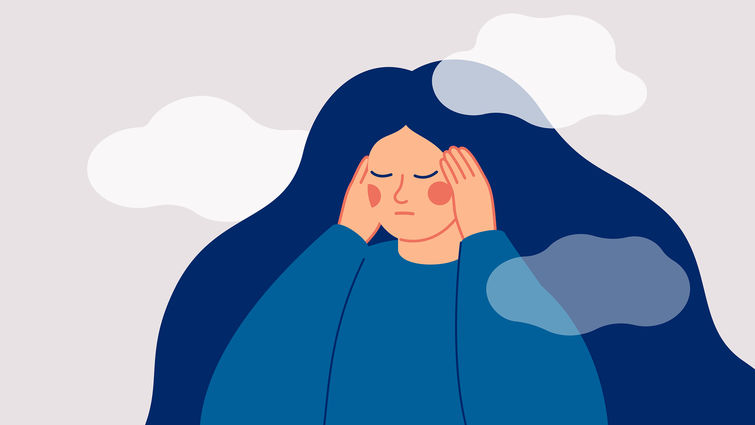 After nearly a year of dealing with COVID-19, more data has emerged surrounding the virus and its symptoms. COVID-19 was initially considered a respiratory virus, but the impact on other body symptoms — including the brain — quickly surfaced, creating concerns of long-term effects.
Justin Dye, MD, a neurosurgeon at Loma Linda University Health, says brain fog, anxiety, or dizziness may be an indication of an impact on mental health. "When I think about brain fog, I often think about the mental health aspect of it, which is the secondary health pandemic we're currently facing," Dye says. "New stressors at work, home, in school, or in social circles are impacting people who haven't necessarily had COVID-19."
That doesn't necessarily mean COVID-19 can't cause the brain fog, but it's not the only possibility, he says. "Mental health and brain health go hand-in-hand, and people who don't feel like themselves after going through COVID-19, or another significant virus, have been through something traumatic that puts a strain on many of their body's systems."
What is brain fog?
Clinicians have seen lingering mental fog in those who have had COVID-19. This fog has included neurological symptoms such as headache, fatigue, memory loss, confusion, difficulty focusing, and dizziness. "These cognitive symptoms accompanying the coronavirus, and other viruses, have been appointed the name brain fog."
What causes it?
In some patients, COVID-19 can impact the memory pathways, cause stroke, or reduce blood flow to the brain, Dye says. These symptoms may be due to the immune system's response rather than the virus itself.
"Inflammation can impact the immune system and the nervous system, impacting our neurological framework in ways we're still trying to understand," he says.
What are the long-term implications?
Dye says the medical community doesn't know brain fog's long-term effect, but symptoms don't necessarily mean the future development of dementia or a memory disorder down the road. "Symptoms of anxiety, dizziness or memory changes should not be ignored," he says. "Anyone experiencing these symptoms should seek medical advice. However, the presence of these symptoms does not necessarily mean permanent changes in the brain.
"Clinicians and researchers are collecting data and monitoring these cases, making sure we're able to treat our patients with the most current information and provide the best outcomes possible," Dye says.
If you or someone you love is interested in learning more about COVID-19, visit our coronavirus information webpage. To learn more about the COVID-19 vaccine, check out this article on your biggest COVID-19 vaccine questions, or visit our COVID-19 vaccines webpage