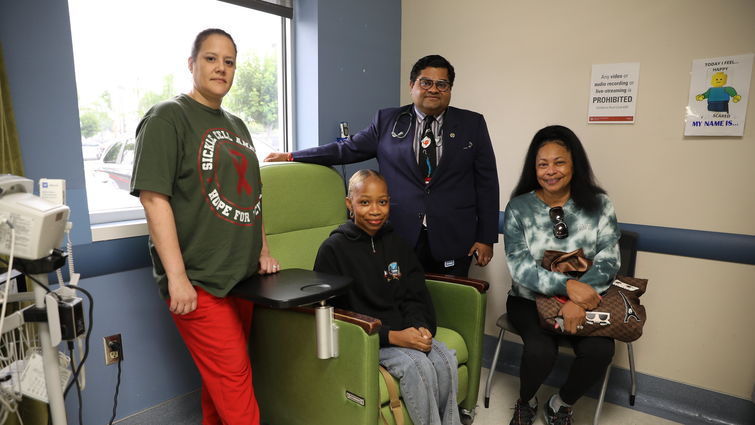 Loma Linda University Health was awarded a significant $2.2 million research grant from the Health Resources and Services Administration (HRSA) to further advance efforts in improving the treatment and quality of life of youth and young adults with sickle cell disease (SCD). The grant comes as from HRSA to help more systematically address maternal health disparities. Lisa Roberts, DrPH, MSN, FNP-BC, FAANP, FAAN, research director at Loma Linda University School of Nursing, is leading the initiatives to implement the $2.2 million into LLUH's system.
SCD affects one in 12 people of African American origin in the United States, according to Akshat Jain, MD, MPH, medical director of the Pediatric Sickle Cell Center of Excellence at Children's Hospital.
"Healthcare programs are geared to provide service for management of sickle cell "crises" traditionally, but preventative care especially for women of childbearing age with SCD and sickle cell trait (SCT) is not readily accessible," Jain says. "This leads to a classic missed opportunity to invite a dialogue about family planning and genetic counselling, that this HRSA grant will help mitigate through a campus-wide collaboration."
 The CDC reported that San Bernardino County houses the second most people living with SCD in California. The TDP grant is dedicated to addressing the unique challenges faced by individuals living with SCD by increasing access to comprehensive, coordinated, and quality care.
The grant allows Roberts and her interdisciplinary team made up of investigators from Behavioral Health and Medicine to focus on enhancing the quality of care for SCD patients aged 12 to 25 and address the lack of reproductive health education resources for this age group. She says this is critically important as patients with SCD face some of the highest maternal health risks.
"Transitioning into adulthood is already difficult for all youth," Roberts says. "Imagine how much more stressful this becomes when also navigating a complex chronic illness, a high-risk pregnancy, and a complicated healthcare system. That's why it's important to provide proper resources for young people with SCD."
Read: Navigating life with sickle cell disease: A unique journey over 24 years
The grant outlines the two primary objectives which Loma Linda University Health is set to tackle:
Goal 1: Expand maternal health disparity research and develop community-based solutions in partnership with community-based organizations (CBOs)
Objective 1:  Mixed-methods study (strengths & needs assessment)
Objective 2:  Sickle cell disease/trait awareness, screening, genetic counseling
Objective 3:  Reproductive health education and life skills intervention
Goal 2: Increase maternal health disparity research capacity at LLUH
Objective 1:  Develop a sickle cell trait database
Objective 2:  Develop a comprehensive perinatal care protocol
Objective 3:  Develop a parallel perinatal pathway for patients/loved ones
Objective 4:  Train interdisciplinary maternal healthcare teams
The $2.2 million grant from HRSA is a testament to the commitment of Loma Linda University Health to address maternal health disparities and the unique needs of individuals living with SCD. It will enable the institution to establish innovative programs and services, expand its network of trained interdisciplinary healthcare professionals, and advance research and clinical practices in the field of reproductive health and SCD treatment.
"The success of this grant depends on the vital contributions and close collaboration of my team, and CBO partners.  We are all very passionate and excited to help young people," Roberts said. "It presents a remarkable opportunity to advance our research in the field of SCD care and make a meaningful impact in the lives of those affected."
Read more about sickle cell disease here and learn about pediatric sickle cell care at Loma Linda University Children's Health. If you or a loved one need care for sickle cell disease request more information by emailing SicklecellServices@llu.edu or making an appointment at 909-558-7000.