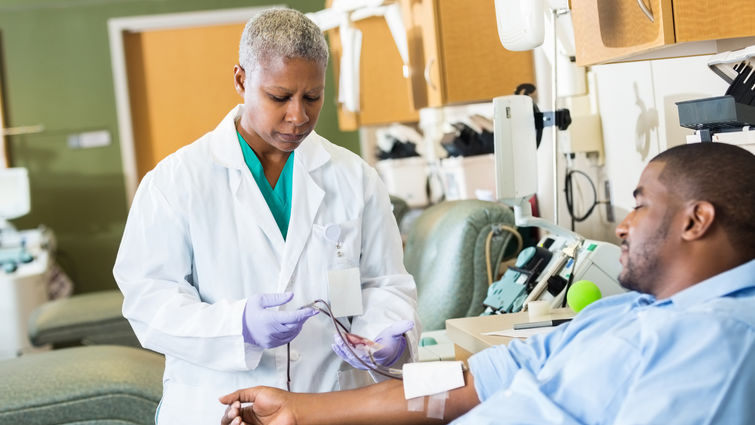 As Sickle Cell Awareness Month dawns, it brings to light the often-overlooked struggles faced by individuals and families battling this genetic disorder. With the only dedicated Sickle Cell Center in the region, Loma Linda University Health is at the forefront of efforts to bring awareness and research to educate the community.
Sickle Cell Disease (SCD) affects millions worldwide, with a higher prevalence in Black and Hispanic populations. The National Institutes of Health reported nearly 1 in every 365 Black births results in SCD in the United States. The disease also occurs in 1 out of every 16,300 Hispanic American births. Although SCD affects these communities disproportionately, it is not limited to any specific race or ethnicity. The CDC estimates approximately 100,000 Americans are living with SCD. Yet, despite these staggering numbers, awareness, treatment, and research often go under the radar on a national level.
Julio Silvestre, MD, co-director of the Sickle Cell Center emphasizes the importance of understanding these demographics.
"It's crucial to recognize the disparities in healthcare faced by these communities. Sickle cell disease is a lifelong battle for patients and their families, and we must do more to support them," he says.
Despite its significant impact on the lives of those affected, sickle cell disease often receives less attention compared to other chronic illnesses. Funding for research and public awareness campaigns are disproportionately lower, resulting in a lack of breakthroughs in treatment options.
Loma Linda University Health's Commitment
Led by dedicated specialists, the Sickle Cell Center's specialists offer comprehensive care and groundbreaking research. Through their efforts, they aim to raise awareness, enhance treatment options, and ultimately improve the quality of life for SCD patients.
Medical Care: The Sickle Cell Center at Loma Linda University Health offers a range of treatments aimed at providing relief from pain, managing symptoms, and addressing complications such as anemia and dehydration. Treatment options may include medications, intravenous (IV) infusions, and blood transfusions, all tailored to individual needs.
Social and Behavioral Health Resources: The center is committed to helping individuals with sickle cell disorder lead more fulfilling lives. Dedicated community health and social workers are available to connect patients with essential support services, including outpatient hospital care, addressing their specific needs and improving their overall well-being.
Patient Education: Knowledge is a powerful tool when it comes to managing sickle cell disease. The center believes that understanding the condition is crucial for patients to recognize symptoms, avoid potential hazards, and access timely and appropriate care. Patients are provided with the information they need to actively participate in their ongoing care.
Referrals to Subspecialty Clinics: The Sickle Cell Center understands that comprehensive care often involves specialty services. As part of their commitment to holistic care, they facilitate referrals to subspecialty clinics when necessary. This includes services like palliative care for symptom management, orthopedic care for joint replacement, and nephrology for addressing chronic kidney disease.
Patient and Family Support Group: The center recognizes the importance of a strong support network for individuals and families living with sickle cell disease. Their Sickle Cell Education Series offers a monthly online support group, fostering community connections and providing valuable education on managing the condition.
Telemedicine: The center understands that visiting the physical office may present challenges for some patients. To ensure accessibility and continuity of care, they offer video visits and telephone appointments for many of their services. It's important to note that pain management visits require in-person consultations to provide the most effective care.
What's coming for SCD treatment
In an exciting development for the future of sickle cell treatment, groundbreaking gene therapy approaches are currently pending FDA approval. By addressing the genetic root of the condition, gene therapy aims to provide a long-lasting solution that could transform the lives of those living with SCD. The pending approval of gene therapies is a significant step forward, offering hope and new horizons for individuals and families impacted by this challenging disease.
"I hope SCD becomes a priority and we can regain the trust of this demographic that highly needs attention," Silvestre says. "The Inland Empire is highly impacted and as the only dedicated center in the region, we are passionate about minimizing complications."
If you or a loved one need care for sickle cell disease request more information by emailing SicklecellServices@llu.edu or make an appointment at 909-558-7000.