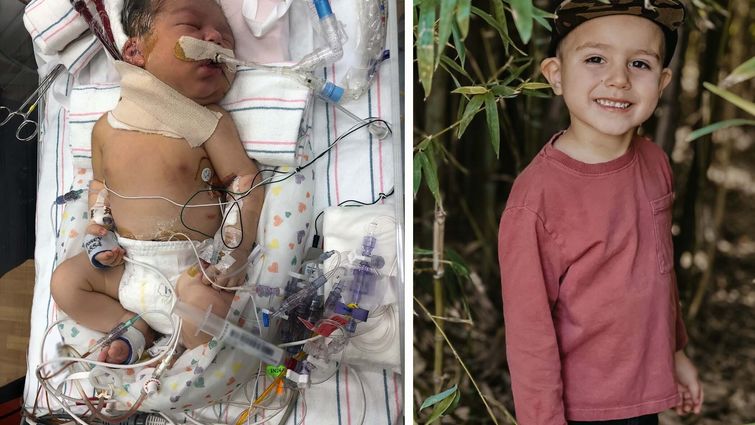 Ashley vividly remembers the heart-stopping moment when the Neonatal Intensive Care Unit (NICU) at a local hospital urgently summoned her and her husband, Nick.
"They called us down to the NICU and told us that we needed to hurry because Nash was not doing well," said Ashley.
Her newborn son Nash's vital signs plummeted, his tiny body struggling for breath. 
"We got there, and he was as blue as could be. Doctors tried putting him on a ventilator, but that made him worse. And then they said the only possibility of keeping him alive would be transporting him to Loma Linda."
Nash was rushed to nearby Loma Linda University Children's Hospital NICU, where he was placed under the care of Douglas Deming, MD. The two-day-old baby was experiencing hypoxemic respiratory failure, and his lungs could not adequately oxygenate his bloodstream, according to Deming. 
After attempting various approaches, the medical team initiated Extracorporeal Membrane Oxygenation (ECMO), a life-supporting technique. Nash remained on ECMO for five days.
Ashley and her husband live in the Inland Empire and share how they planned to stay near the hospital, even if it meant sleeping in their car or the waiting room. However, the hospital's social workers stepped in, arranging their stay at the Ronald McDonald House across the street, providing them a place to rest and sleep for 14 days.
"When you have infants or children who are extremely ill like Nash, the ability to a get them to an appropriate healthcare facility that can support them and treat them as well as be able to help the parents be with their child while they're so sick is unbelievably important," Deming said.
With a service area spanning distances up to 350 miles away, the hospital ensures that patients like Nash can access the necessary specialized treatment. As a Level 4 NICU, it is highly specialized and designed to provide the most advanced and intensive care for newborns facing complex, rare, and critical health challenges. The multidisciplinary team collaborates with social workers, occupational therapists, physical therapists, and speech therapists to support the overall well-being and development of the baby and the family.
Despite the immense challenges faced by Nash and his family when he was born, the now healthy four-year-old has defied expectations. While he initially required medication for pulmonary hypertension and continued to receive care from a pulmonologist, Nash has overcome remarkable hurdles. 
"When we first took him back for a follow-up visit when he was one year old, Dr. Deming was surprised that an ECMO baby was able to walk at his age."
Nash's remarkable progress continues to inspire others in their journeys of healing and resilience.
"We always joke around because he is wild, and I feel like he just experiences life just so freely. He loves to play and run. People look at him, and they're like, 'No, this kid wasn't sick.'"
More information about our level 4 NICU, pediatric medical and surgical subspecialties, or advanced technology used to diagnose and treat complex conditions is available online.