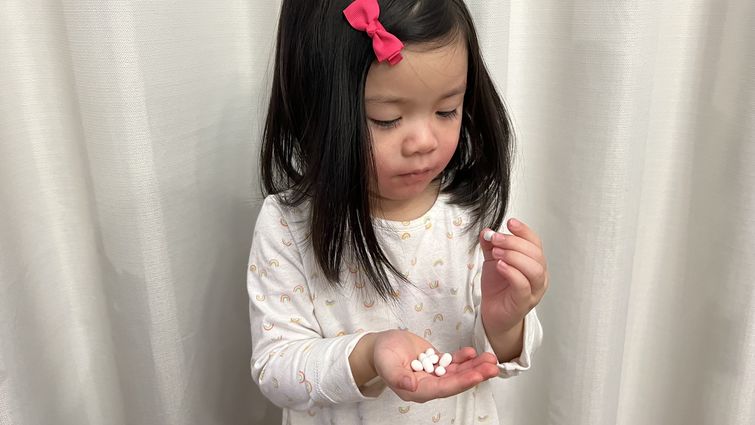 As part of National Poison Prevention Week, which takes place from March 20 to 26, health officials and child safety advocates are urging parents to take steps to prevent unintentional poisoning and to be aware of the signs and symptoms.
Every year, thousands of children are rushed to emergency departments from accidental ingestion of medications, cleaning supplies, and food products infused with cannabis. One of the most common types of accidental poisoning is medication poisoning, according to the Centers for Disease Control and Prevention (CDC).
Children often mistake pills for candy or other treats because of their colorful appearance and swallow them without realizing the potential danger. 
"Pills are usually either white or pastel colors, and they're a similar size to candy, so it makes it easy for kids to confuse the two," said Brian Chen, MD, a pediatric emergency physician at Loma Linda University Children's Hospital
In 2022, Loma Linda University Children's Hospital treated 190 pediatric patients suffering from different forms of poisoning. Across the United States, about 60,000 pediatric patients are taken to emergency departments each year due to medication poisoning, according to the CDC.
The consequences of children who consume medication unintended for them may include nausea, respiratory problems, and even death. It is important for parents and caretakers to prevent medication poisoning by storing medications in a secure location, out of the reach of children, and by properly disposing of any unused or expired medications. 
Disposing Medication Safely
U.S. Federal & Drug Administration
•Mix medicine with something unappealing such as coffee grounds, dirt, or kitty litter.
•Seal medicine in a plastic bag or another container.
•Throw the sealed bag or container in your household trash can.
•Remove personal information from the medicine bottle or package.
"If parents and grandparents use weekly pill organizer containers, make sure they're put in a place where toddlers can't get to because as they get older, they can move chairs and climb on things pretty easily," Chen said. While most parents usually keep medications up and away, Chen says kids can also get into medicines left in purses, on the ground, on counters or nightstands, and diaper rash products in diaper bags.
Cleaning supplies are another common cause of unintentional poisoning in children. Children may be attracted to the bright colors and smells of cleaning products like bleach, drain cleaners, or detergents, and mistake them for something safe to drink or eat. 
Cannabis-infused foods and drinks, like gummies and brownies, can also be mistaken for snacks and pose a danger to children. These edibles can contain high levels of THC, the active ingredient in marijuana, which can cause severe health effects.
"We see this so much at our Children's Hospital, and we just want families to look around their house from a child's height or point-of-view and see if there's anything present that shouldn't be easily accessible," said Michelle Parker, coordinator for Safekids Inland Empire, a nonprofit that aims to prevent childhood injuries. "This is something that is completely preventable and just taking some simple steps to prevent this from happening can really make a world of difference."
Poison Help Line
The Poison Help Line is (800)-222-1222 and takes calls 24 hours a day, 7 days a week. It's free, confidential, and health experts can help answer questions in more than 150 languages or if you are hearing impaired. Parker suggests parents and caretakers add the number to their cell phones so it's readily available. 
If a child has ingested medication or is experiencing symptoms of poisoning, call 911 and seek immediate medical attention.